Thengai Paal Sadam Recipe, How to make Coconut milk Brinji Rice + Video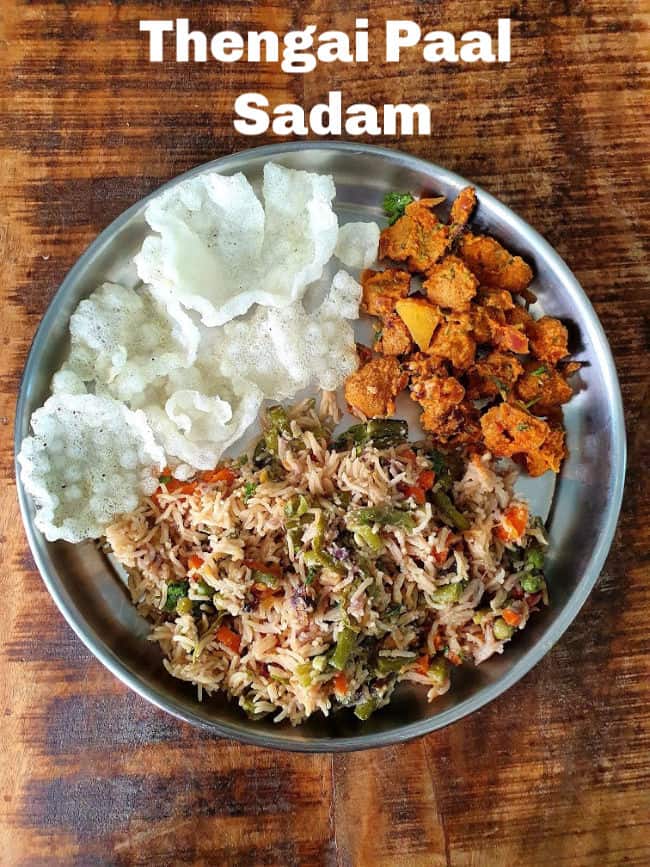 Thengai Paal Sadam recipe, How to make Coconut milk Brinji rice for Lunch. Coconut Milk Rice, தேங்காய் பால் சாதம் in Tamil,  Thengai Paal Sadam, Coconut Milk recipes made with Basmati rice, Coconut milk, Carrot, Beans, Green Peas, Onion, Tomato, and some Indian Spices. Thengai Paal Murukku recipe which I shared during Diwali is a very good snack recipe and now am sharing one more coconut rice recipe which is very flavourful rice.  Coconut Purana Poli which I shared during Pongal for Bhogi Pandigai.  This Coconut milk Brinji Rice is made with Fresh Coconut milk, not from the store-bought. You can see HOW TO EXTRACT COCONUT MILK and store.  Also, I have shared this Thengai Paal Sadam Recipe with step by step pics, an end to end tips to Make Perfect White Colour Thengai Paal Sadam in this section.
I made this Coconut milk rice in Pressure Cooker which is easy one pot meal and which lots of vegetables. Take note that the ratio of rice, coconut milk, and water. 1 cup Basmati rice, 1 cup thick coconut milk, 1/2 cup water is the ratio to make perfect Thengai Paal Sadam.
Few more Coconut Milk recipes like Thengai Paal Sadam, Sodhi(coconut milk Kuzhambu)
A short video of making Thengai Paal Sadam Recipe:
Thengai Paal Sadam recipe, Coconut Milk Brinji Rice Recipe:
Thengai Paal Sadam Recipe, How to make Coconut milk Brinji Rice + Video
How to make Thengai Paal Sadam recipe, Coconut Milk Brinji Rice recipe made with fresh coconut milk, Basmati rice, beans, carrot.
Author:
Premalatha Aravindhan
Ingredients
1 cup Basmati rice/
1 cup thick coconut milk + 1 cup thin coconut milk
1.5 cup of mixed vegetables
1 medium-sized onion, sliced
1 tsp ginger garlic paste
1 tsp salt
1 tbsp oil
1-inch cinnamon stick
2 cloves
2 cardamom
1 bay leaves
Instructions
Soak 1 cup of basmati rice and Take grated coconut, add warm water and grind it. Squeeze and extract the milk. set aside.
Heat the pressure cooker, add 1 tbsp oil and add cinnamon, cardamom, cloves and bay leaves. Add sliced onion and saute well.
add a tsp of ginger garlic paste and saute well.Add the vegetable, salt and saute well
Add the coconut milk(both thin milk and the thin milk) mix well.
Add the rice
Pressure cook it for 2 whistles and then switch off the stove
Let the pressure release automatically and then open the cooker, Now the rice is ready to serve.
garnish it with coriander leaves and serve hot.
Notes
Use long grain Basmati rice to make this coconut rice recipe, the fragrance will be amazing. I have used India Gate Basmati Rice to make this Thengai Paal Sadam.
To get Perfect white Colour coconut milk rice to use the fresh coconut milk and also don't add tomatoes it will change the color of rice.
After the rice is cooked, let it rest for at least 5 minutes before fluffing it with a fork. It will make sure the grains do not break while fluffing it.
Ghee adds a very delicious flavor to the rice, so do not skip it.
Slightly crushing the whole spices before adding them, will make the flavor stand out even more.
More  Sadam/ Rice recipe like cabbage Sadam, Easy Kothamalli Rice Recipe, Baby Corn Fried Rice Recipe, Karuveppilai Sadam Recipe, Narthangai Sadam recipe, simple fried rice recipe, Masale Bhat Recipe, Gobi 65 Rice Recipe, Pazhaya Sadam.
#Thengaipaalsadamrecipe #coconutmilkrice #coconutmilkpulao #howtoextractcoconutmilk #lessspicythengaipaalsadam #thengaipaalsadamintamil #ammasrecipe #ammasthengaipaalsadamseimuraiintamil
Get a more interesting lunch recipe, dinner recipe, breakfast recipe in www.premascook.com Follow my Instagram page @premasculinary for more or post and my Sappadu picture.
Thengai paal sadam recipe, coconut milk rice, coconut milk pulao, how to extract coconut milk, less spicy thengai paal Saddam, thengai paal sadam in Tamil
Happy Cooking !! Have A Great Day!!!