North Indian Thali Recipe, Traditional Vegetarian North Indian Lunch Menu 3
North Indian Thali with Photos and Video. A simple quick and Easy Indian Vegetarian Lunch Menu would be helpful for you if you plan for a simple dinner or lunch for your quest. This Lunch Menu used very less Vegetables and Ingredients all available in your Pantry. Detailed Video is available for all the items for easy understanding. You can check Another North Indian Lunch Menu1 with Step by step Pictures.
Common North Indian Menu Includes Rotis or Chapati/Phulka, a dal, rice, one dry sabzi, one masala, raita, and dessert. These dishes will make the complete North Indian Thali. If you Prepare a Complete North Indian Thali at home, make it simple and fewer items. This North Indian Thali I prepared in an hour. But the cutting and chopping of vegetables were done on weekends it made cooking very quick and easy.
How I made this North Indian Thali:
Made this thali for a friend's family of 3, They are 2 adults and a kid. So I didn't make so much quantity and also more variety. Since it is for dinner made a light dinner with less oil. Since the kid is 8 yrs old I made everything less spicy. Started the Preparation around 4 pm and completely the whole meal at 5.30. Actually taking pictures and videos took more time than the cooking part. First, I made the Mango Lassi and raita and kept them in Fridge so that I can serve them chili and next step made dough for Phulka to give some resting time, and then made marination for paneer tikka and leave it to marinate. Meanwhile, Pressure cooked the dal. Next, I made the dry sabzi. Finally kept the rice. Just before serving, I made the Phulka and papad. This is how I made this Simple North Indian Thali. Simple Preparations make our work easy. If you missed watching my fridge organization video here I the link check it out, I have shared
How I cut and store vegetables and organized them in the Fridges. Fridge Organization Part 1 and Part 2.
North Indian Lunch Menu:
This North Indian Special Thali contains,
Steamed Rice flavored with whole spices,
Dal Palak,
Phulka simmered with ghee,
Aloo Bhindi dry sabzi,
Beets Raita,
Jeera Papad
Saffron flavored Mango Lassi
Detailed Video of the North Indian Lunch Menu:
Written Recipe for North Indian Lunch Menu:
How to make Dal Palak:
Soak 1/4 cup of chana dal and 1/4 cup of masoor dal for 30 mins before cooking so that It will cook fast and soft. Instead of masoor dal, you can use the Toor dal too.
Heat a pressure cooker, add 1 tsp cumin seeds, let it crackle and then add 3 garlic cloves finely chopped, 1 onion finely chopped, and 1 tomato finely chopped. Saute well till the tomatoes turn soft and mushy.
Add 1 tsp salt, add the chopped palak(200g) and saute well till the palak turns soft and tender.
Add turmeric powder and the soaked 2 types of dal without water. add 2 cups of water and cover the pressure cooker with the lid. Pressure cook for 3 to 4 whistles.
Open the lid once the pressure is released by itself.
You can see the dal cooked well, mash it. The dal Palak is ready. Let's make the Tadka.
Heat a pan add 1 tbsp ghee, and add 1 tsp cumin seeds, Hing, dried red chilies, and 1 onion thinly sliced saute well till golden. add 1 tsp chili powder and a pinch of salt, saute for a few mins and then add it to the dal ix well.
That's it tasty delicious dal palak is ready to serve! you can serve with Phulka or Rotis/ chapati or with rice.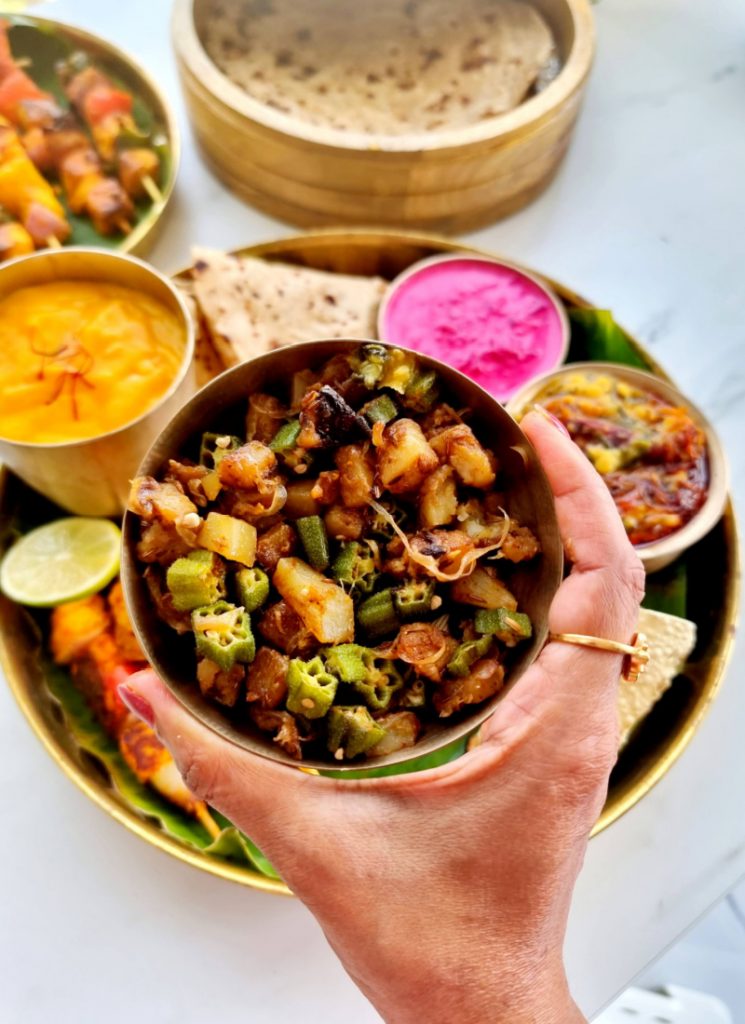 How to make Aloo Bhindi Dry Sabzi,
Heat a pan with 2 tbsp oil, and 1 tsp cumins seeds, and roast it.
Add 2 onions thinly sliced and saute well. Add 300g of diced potatoes, and roast well.
Add 1 tsp chili powder, 1 tsp coriander powder, and 1 tsp salt, and mix well. Cover and Cook for 7 mins till the potatoes turn soft.
Add 200g Ladies Finger(bhindi/okra) and saute for 7 to 8 mins.
That's it aloo Bhindi Dry Sabzi is ready to serve.
How to Make Beet Root Raita:
Boil one beetroot(100g) don't peel the skin, just boil it till it becomes soft and then cool down.
Peel the skin, and grate it.
Take 1/2 cup well-beaten curd, add 1/4 tsp chili powder, 1/4 tsp cumin powder, and a pinch of salt. Mix well.
Add the grated beetroot mix well.
Beetroot raita is ready to serve!
Hope you like the Simple Vegetarian North Indian Thali, You can check the How to make Soft Phulka recipe and Mango Lassi Recipe here.
Have a Good Day!