Simple Vegetable Biryani Recipe with Seeraga samba rice(Biryani Meals Recipe)
Simple Homestyle Veg Biryani made with Seeragasamba rice and loads of Vegetables. Sunday Special Biryani Meals with curd rice, soya kola urundai, onion raita, Kaju katli. One Pot Vegetable Biryani Recipe – How to make Veg Biryani in kadai. Homestyle Veg Biryani, the most sort dish when it comes to vegetarian quick meals. In this recipe we will learn to make the perfect Tamil Nadu style veg biryani / pulao using seeraga sambar rice.  I have also shared all instructions, tips and measurements for use of basmati rice as well! If you are looking for Pressure Cooker or Instant Pot method click on the recipe you will get it.
A few days back i have share Saravana Bhavan Hotel Style Mini meals, vegetarian mini meals is incomple without veg biryani. This veg biryani has no biryani masala powder used. Made with our pantry available ingredients, very easy to make.
Why Seeraga Samba rice for Vegetable Biryani?
Seera Samba rice is known as short grain rice in English. It is also know as Jeera rice, Seeraga Sala rice. It is very popular in Tamil Nadu. Most of the Tamil Homes, they make Biryani / Pulao's are made with Seeraga Samba rice because it is very flavour ful rice, gives nice taste to the biryani. Only thing is it tends to absorb more water while cooking and takes a little longer to cook than basmati rice, but still the end product is tasty and delicious biryani. The ratio of water we should use for Seeraga Samba rice is 1:2, that is 1 cup rice and 2 cups of water. Cooking time differ the quality of the rice used, if it is new rice it will take 7 to 10 mins, if it is old rice, 10 to 12 mins.
Some of my Best Vegetarian Biryani Recipe, you must try from my blog,
 Kalyani Biryani Recipe, Ambur Biryani, Kondakadalai Biryani, Baby Potato Green Biryani, Soya Chunks Biryani, Thalapakatti Biryani, Chettinad Veg Biryani Recipe, Mint Biryani Recipe, White Biryani recipe with Paneer, Thakkali Biryani Recipe
Step by Step Procedure & Preparation for Simple Vegetable Biryani Recipe with Seeraga samba rice,
wash the rice 2 to 3 times and then Soak 2 cups of Seeraga Samba rice for 30 mins before cooking. Dont soak the rice more than 30 mins, the rice will turn mushy(even 15 mins also ok but not more than 30 mins). Usually i soak the rice and then i start making the biryani, as soon as the vegetables cooked it will also soak and ready.
Now Heat a Kadai with 1 tbsp oil + 1 tbsp Ghee(for biryani alsways use ghee and oil combo it will taste nice) add 1-inch cinnamon, 2 cloves, 2 cardamom, 1-star anise, bay leaves. Fry well.
Add  2 onions chopped and saute well, till it turns golden. Add ginger-garlic paste, saute well.
Add 2 chopped tomatoes, saute well till it turns mushy. Add vegetables of your choice.
Add ⅓ tsp turmeric powder, 1 tsp chili powder, 1 tsp coriander powder, ½ tsp garam masala, 1&½ tsp salt, + 2 tbsp Thick curd saute till raw smell goes off and oil separates(approximately 8 mins) This step is very important, we need to cook till the oil seperate otherwise you will feel the raw smell of the masala.
Once the vegetables cooked, add the soaked rice without water, saute for a min once the rice becomes a little crisp(so that the rice will cook fast, if you add water and then rice it will take more time), add 3 &  3/4 cups of hot water(always add hot water, because room temperature water slow down the cooking process) (here if you see the rice and water quantity, 1:2 only, i used 2 cups of rice, and 3 & 3/4 cups of water that 1/4 cup water i compensated with liquids already in the masala. so always measrure and keep the water so that you will get the non sticky rice.
cover and cook on a medium flame for the first 3 mins and then low for 4 mins or till the rice cooks. Switch off the stove.(mostly in 7 to 10 mins the rice will cooked, sometime it will take time so check whether it is cooked or not before you swtich off). That's it!!
Simple Home Style Veg Biryani Ready! Now add a tsp ghee and then cover and rest for 5 mins so that in that heat its the rice will get fluff up.
Around 20 mins the vegetable birayni is ready to Serve!
Look at the below picture how the rice is fluffy and non sticky! Do try this method you too can make Perfect Vegetable biryani at home!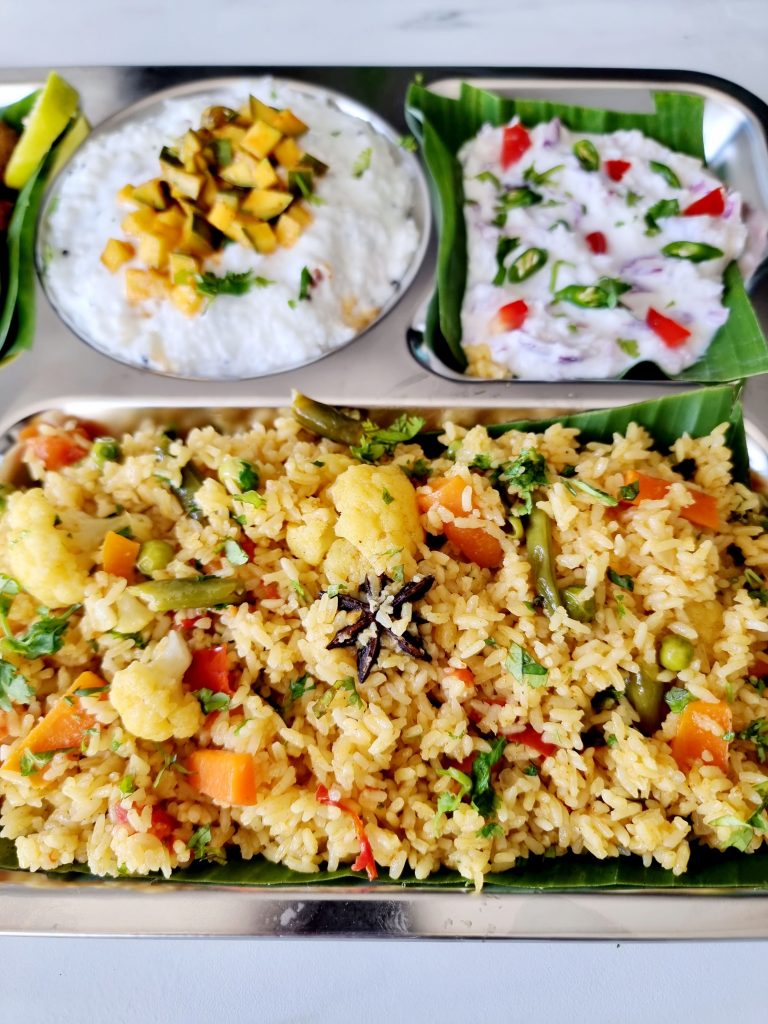 Whenever i make Biryani Thayir Sadam is must.
✅How many are you in Team Love Biyani + Thayir Sadam Combo???
Have a Good Day Makkale!!!