Milagu Vadai(மிளகு வடை) | Anjaneyar Vadai | Hanuman Jayanthi Recipes
Today 15th April we are celebrating Hanuman Jayanti and i have prepared Milagu Vadai for Neivedyam. Milagu vadai is also called as Anjaneyar Vadai. Some people offer vada malai for Anjaneyar on this auspicious day. Hanuman is my fav god and never miss to celebrate this day.Do try this Peppery flavoured vadai and enjoy!!!
Milagu Vadai(மிளகு வடை) | Anjaneyar Vadai | Hanuman Jayanthi Recipes
——————————————————————————————————————————
Author : Premalatha Aravindhan Category : South Indian Snacks Recipes, Hanuman Jayanti Recipes Prep time: 35 mins cooking Time: 25 Mins
Cuisine : TamilNadu Yeilds : 12-15 Vadai
——————————————————————————————————————————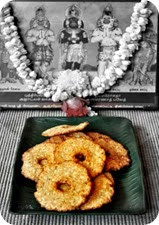 Ingredients:
1 cup Urad dal
1 and 1/2 tsp Rice flour
1 tsp Black Pepper Powder(coarsely grounded)
Salt To taste
Oil for Frying
Method:

Clean the Urad dal and soak it for 30 minutes.After 30 minutes, drain the water and keep it in the strainer till the water is drained completely.

Grind the urad dal in mixie to a coarse paste. Make sure that you don't grind it into a very fine paste. It should be coarse.

Transfer the coarse paste in a plate, add the pepper powder,rice flour and salt.Mix well.Once done finally add a tsp of oil and mix well.
Take a plastic paper and grease it with oil. Take a goose berry sized ball of the urad dal batter and place it on top of the plastic paper.Cover the plastic paper with another greased plastic paper.

Press on top with a small plate and gently press it.The vada should be very thin to get a crispy vada.

Drop a hole on the center of the vada.
Heat the oil and slowly drop the vada into the hot oil,fry it in the medium flame.

Turn the other side side and fry it,till it become golden brown.Drain the oil and take it out.
My Notes:
Make sure to grind the batter into a coarse paste without adding water.

We can add the black pepper while grinding instead of adding pepper powder.

Fry it in medium flame so that the vada turns crispy.

Do try this vada for neivedyam and enjoy Hanuman Jayanti!!!