Poori Kizhangu Recipe, Hotel Saravana Bhavan Poori Potato Masala
Poori + Urulaikizhangu Masala + Filter Coffee is an Ultimate South Indian Breakfast that happens mostly on weekends. Though it takes a bit of time and requires patience to get the meal ready, the end result is worth it. The whole family loves it, it is healthy and hygienic if we prepare it at home. We still prefer the restaurant-style poori potato masala because of the taste and crunchiness of the dal, and onion. Let's Prepare a tasty delicious Poori Kizhangu at home exactly like the Hotels'. If you want to Try a simple Homw Style Poori Kizhangu Recipe with Green peas here it is POORI URULAI KIZHANGU MASALA
What is Poori Kizhangu?
Kizhangu is a Tamil word for Potato, the side dish served with Poori(deep-fried whole bread called Poori) in the form of curry is called Poori Kizhangu Masala. The Roughly mashed boiled potatoes are sauteed with crunchy onion and dal, then mixed with gram flour slurry, thicken we get poori Kizhangu masala. It is two in One dish we can stuff it in Dosa for Masala dosa or as a side dish for Poori.
More Poori Side Dish recipe collections you may like to try Amma's Thakkali Kurma Recipe,  Kondakkadali Kurma Recipe, Navratna Kurma REcipe
How to make Perfect Busu Busu Poori?
Ingredients & Substitute:
3 to 4 Medium Sized Potatoes(400g) use Indian or Pakistani potatoes they are crunchy.
2 tbsp chana dal soaked for 30 mins(This gives the soft & crunchiness of the dal and make the masala flavorful)
1 tbsp oil(any oil is Fine)
2 onion sliced
2 green chilies chopped
curry leaves a sprig
1 tsp minced ginger
1 tsp turmeric powder
1 tsp salt
1 cup water
1 tsp gram flour + 1/4 cup water mix well and make a Gram flour slurry.
Step-by-Step Poori Potato Masala Recipe: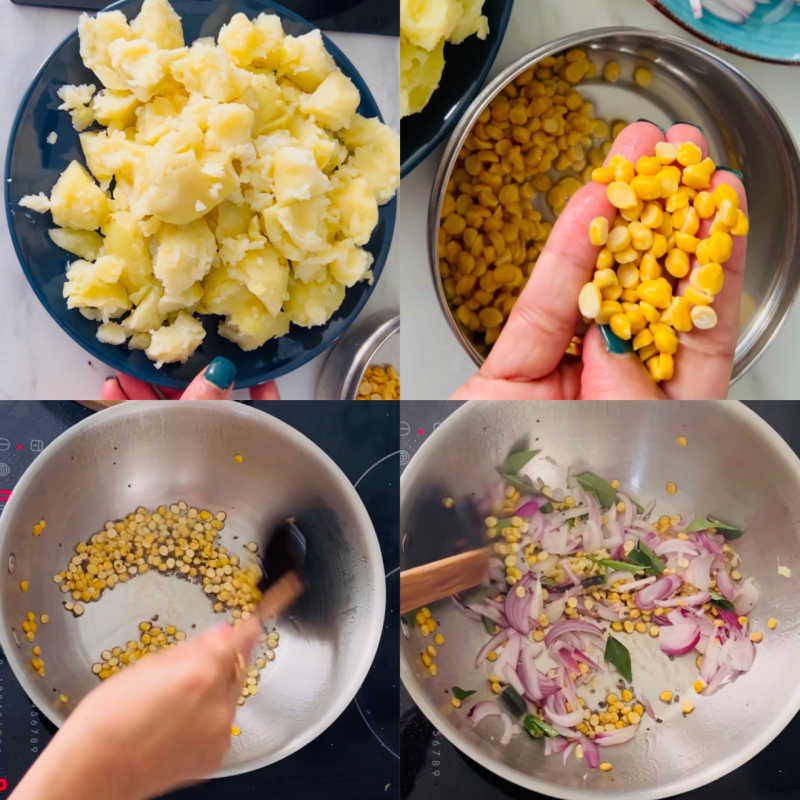 Soak 2 tbsp chana dal in water for 30 mins before you make masala. Pressure cook 3 to 4 potatoes(400g) 3 whistles and then peel the skin, roughly mash, and keep aside.
Heat a tbsp oil in a pan, add 1 tsp mustard seeds & chana dal roast well. The mustard seeds should splutter and the chana dal should turn golden.
Add 2 sliced onions, 1 tsp chopped ginger, 2 green chilies chopped, and curry leaves. saute well.
¼ tsp turmeric powder, and 1 tsp salt and fry well.  Add 1 cup water + boiled potatoes and mix well. Let it cook for 5 mins.
Add the gram flour slurry mix, and let it thicken for 3 mins. Once the Kizhangu masala thickens switch off the stove!
That's it Poori Kizhangu Ready!
Serve with super Hot Poori or stuffed inside the Dosa!
Tips to make Perfect Poori Kizhangu:
🔥Gram Flour slurry makes the masala tasty make sure after adding it to keep the heat low.🔥It will stay good for 2 to 3 days in the fridge! 🔥If you want to make it masala dosa, simmer to thick for a few more minutes. Then refrigerate it will become thick masala and then you can stuff it in masala dosa.
🔥Soaking of chana dal is the secret of hotel masala, do try this next time you make it!
More Saravana Bhavan Style recipes, Saravana Bhavan Mini Meals, Saravana Bhavan Style Bisi Bele Bath, Saravana Bhavan style Kara Kuzhambu, Kara Dosai, Paneer Masala Dosai, Saravana Bhavan Veg Kurma, these are some Saravana Bhavan Special dishes which I shared. Do try and let me know your feedback!
Hope this post will help you to make Perfect Poori kizhangu at Home. If you have any Doubts about making Potato Masala or If you want any specific recipes you can email me at cpremas79@gmail.com. Do Follow me on Instagram for more Recent updates and every cooking recipe video
Do share your thoughts with me, Also tag our page on Instagram @premasculinary with hashtag it on #premasculinary
Thanks & Have a Good Day! 😉Enjoy Cooking and Mindful Eating!