Navratan Korma Recipe | Low calorie korma Recipe | Navaratna Kurma Recipe | North Indian Side dish Recipe
Today am featuring my friend Anitha's recipe.She couldn't able to send the picture of the recipe for my VIP cooking event.But she mailed this recipe to me,then I tried her recipe last week and the taste was really awesome.So on behalf of her am sharing this recipe with you all.Thanks Anitha.



Ingredients:
2 1/2 cups Vegetables,chopped (i used cauliflower,beets, green peas, carrot,beans and potato)
1/2 cup Paneer or tofu( i used tofu)
2 tbsp Oil
1/2 tsp Fennel seeds
1 Onion, finely chopped
1 Tomato, finely chopped
2 Green chillies, finely chopped
1 tbsp Ginger Garlic Paste
1 tsp Coriander powder
1/4 tsp Turmeric powder
1/2 tsp Garam Masala Powder
1 cup low fat milk or 3/4 cup full cream or Blending 1/4 cup cashew nuts with 1-cup milk (i used low fat milk)
1/2 tbsp corn-starch
Method :
Fry Paneer or tofu with 1 tsp of oil and keep aside.Mix the corn starch with milk and keep aside.If you are using full cream or cashewnuts paste skip this step.

Heat oil in a kadai,add fennel seeds.After seeds cracks,add the chopped onion,tomato,green chillies,ginger garlic paste saute for few minutes and then add turmeric powder and coriander powder,cook till raw smell goes.

Now add the chopped vegetables,mix well and cover the pan.

Let the vegetables cook just about half way.
Add the milk and corn starch mix and Fried panner or tofu,cook until the vegetables are tender.

Add more milk if you need more gravy.

Finally add the gram masala and turn off the heat.

Place the vegetable korma in a serving dish and garnish with cilantro.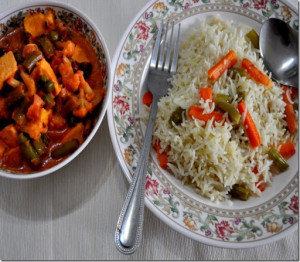 It goes well with all Pulao and rotis.
Have Nice Day!!!