Karupatti Jangiri Recipe, How to make Jangiri Using Palm jaggery(Karupatti Sweets Recipes)
Traditional Tamil Nadu Native Special Sweet Karupatti Jangiri Recipe with Step By Step Pictures and Detailed Video Tutorial, How to make Jangiri Batter, How to make cloth bag to make Jangiri, How to Make Karupatti Syrup, Consistency Check, How to shape Jangiri Everything in Detail in Full Video, Keep Reading & Enjoy!✌✌
I think there is no Special intro needed for What is Karupatti?? You all Know it's Palm Sugar(Pure Form of Sugar), Chemical-free. It is Good to replace white sugar with Karupatti not only healthy it is vegan too. If you are looking for Easy Karupatti Sweets for Diwali like Karupatti Mysore Pak, Karupatti Kaju Katli, Karupatti Adhirasam, Karupatti Thengai Burfi, all are very Healthy🤳
If you are Making Jangiris for the First Time this Post will be helpful, I have shared both Sugar Syrup and Karupatti Version For easy understanding. Because I feel making Sweets with Karupatti needs a little more attention and patience because it takes a little extra time than sugar. But Taste vise no compromise Both the Versions of Jangiris Tasted amazing.
Aishu is having Pre Diwali Celebration at School Yesterday so I made a few batches of Jangiri with Sugar Syrup(saffron flavor) decorated with pistachios, silver wark. For Karupatti Jangiri is made with Cardamom Flavour and Nuts Topped. She told her friends enjoyed both versions. Initially, I thought kids will like these Karupatti sweets or not. But she told Karupatti Jangiri was Super Hit. KUMUTHA HAPPY ANNACHI🤣🤣🤣 Ok without any Further ado Let's Check How to make Kurupatti Jangiri!!
Karupatti Jangiri Recipe Video, How to make Jangiri using Palm Jaggery:
📓RATIO OF INGREDIENTS:
Well, We all Know Jangiri is made of Urad Dal batter that is Ulundhu Maavu, so we need good quality Urad Dal is very important I used Udhayam Ulundhu Whole you can use any Urad dal but make sure it is good in quality. For Making the Jangiri Batter I took 1 cup Urad Dal(Muzhu Ulundhu), 1 tsp Cornflour adding Corn gives crispiness, a pinch of salt to enhance the taste, a drop of food color, Water for Grinding, For 1 cup Urad dal we need 1/4 to 1/2 cup of water and it depends upon the dal quality the water requirement differs. Finally Oil for Deep frying!
For Making the Karupatti Syrup: we need 3/4 cup of Karupatti(grate the Karupatti or powder it and then measure and take 3/4 cup of Karupatti). 1/4 cup of water, A pinch of Cardamom Powder.
These are the ingredients required to make Jangiri so Please Measure and keep the ingredients ready before making Karupatti Jangiri
Step By Step Karupatti Jangiri Preparation: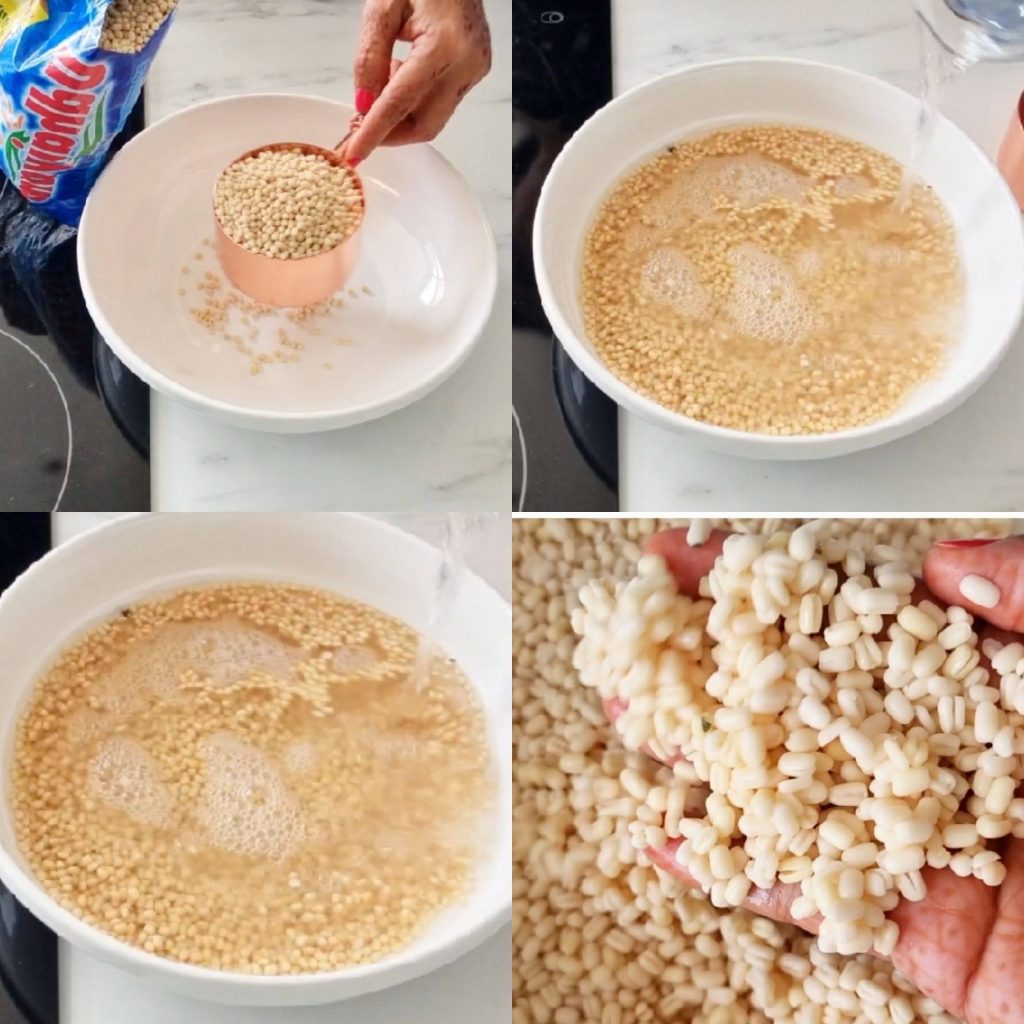 Preparation Step: 1 Take 1 cup Urad Dal(good quality Urad dal) Soak Urad dal for 2 hours minimum not more than that. Let the dal soak. Meantime let's prepare the Piping Bag that is a Cloth bag for Making Jangiri.
How to Prepare the Cloth bag at home for Making Karupatti Jangiri:
Preparation Step: 2 Take a Piece of Clean Cotton Cloth I used my idli Thuni(make sure that it is a thick cotton cloth, not polyester cloth). Cut it into a 1 x 1-foot circle and then draw a small circle in the middle of the cloth 3mm diameter and carefully cut it. You can make a rough stitch in the middle whole but I didn't do it. That's Jangiri Making Cloth is ready !!! Please Don't use the Plastic Zip Lock Bags to make Jangiri the first thing it can't bear is the heat coming out of the oil. The second thing is not good for health.
Let's Make the Urad dal Batter for Making the Karupatti Jangiri:
Preparation Step: 3 After 2 hours, the Urad dal soaked well. Now drain the water, rinse it and start grinding it. You can Grind the batter using Mixie or Grinder both the methods work well. Add Urad dal to the Mixie jar. If you are using the Grinder Press the on button and then add 1/3 cup of water first and then add Urad dal. Grind the dal by adding water little by little. Same If you are using the mixie add water little by little and grind it. The Batter consistency is like Vada Batter Consistency thick not loose. So add water little by little and grind it. Approximately you will need 1/4 cup to 1/2 cup of water. Once ground transfer the batter to a large bowl.
Consistency Check: If you drop a ball of urad dal batter in water it should float on top it should not immerse in water is the best urad dal batter to make Jangiri.
Step by Step Instructions for Making the Karupatti Jangiri
Jangiri Making Step 1: Take the Ground Urad Dal, beat it for 1 minute just to fluff up the batter. add a tsp of Cornflour, a pinch of salt, a pinch of food color, mix well.
Important: While Mixing the batter always do Clockwise mixing not anti-clockwise. Keep the batter aside. Let's Prepare Karupatti(palm jagger) syrup.
Karupatti Syrup Making Step 2: Make Karupatti syrup, heat pan add 3/4 cup of powdered Karupatti, add 1/4 cup of water. Let it Dissolve. if Karupatti has impurities, then filter the impurities and then bring them back to the stove to make syrup. Let it boil well, add cardamom powder or you can add rose water for flavor mix well. Once it reaches half-string consistency switch off the stove. (half string consistency is less than a minute before 1 string consistency)
Jangiri Shaping Step 3: Heat a flat pan with oil in low to medium flame. drop a little batter in hot oil. it should rise up it is the right stage the oil is the right temperature to make Jangiri. Fill half of the cloth with Jangiri Batter and gather the edges together and hold it tightly.
Start Squeezing the Cloth on the top of the hot oil, the batter will start to drop, first, make 2 small circles and then continuously small swirls on the side. Don't worry, initially, it will not come perfectly but in practice, you will get it done. After shaping the Jangiris don't disturb it for a second. Once the down part started to turn crips turn the other side and fry it.
Jangiri Frying Step 4: Fry both sides evenly and then drain the oil remove it in a kitchen towel and then immediately drop the fried jangiris into the hot syrup. dip both sides keep it for 1 to 2 mins and then remove it. That's it Hot and Sweet Karupatti Jangiri is ready to Serve!!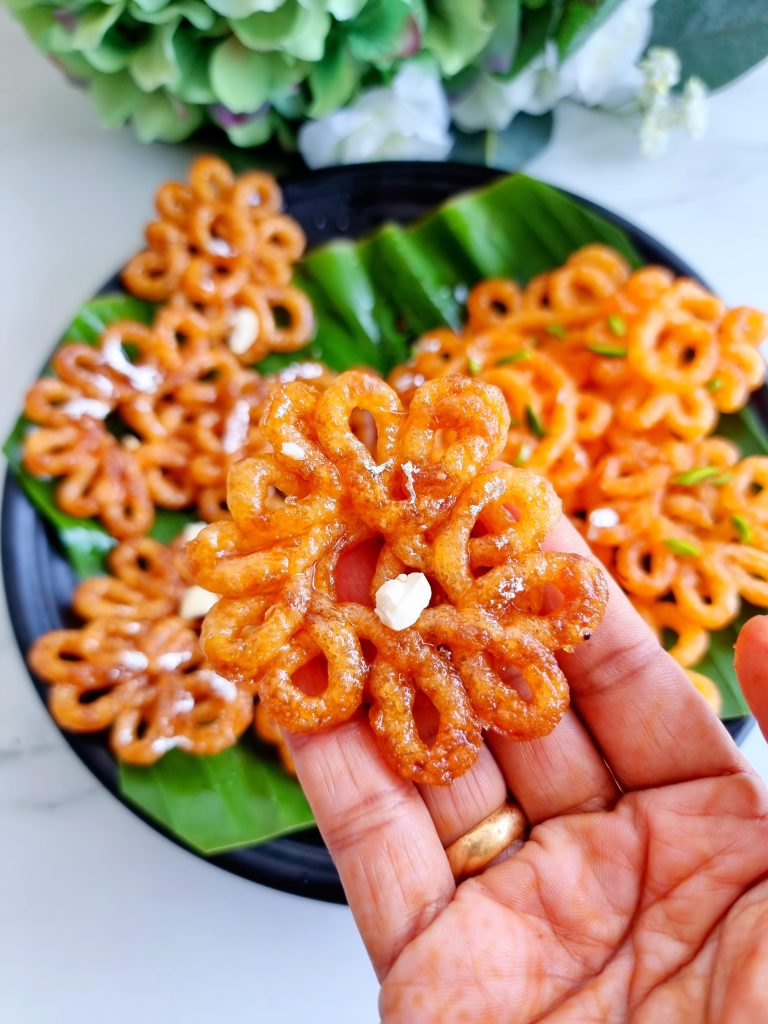 Tips & Tricks to make perfect Jangiri:
Use good quality Urad dal, soak for 2 hours not more than that and grind with less water like vada consistency
Karupatti Syrup consistency should be ½ string don't miss it
Corn flour gives crispness don't skip
Don't fry the Jangiri too crispy and also soak in hot to warm not super hot or cold
Shapping jangiri will come in practise dont worry for shapeless jangiri, even mine is like that🤦‍♀️ but taste wise Adichika Mudiyathu😉😉😉
Trobleshooting:
if you added more water and the jangiri batter is lose then add a tsp rice flour to adjust and then keep the jangiri batter in the fridge for 30 mins and then start shapping the jangiri. It will give nice shape.
If you miss the 1/2 string consistancy and it is 1 string or more then add a tsp water and mix well. Again keep in low flame now check the consistancy you will get half string.
Hope you like this Healthy Karupatti Jangiri Recipe.
Have a Good Day Makkale!!! Advance Diwali Wishes, Have a Safe Diwali!!!