Home made Herbal Bath powder, Nalangu Maavu(snana podi)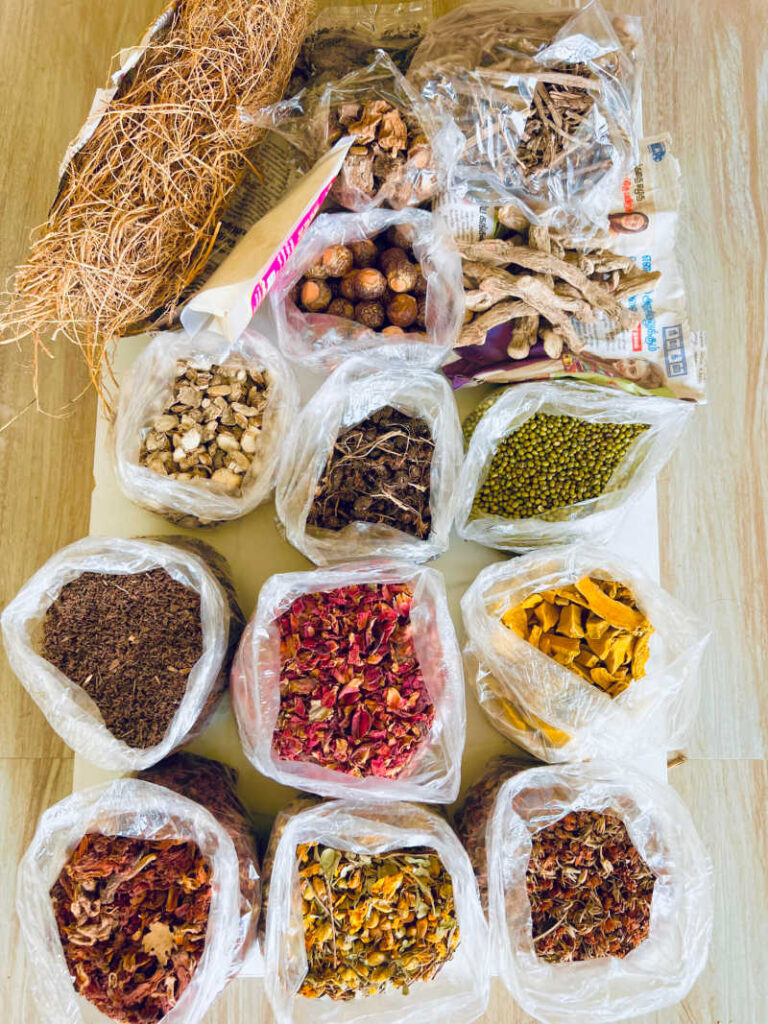 Homemade herbal Bath powder, Nalangu Maavu(Snana Podi). Traditionally made Bath powder is made with 100% Natural Ingredients. It enhances the complexion & fairness of skin and prevents unwanted facial hair growth and aging. If you have sensitive skin, and can't able to use soap, this powder would be the right choice. This can be used for newborn babies to old age people. I have been using this powder for Aishu & Akshu for a long time and never bought any shower gel or body wash for them. Whenever I visit India I make this on my own. The total ingredients cost 900 rupees. Comparatively cheaper than the stores. Shared the ingredients list and try to get whatever is available. You can powder them in the mill or in a mixie too.
What is Herbal Bath Powder?
Herbal Bath Powder is nothing but an ayurvedic powder that are very nutritious and have several benefits. They cure all the beauty problems and uproot their causes both internally and externally. Most herbal bath powders contain ingredients with anti-bacterial properties. Hence, they help in preventing all kinds of skin infections if used regularly.
Ingredients of Herbal bath Powder:
ஆவாரம்பூ / aavaram poo – 100gm
மகிழம்பூ / magizhampoo – 100gm
ரோஜா / rose flower – 100gm
வேப்பம் பூ / neem flower – 100gm
செம்பருத்திபூ/ hibiscus flower – 100gm
கஸ்தூரி மஞ்சள் / wild turmeric – 250gm
பாசிப்பயறு/ green gram – 1/2 kg
கோரைக்கிழங்கு / nut grass – 100 gm
பூலாங்கிழங்கு /white turmeric – 200 gm
பூந்திக்கொட்டை / soapnut – 100 gm
விலாமிச்சை வேர் / Vettiveroides Root – 100gm
முல்தானிமெட்டி / Fullers Earth- 100gm
வெட்டி வேர் / cuscus grass – 50gm
நன்னாரி வேர் / Sarsaparilla Root – 100gm
Other than this you can use dried orange peel, tulsi, neem leaves, etc. Dried them in indirect sunlight and then powder them.
warning:
Before using this powder please do a Patch Test to make sure that you are not allergic to any of the ingredients. Allergies to Nalangu Maavu are rare, but it's better to be safe than sorry. 
How to use herbal bath powder:
Take the required amount of Nalangu Maavu Herbal Bath Powder and mix some water in it to make a paste.
Apply all over the body and leave for 5 minutes. Rinse it off with water.
You can also use it as a dry scrub by scrubbing it on dry skin and then washing it off with water.
To use it as a face wash:
Make a paste of Nalangu Maavu Herbal Bath Powder with water.
People with dry skin can use curd or milk fat instead of water for better results.
For normal skin water or curd or honey can be added.
Apply all over the face and leave for five minutes. Rinse off with water.
Nalangu Maavu takes nearly 15 minutes to dry completely. I'd suggest scrubbing it gently with a little water to exfoliate the skin and then rinsing it off with adequate water.
Herbal Bath Powder for Babies:
I am using this bath powder for my kids from 3 months old, even I used this powder for washing their hair too(babies have patthu( a small patch of hair) that also will be cured using this powder. whenever I give an oil bath this herbal powder will works. it is good for babies too.
Frequently Asked Questions:
shall I apply this bath powder paste to the face? yes, we can use this powder for the face and the whole body.
will it stain yellow color? no
Is it smell bad, no not at all, actually it smells too good.
After using this we can go out? yes, you can go out, it is not like facial or bleach you can do your regular work.
we can use soap? This powder is the replacement for soap so you do not need to use soap.
How many days do we need to use? The results are totally different from person to person. we need to continue till we get results.
shelf life of this powder? If we store it properly it will come for a year. Take the required quantity and keep it in the bathroom while bathing make a paste with water and use it.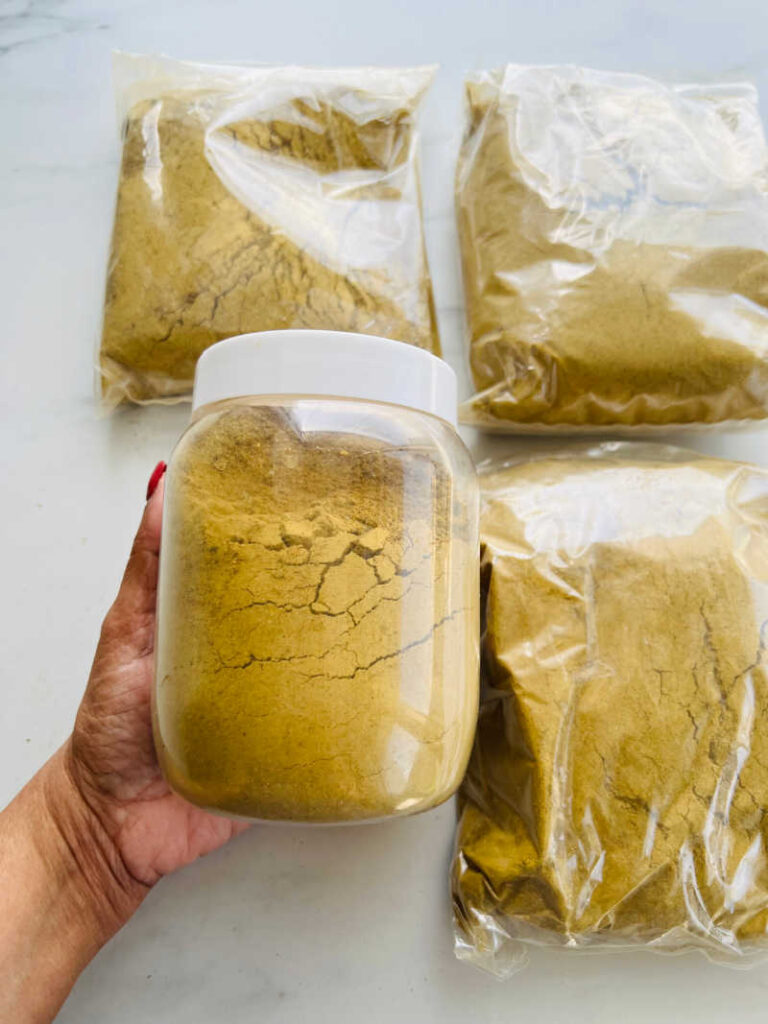 How to store this Powder?
The amount I mentioned here is 1 kg of herbal bath powder, I ground it in Mill. I separated them into four packets and brought them to Dubai. I opened one packet and transferred it to an air-tight container. I kept a small quantity in the bathroom too. Once that is finished and I will open the next packet. It will come for a year(i am using this only for my kids). I store it at room temperature, not in the refrigerator.
As I said before these are all simple home remedies for good skin but the main thing is to eat more protein like paneer, yogurt, fish, dal, egg, etc., good sleep for 8 hours, and drink more water.
Do check the HOMEMADE HERBAL HAIR OIL recipe here,
Hope this post will help you make herbal bath powder at Home. If you have any doubts about making this powder or If you want any specific queries you can email me at cpremas79@gmail.com. Do Follow me on Instagram for more Recent updates and every cooking recipe video
Do share your thoughts with me, Also tag our page on Instagram @premasculinary with hashtag it on #premasculinary
Thanks & Have a Good Day! 😉Enjoy Cooking and Cleaning!