Oats Moong dal Khichdi, Indian quick rolled oats & sprouted mung beans Kichadi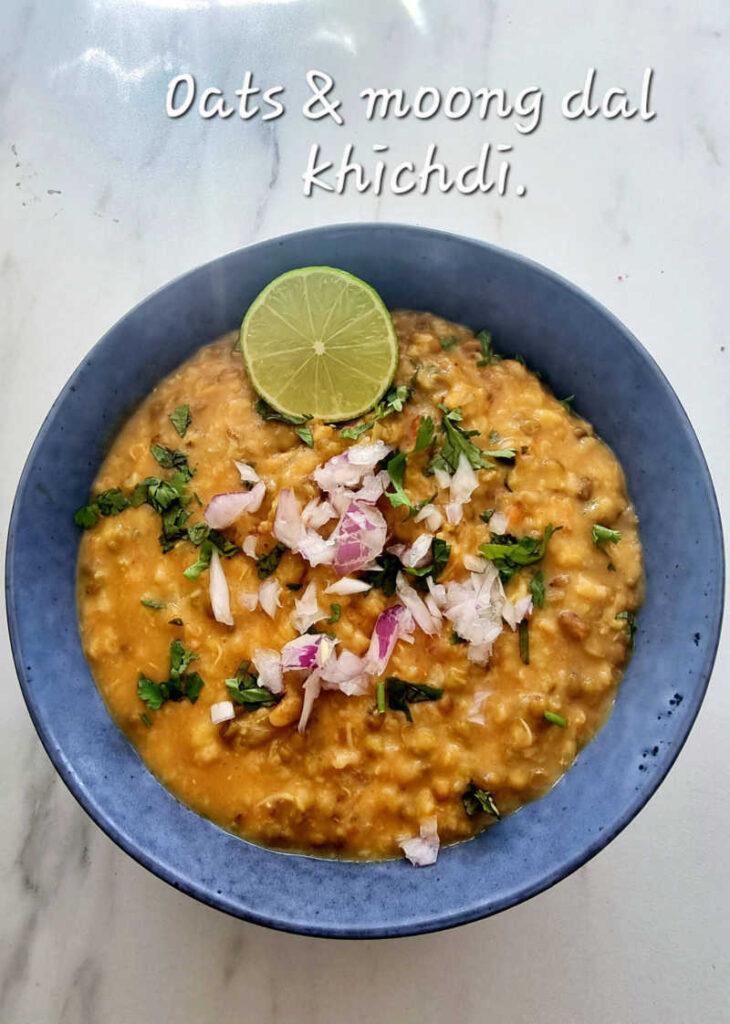 Simple, Quick, and Easy Oats Moong dal khichdi Recipe without rice. This Protein and Nutritious Oats Moong dal khichdi make for a filling meal without any side dish. This Oats Moong dal khichdi is made with rolled oats and sprouted moong dal that you can have at any time of the day whether it is for breakfast, lunch, or dinner. Being a fan of Oats Recipes, I love to have it in khichdi form than overnight oats. A small bowl of Hot steaming Oats Khichdi is more than enough for me no special dishes are required. If you are looking for Healthy oats recipes do check, out Oats Pongal, Oats Rava kuzhipaniyaram, Oats Othappam, Oats crust Pizza
What is Oats Moong dal Khichdi?
Oats Moong dal Khichdi is made with a Combo of sprouted Moong dal and oats. You may Call it Oats khichadi, whatever it is, a healthy dish not only for weight reduction, it is a protein-loaded dish to start the day. 
Many of you were looking for a low-calorie dinner. This oat Pongal is very good for dinner too. Oats are rich in fiber that will help avoid hunger pangs at night. 
We Can Have Oats Khichdi For Dinner???
The fiber content of oatmeal can also aid the digestive system. Oatmeal itself can help you lose weight because it will help you feel full longer than other foods. So it is good to have it for dinner too.
How Oats Helps Us with Weight loss???
Overnight oats are also more digestible. This means you absorb more nutrition from your food! Research has shown that a daily intake of healthy carbs like oats is connected with greater energy levels, improved mood, and weight loss.
Ingredients:
Oats: Prefer steel cuts oats or Rolled oats for this recipe. You can use any oats of your choice.
Moong dal: Soak the moong dal overnight and then use it for making khichadi. If it is Sprouted then it is healthy
Vegetables: You can add vegetables of your choice.
Step by Step Oats Moong dal Khichdi recipe:
Heat a Pressure cooker with a tsp of ghee, and add 1 tsp cumin seeds. Let it splutter. Add 1 finely chopped onion, and 1/2 tsp ginger garlic paste and saute well. Add 1 finely chopped tomato and saute it till it turns soft and mushy.
Add freshly chopped vegetables like peas, beans carrots if you want at this stage.
Add 1/2 tsp turmeric powder, 1 tsp chili powder, 1/4 tsp garam masala powder and 1 tsp salt saute well.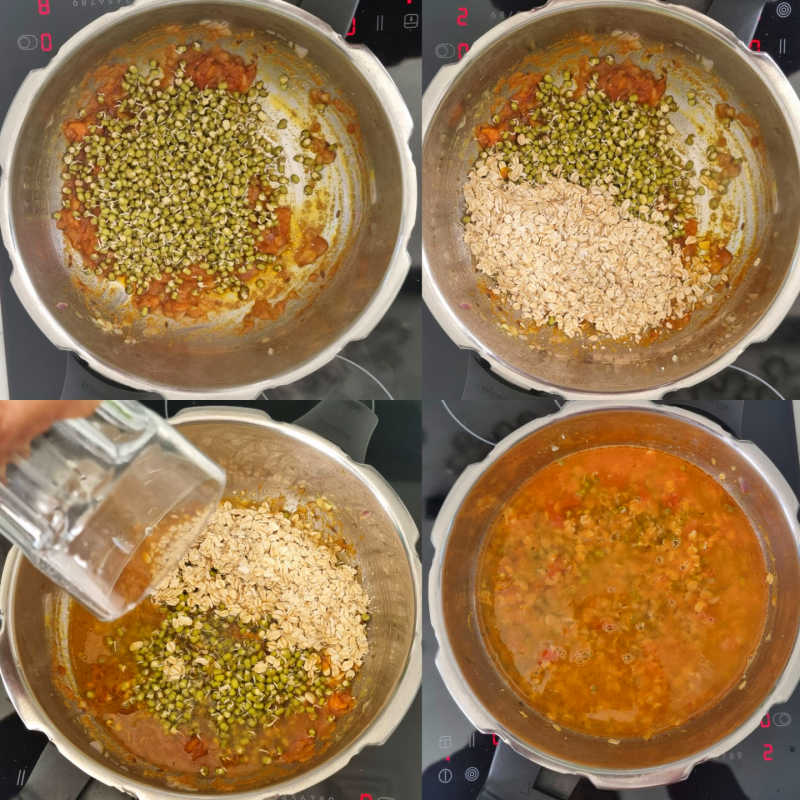 Add 1/2 cup of Soaked & sprouted Moong dal and 1/2 cup oats and mix well. Add 3 cups of water. mix well.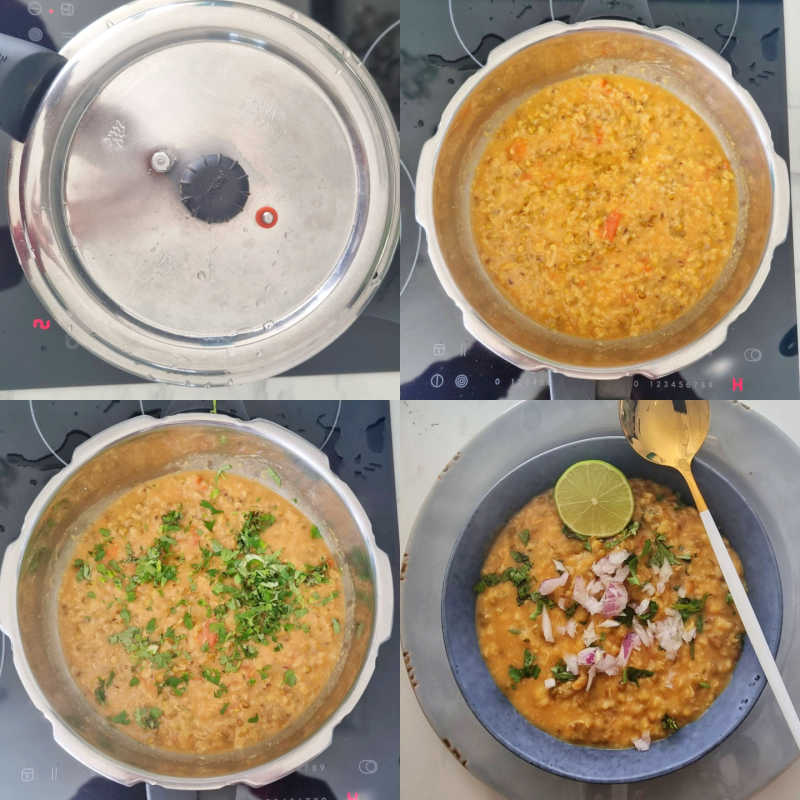 Cover and pressure cook for 3 whistles. Once the pressure is completely released open the lid and garnish with chopped coriander.
That's hot Oats Moong dal kichadi is ready to Serve.
Just top with chopped onion and squeeze lime juice and serve! Enjoy!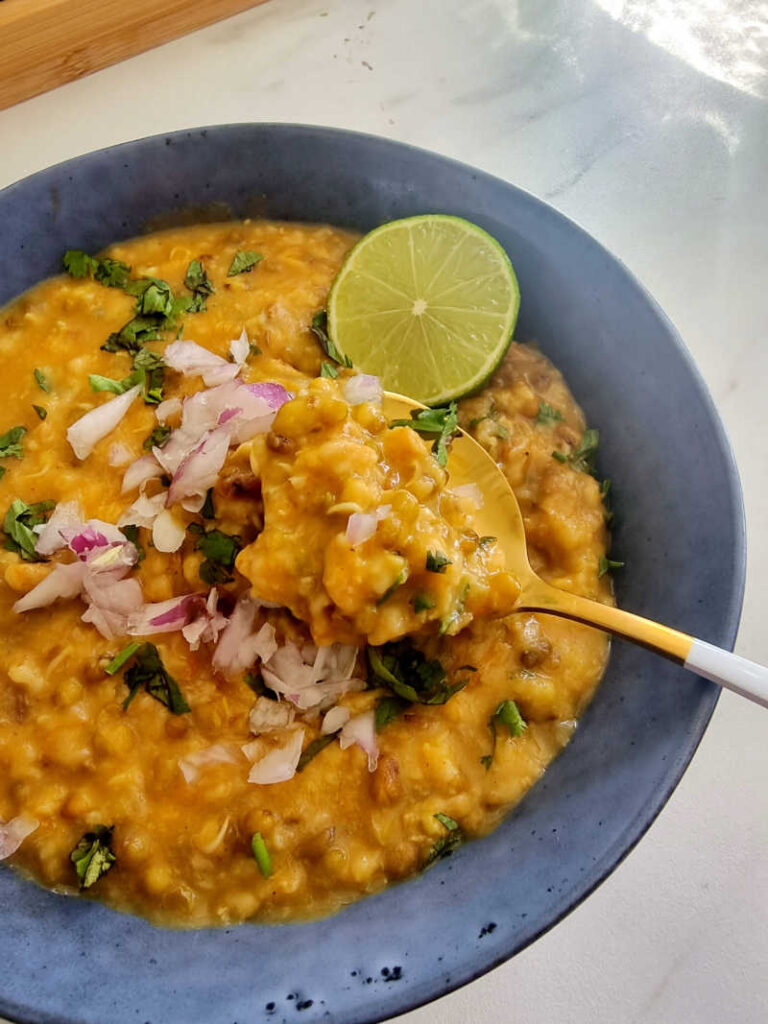 Hope you like this Healthy, Tasty, and delicious Moong Dal Khichdi recipe.
More Healthy Low-calorie Breakfast recipes like Dhaliya Kichadi recipe,  Kollu Idli recipe,  Kanda Poha,  Quinoa Idli without rice,  Ragi Idli recipe,  Black rice Dosai(Karuppu Kavani Arisi) Dosa are some Low Carb South Indian Breakfast recipes.
Do stay tuned to Prema's Culinary for more interesting weight loss or Low-Calorie recipes if you have any doubts about this recipe or If you want any specific recipes you can email me at cpremas79@gmail.com.
Do Follow me on Instagram for more Recent updates and every cooking recipe video share your thoughts with me, Also tag our page on Instagram @premasculinary with hashtag it on #premasculinary
Thanks & Have a Good Day! 😉Enjoy Cooking and Mindful Eating!