Manga Sambar(மாங்காய் சாம்பார்), How to make Simple Sambar with green raw mango(video recipe)
Simple Manga Sambar(மாங்காய் சாம்பார்) recipe with Potato Roast is an Ultimate combo that is often made in Tamilian Homes made with freshly ground Homemade Sambar Powder. Summer is never ended without making Manga sambar. Manga Sambar is the most delicious Sambar of All Sambar Varieties. Mangai is a Tamil word that means Raw Green Mango, but in colonial language, we call it Manga. This Post is Really helpful who are looking for "How to Make Perfect Sambar" How to Cook Toor Dal" and "how to make Mango Sambar without Sour" Since it is a Video Recipe you can understand more in Detail.
Check More Interesting Sambar recipes like Chinna Vengayam Arachuvitta Sambar, Kerala Varuthu Aracha Sambar, Mysore Sambar, Capsicum Sambar, Turnip Sambar, Mullangi Arachuvitta Sambar, Murungai Keerai Sambar.
How to Make Perfect Manga Sambar
Choose Good Quality Toor Dal: For every perfect and flavorful sambar, Good Quality Toor dal is very important. Get the good Quality Toor dal and make it. I prefer Sri Gold, Udhayam Toor Dal.
Cooking the dal is very important to check the below Procedure how to cook dal and then cook the dal.
Sambar Powder: Always add the freshly ground sambar powder. While making the sambar powder dry roast on low flame otherwise it will burn. also, the ingredients should not turn too crisp.
Tamarind Extract: soak tamarind in the water at least 15 mins before making sambar so that we can exact juice easily, if you forgot to soak then soak in hot water for 5 mins and then extract the juice. small gooseberry-sized tamarind in 1 cup of hot water for 15 minutes and then extract the juice and discard the pulp.
When to add the mangoes, the whole manga sambar-making process will flop sometime if you add the mangoes at the wrong time. You should know when to add the mangoes at the right time. so carefully watch the video and follow the procedure given below.
More Manga(Mango Recipes), Some of the other raw mango dishes that you can try, are Vendhaya Mangai Urugai, Mangai Thokku Recipe, Mangai Sadam recipe, Mangai Pachadi recipe, Raw Mango Salad.
How to Toor Dal Perfectly to make Raw Mango Sambar:
Cooking the Dal is an essential step for making any delicious sambar also use good quality toor dal. I used Naati Grains Unpolished Toor Dal.
STEP:1 Take ½ cup Toor dal (100 grams) wash and rinse a couple of times in water and then add it to the pressure cooker and add 1 cup of water.
Add ¼ teaspoon turmeric powder & a drop of oil pressure cook dal for 4 to 5 whistles or till it becomes soft. Once the pressure is released and then opened. mash and keep aside. Pressure Cooked Toor Dal is Ready to Make Manga Sambar.
STEP BY STEP RAW MANGO SAMBAR RECIPE:
Dice mangoes into little bigger chunks. Soak small gooseberry-sized tamarind in ¼ cup of water to extract the juice.
Pressure cook ½ cup toor dal along with 2 drops of oil for 3 whistles, mash and keep aside.
Add 1 tbsp oil, 1 tsp mustard seeds, 3 dried red chilies, and hing, let the mustard seeds splutter.
Add 10 shallots, 2 tomatoes, curry leaves, and drumstick, saute well. Add 1 tbsp Sambar Powder, and 1.5 tsp salt.
Add ¼ cup tamarind extracts Cover and cook till the drum stick becomes soft. (5 mins)
Now add the Cooked Dal, adjust the water mix well again, and boil it for 3 mins.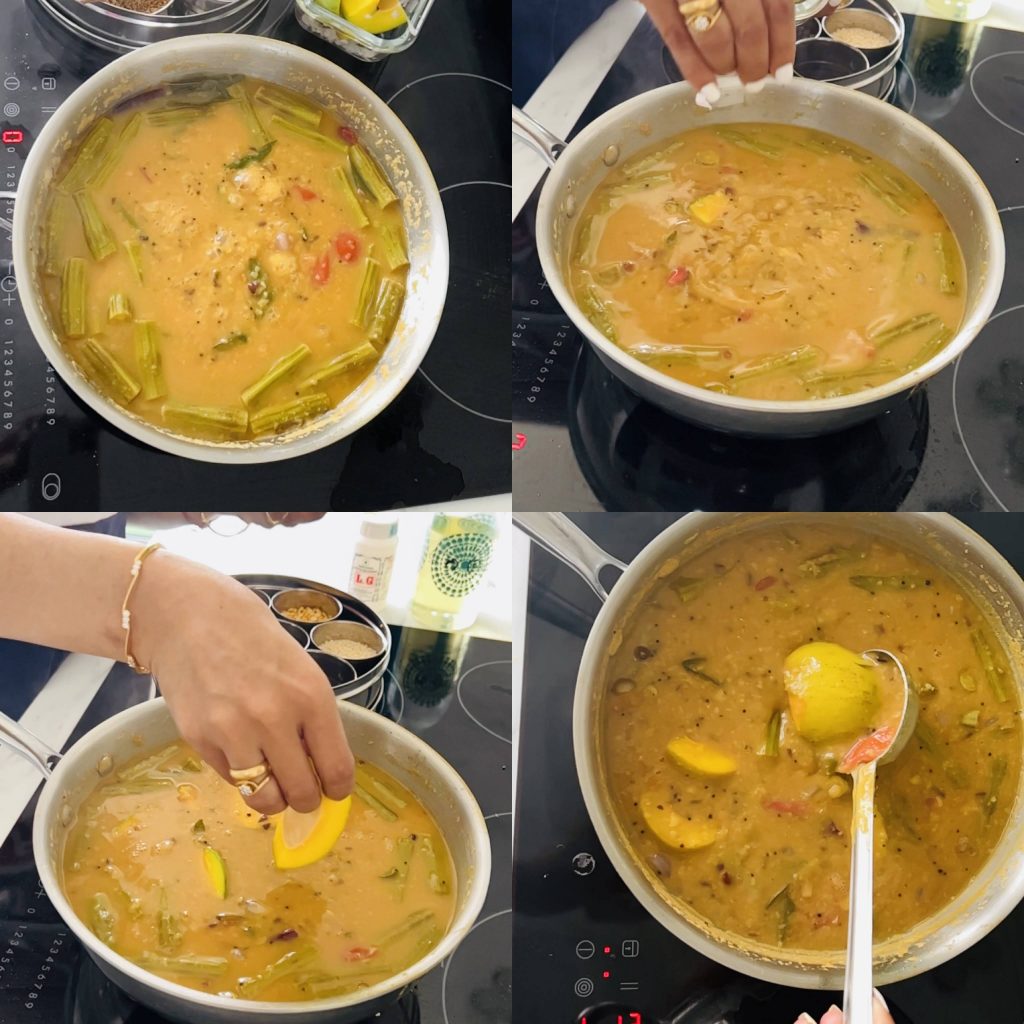 Once the sambar foams nicely and bubbles at this stage add mangoes, just cook for 3 mins, and then switch off the stove.
✅️That's Falvourful Mangai Murungakkai Sambar ready!
Important Notes:
✅️Add mangoes to the boiling sambar only at the last step otherwise, it will dissolve. Also, don't cook the sambar after adding mangoes.
Do try this Delicious Mangai Sambar Recipe and let me know your feedback!
Happy Cooking!!!