Vegetable Palav recipe, How to make Karnataka Hotel-style Vegetable Rice Bhath with Sona Masoori Rice
Karnataka Hotel Style Vegetable Palav made with Sona Masoori Rice, coconut and Mint based homemade masala. Simple Pulao recipe without too much of masalas and spicyness especially for kids lunch box is vegetable pulao. This Vegetable Palav is made with sona masoori rice is little sticky and mushy which is very good for kids lunch box it wont turn dry and made with loads of Fresh vegetables, Very healthy Palav recipe too. Karanakata Special Vegetable Palav and more Kanada recipes like Chow Chow Bath recipe,  Bisibella Bath, MTR Bisi Bella Bath Powder Mysore Sambar, Mysore Rasam, Tomato bath Upma Recipe, Shavige Recipe, Donne Biryani, Mysore Masala Dose, Obbattu Or Holige
Actual Vegetable Palav recipe is inspired by Lokesh Anna's SSP Eating House (one of the Top 3 hotel in Blr) ❤️ you dont belive the taste of the palav was amazing. I have tried 3 times at home to bring the same taste. Speciality and secret of this palav is added coconut, that enhances the taste. I finally achived something like that hotel palav. Actually they serve palav with chuteny some how my nakku😉 doesnt like that but i managed to serve it with egg Salna(i followed this empty salana recipe and Added egg) and Onion Raita.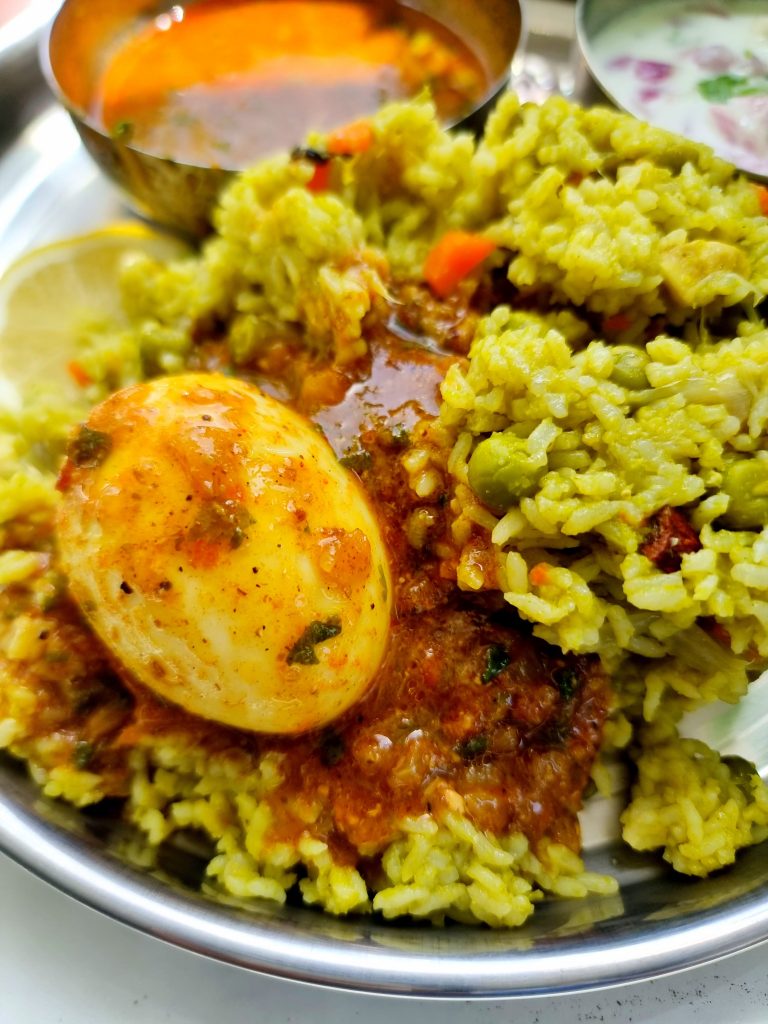 If you are Fond of #KaranatakaFood or #bangalorevegetarian or #vegetablepalav or #ricebath fan just try this Vegetable Palav at home and tell me your feedback how you like it. The Central Bangalore neighbourhood is so famous for vegetable palav😄 There are so many versions of palav availble but this one is very easy and simple version that you can mange to bring the hotel taste at home.
The Only difference between this Hotel Vegetable Palav and Homemade Vegetable Palav, in hotel palav minimal vegtable and more rice. You can see vegetable here and there not much. It look light green not dark green because they add more cococnut and less coriander, it very spicy. But at home we are making for kids so i have added more vegetables, less spicy version but you can adjust the spice level accoring to your tastesbuds.
Vegetable Rice Bath/Palav Masala Ingredients:
A bunch of coriander + palak(optional), 3 green chilies, 5 shallots, 1 inch ginger, 5 garlic pods, 3 tbsp grated coconut  + ½ tsp fennel seeds are the ingredients we need to make Palav Masala.
Step By Step Preparation of Vegetable Rice Bath/Palav recipe with Pictures,
Take a bunch of coriander + palak(optional), 3 green chilies, 5 shallots, 1 inch ginger, 5 garlic pods, 3 tbsp grated coconut  + ½ tsp fennel seeds and grind it to a smooth paste along with ½ cup of water.
Heat a pressure cooker, add 1 tsp oil + 2 tsp ghee, add whole spices, cahsews 1 onion sliced saute well. Onions should not turn golden, they should be pink and soft.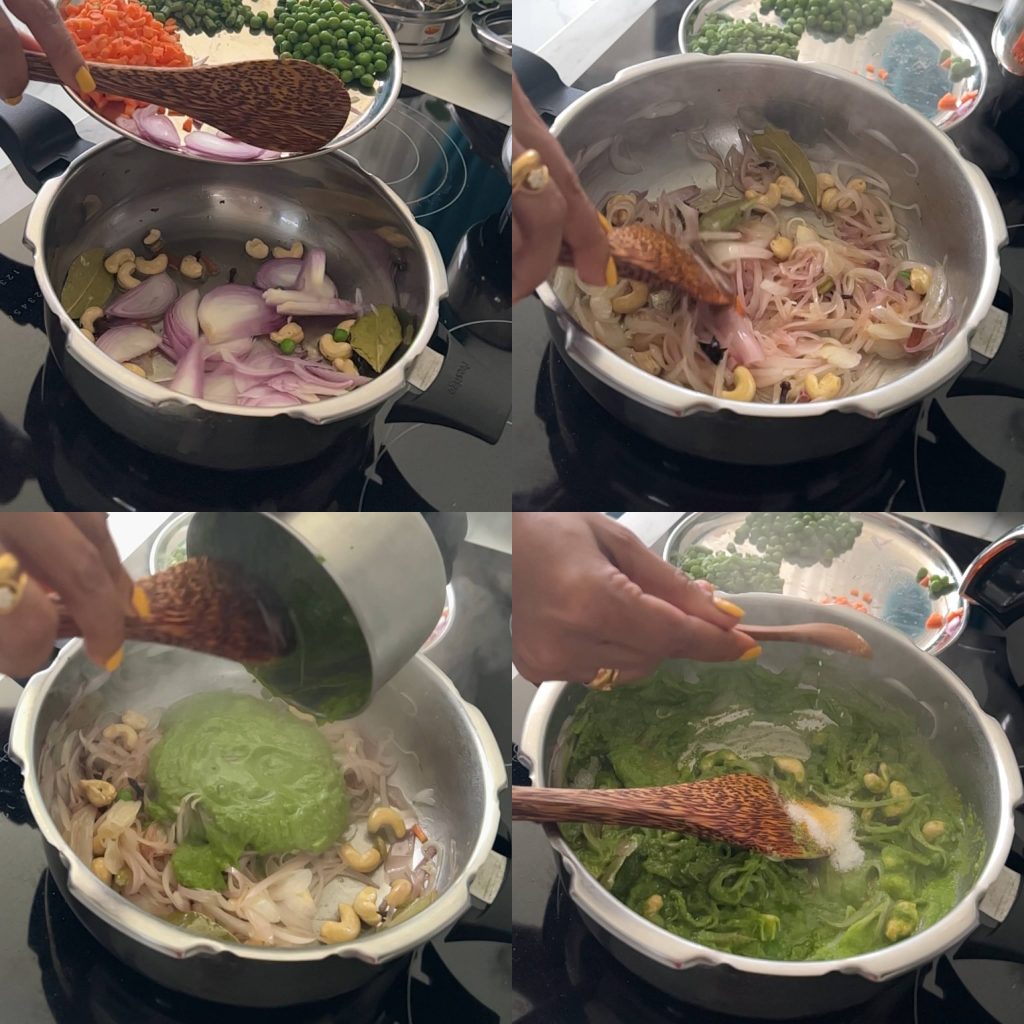 Add the ground paste +  1 tbsp curd + a tsp salt, turmeric powder and saute for a few mins till the raw smell goes off.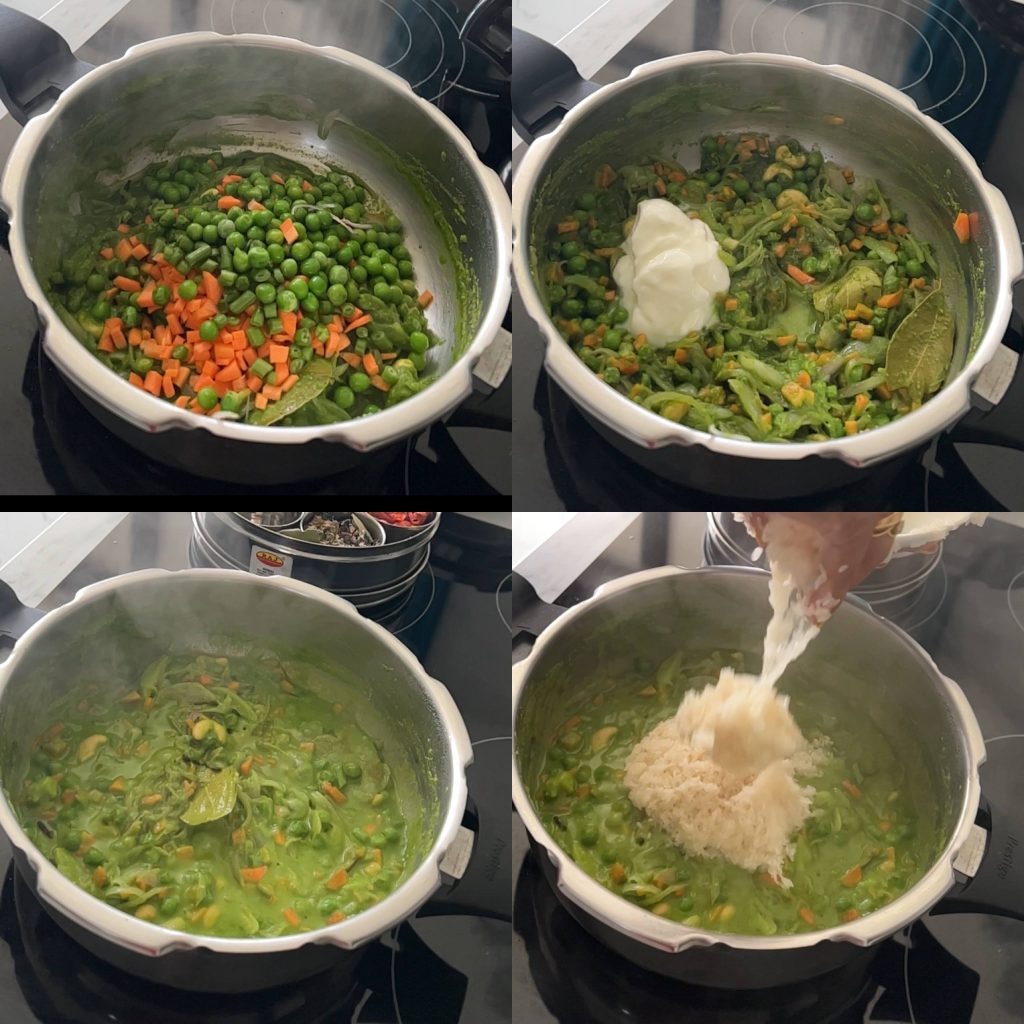 Add vegetables(you can add soya, mushrooms or channa also), let it cook for a few mins.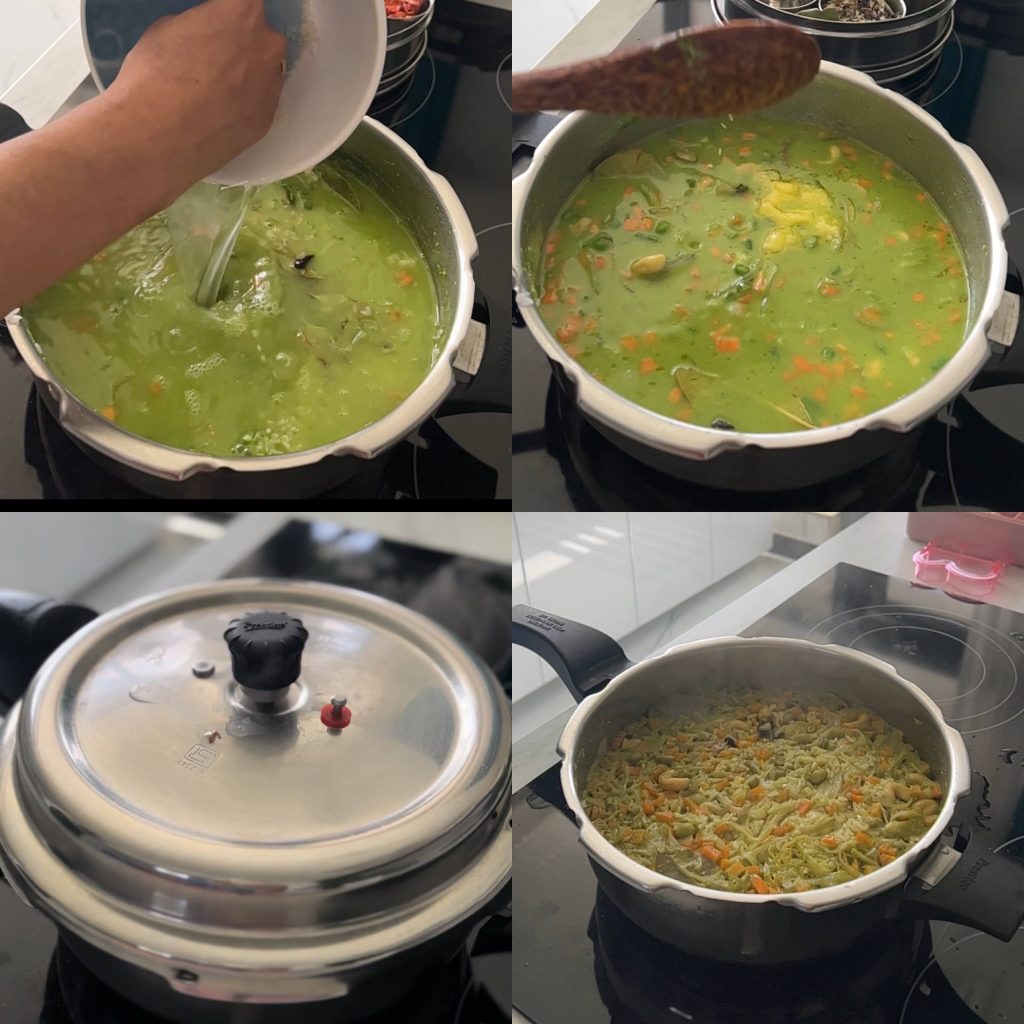 Then add 2 cups of rice + 4 cups of water, 1 tsp ghee, cover and pressure cook for 3 whistles. That's it, Bisi Bisi vegetable Palav is ready to Serve.
This Pulao is good for a lunch box, you can add any type of rice and healthy vegetables too.
I used the palak + coriander combo, you can use mint also or only with coriander too. 
Pro tips:
Adding oil + Ghee in pulao or Biryani taste too good also the rice will not turn hard, it will stay fresh for long so always add oil + ghee combo .
For Pulao dont roast the oils golden brown just to pink and soft, it makes pulao rich.
You can use Millets instead rice for more healthy Palav.
More Side Dishes for Palav or Biryanis you would like to try, Biryani Kathirikai, Boondi raita, Tomato Jam for Biryani.
Do try this Tasty Vegetable Palav Recipe and Let me know your Feedback,
Have a good day Makakle:)