Kaju Katli Recipe, Step by step Pictures + Video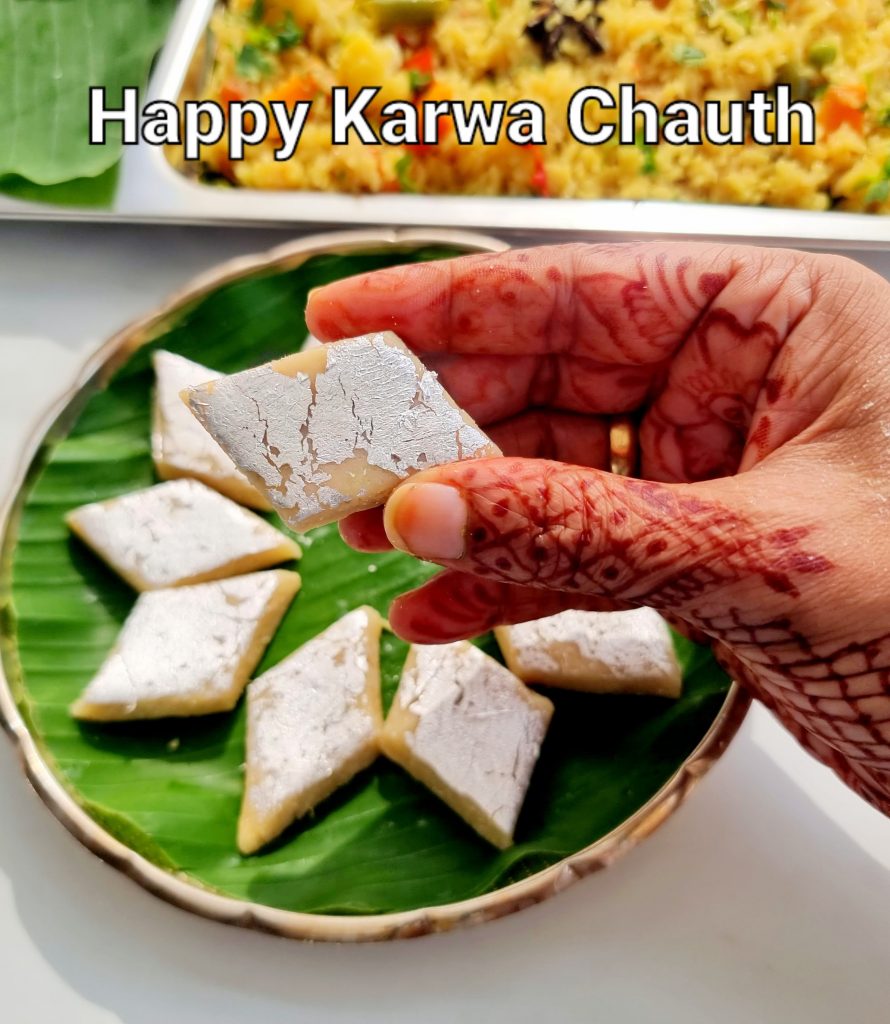 Kaju Katli recipe, Karwa Chauth Diwali Sweets recipes. 🌙 Happy Karwa Chauth 2021 to all women who are celebrating today! Here is the Visual treat for you all, Kaju Katli made with good quality cashews, sugar, and Cardamom with just 3 ingredients and yummy sweet is ready for the Festival. As Diwali is around the corner, I am sharing some beginner sweet recipes. 2 Days back I shared the Coconut Burfi recipe, Urad Dal Ladoo Recipe, Gulab Jamun Using Store Bought Gulab Jamun Mix. These are some of the Beginners sweet recipes that don't need any special techniques, very simple and easy recipes.
If you are health Conscious You can try this healthy low-Calorie Indian Sweet Recipe like, Karupatti Thengai Burfi(Thengai Burfi using Palm Jaggery), Karupatti Mysore Pak recipe, Karupatti Kaju Katli recipe, Coconut Burfi with Sugar recipe.
Tips and Tricks To make Mithai Shop Style Perfect Kaju Kalti:
Cashew Powder: Take Good Quality Cashews, we need dry room temperature cashews if you keep the cashew in the fridge keep it outside for 1 to 2 hours make sure it is dry and use it. Cashew powder should be dry. If your cashews have moisture it will leave oil.
Measurement: Ratio of Cashew powder and sugar is very important. If you take 1cup of cashew powder then 3/4 cup of sugar. Don't measure the Cashews before grinding, Powder the cashew and then take 1 cup of cashew powder and sugar. Also Water should be 1/4 cup not more than that. These three measurements are very important.
Sugar Syrup Consistency: Don't miss the sugar syrup consistency, it should be single string unbreakable. Like you touch the sugar syrup between your thumb and index finger it should form a thin string consistency. It should not be very thick.
When to stop Cooking, Once the pan leaves the Cashew dough out, that is non sticky cashew dough that is the perfect stage to switch off the stove.
kneading the cashew dough, Knead the cashew dough for 5 mins, don't knead too much.
Slicing the Kaju Katli, after rolling the dough immedietly slice it otherwise it will turn dry.
Kaju Katli Recipe Video in Detail:
📓RATIO OF INGREDIENTS FOR KAJU KATLI:
For 1 cup of Cashew Powder, we need 3/4 cup of sugar and 1/4 cup of water. Cardamom, Rosewater for Flavour.
How to make Kaju Powder(Cashew Powder) To Make Kaju Katli,
Take 250g of Cashewnuts into a mixie jar, If you kept the cashews in the fridge, then bring them to room temperature and then proceed(it will take about 1 to 2 hours). Ensure your mixer jar is completely dry. Powder it by giving pulses. Don't grind it continuously as the cashews will leave out the oil and the whole mixture will turn sticky. Now Cashew Powder is ready, Measure and take 1 cup of Cashew Powder and keep ready. Let's Make Sugar Syrup.
Making Sugar Syrup and the consistancy for Kaju Katli,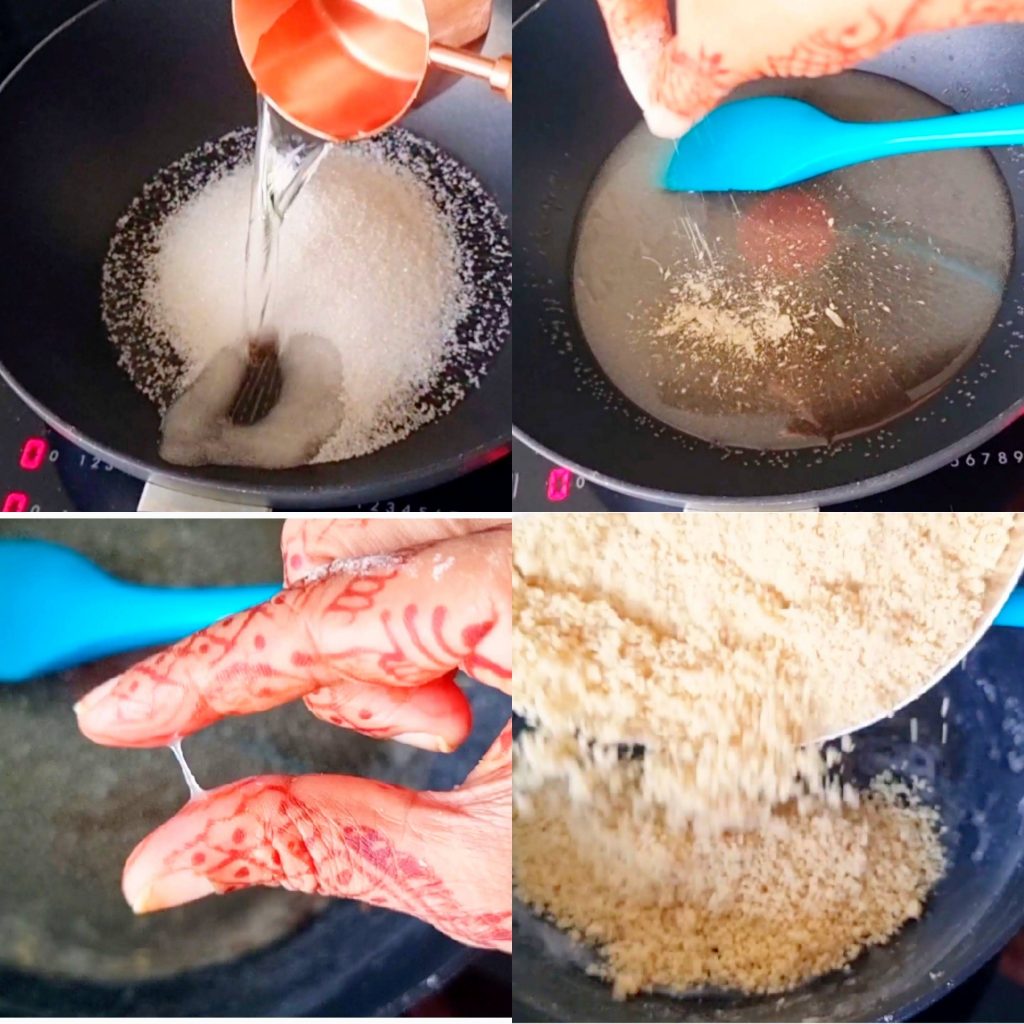 Into a pan add 3/4 cup of sugar and 1/4 cup of water keep stirring in low flame till sugar completely dissolves. Then it starts to bubble up, Keep stirring. Add rose water or a pinch of Cardamom Powder, keep string till it reaches the one-string consistency. That's the right stage, now start adding the Cashew Powder.
Add Cashew Powder and keep stirring until it forms a thick rolling mixture like this. It should be like a Nonsticky dough. The dough should not be dry, it should be soft and flexible so switch off accordingly. You can even try rolling a ball, it should be able to roll a ball that's the correct consistency. It took me just 7-8 mins for forming the cashew dough. Switch off and let it cool down for 10mins.
When it's still warm, knead it well just for 2 to 3 mins. Don't knead too much. Spread a wax paper, Keep the dough and flatten it. Close it with another Wax Paper, start rolling with a rolling pin.
It shouldn't be too thick or too thick, Apply the edible sliver sheets this is optional, you can skip too. Cut it into a diamond shape and let it sit for 2 to 3 mins and then separate it.
That's super cute Diamond Shaped Kaju Katli is ready to serve!
Here is the Perfectly Shaped KAju Katli.
Do try this recipe and let me know your feedback!!