Kalyana Veetu Veg Biryani or Pulao, Simple Veg Biryani Meals
Tamil Kalyana Veetu Veg Pulao or Veg Biryani recipe made without Onion and Garlic, Simple and Easy Lunch Box recipe, that you can make under 45 mins. Kalyana Veetu Biryani is simply amazing with flavourful freshly ground masala. The Original Kalyana Veetu veg Biryani recipe shared by our Kalayana Madapam Master(cook) Venkatesh. He is very good at making all types of biryani and pulao, I tried many of his recipes. This one is a super-duper hit at Home. Recently I made this Pulao for guests. They told it exactly tasted as the biryani served in Marriage or Receptions. The actual recipe doesn't have soya chunks and paneer, but I have added some to make it rich. You can skip if you don't have one.
More Tamilnadu Style Biryani Recipes You may Like to try, Ambur Biryani, Kondakadalai Biryani, Baby Potato Green Biryani, Soya Chunks Biryani, Thalapakatti Biryani, Chettinad Veg Biryani Recipe, Mint Biryani Recipe, White Biryani recipe with Paneer, Thakkali Biryani Recipe
What is Kalyana Veetu Veg Biryani/Veg Pulao?
Kalyana Veedu Biryani is nothing but Biryani served in Marriage or a day before(reception). Now modern Marriages the veg biryani is served with Kurma. Most of our side marriages don't use onion and garlic, if you looking for a Veg Pulao or Biryani Recipe without Onion and Garlic this would be a very good option.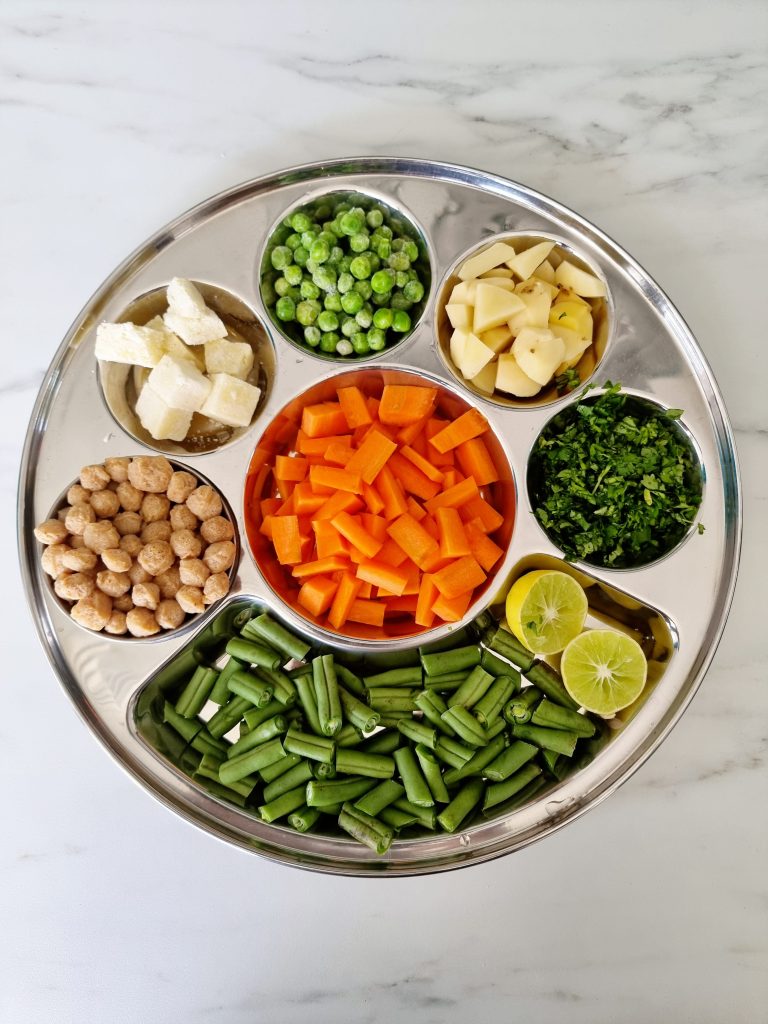 How i Made this Vegetable Biryani?
My version of Vegetable biryani is always made with loads of Vegetables and less rice. As I told you Earlier this is our cook recipe. He mentioned for 1 cup of rice use 250g grams for mixed vegetables which is very little for me. But I have added panner and soya chunks which are healthier versions too. The secret of this Vegetable biryani is Coconut is ground with whole spices and some other spices, try to take the ingredients as mentioned increase or decrease in ingredients, the taste may differ. Last but not least, Follow each and Every Procedure carefully to get the exact taste of Kalyana Biryani.
Take 4 to 6 green chilies, 50g ginger, 1 tsp fennel seeds, 2-inch cinnamon, 4-5 cloves, 3 cardamoms, ½ cup freshly coconut, these are ingredients required to make Kalyana Biryani. If you want to add garlic you can add about 25g not more than that. This masala measurement is for 2 cups of rice, if you add more rice just increase the quantity accordingly.
Step by Step Kalyana Biryani Recipe with Tips:
Step: 1 Take 4 to 6 green chilies(there is no Chili powder for this biryani so according to your spice level adjust chili quantity), 50g ginger, 1 tsp fennel seeds, 2-inch cinnamon, 4-5 cloves, 3 cardamoms, ½ cup coconut and grind it to a fine paste along with 1/2 cup of water. Make sure that the ground paste is smooth and creamy.
Heat a pan with 1 tbsp oil + 1 tbsp ghee(don't use only or ghee always ghee and oil combination gives a nice flavor to biryani), add paneer(paneer is not in the recipe, you can skip too), roast slightly, and remove it on a plate(don't roast it to golden paneer will turn rubbery), keep aside.
Step: 2 Into the same pan add whole spices(cinnamon, cloves, star anise, cardamom), vegetables of your choice, ground coconut paste, 1.5 tsp salt. Saute well. Cover and cook till the vegetables become soft and oil separates. This is an important step, you must cook till the oil is separated otherwise you will feel the raw smell of the biryani.
Step: 3 Add 1 tbsp lemon juice, 2 cups of rice(soak rice for 30 mins, drain water and then add it), and 3 & ¾ cups of water, mix well. There is no curd in this biryani so add lemon juice. Cover and Cook for 6 to 8 mins or till the rice is done!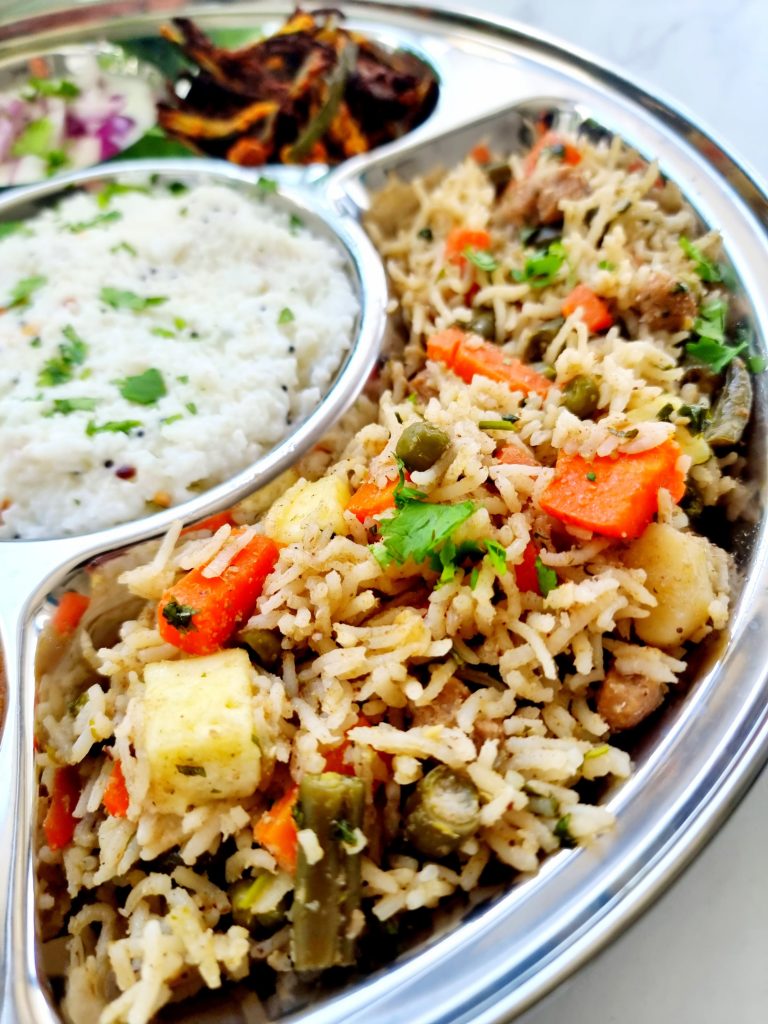 Add 1 tsp ghee finally to fluff up the rice, garnish with coriander leaves, top the paneer and serve. That's it, simple Veg Pulao is ready to serve!
IMPORTANT POINTS TO REMEMBER:
Don't Soak the rice for more than 30 mins, rice will turn sticky.
masal paste is the highlight of the dish dont use strore bough masala powder.
you can use basmati rice, or seeraga samba rice, must try with seraga samba rice.
SOME SIDE DISH FOR AMBUR BIRYANI:
Biryani Kathirikai(Muslim style Brinjal Gravy) Side Dish for Biryani, Mirchi ka Salan, Empty Salna Recipe,
Dalcha Recipe, Kalan Masala for Biryani, Mushroom Salna for Biryani
Do try this Yummy Kalyana Biryani and Let me know your FeedBack!!!