Kondakadalai Biryani, Kabuli Chana(Chole) Biryani with step by step Pictures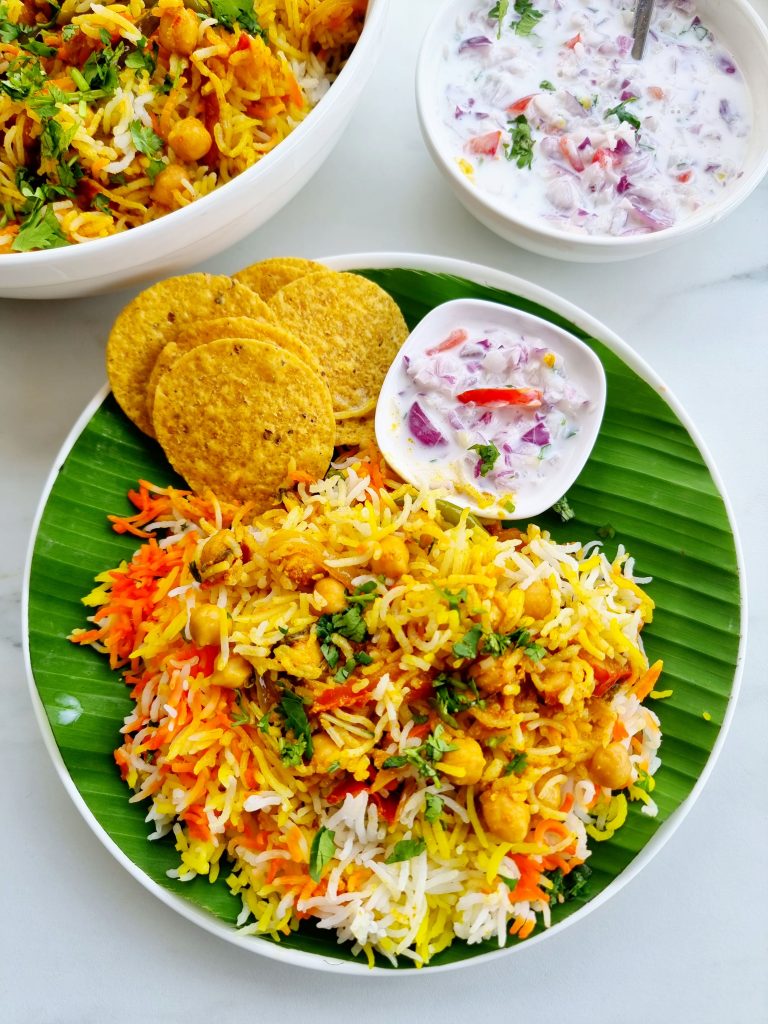 Chana Biryani is well known as Kondakadalai Biryani in Tamil. Kabuli chana is White chana Biryani made with fragrant Basmati rice cooked with whole spices. Simply served like Restaurant Style Chana Biryani. The Chana is cooked with Yummy and Tasty Masala and then layered with Steamed Rice. Mouth watering right while hearing the Preparation of Chana Biryani? No complicated techniques like normal Biryani are very simple, I have shared HOW TO COOK CHANA TO MAKE IT SOFT and also HOW TO COOK BASMATI RICE TO MAKE DUM BIRYANI. All tips and tricks shared kindly read the full recipe🙏.
Chana Biryani recipe request came from a reader before I am going for vacation. Somehow I totally forgot. Once I am back again she pinged me and asked for the recipe. Chana biryani or Chana pulao I make frequently for kids' lunch boxes. Never thought to click it while I was preparing the Kabuli Chana Biryani. This time I made purposely to share recipe. As I said before it is too good idea for KIDS LUNCH BOX MENU. Do try this Chana Biryani Recipe and Let me Know your Feedback.
More Chana Recipe, Poori Chana Masala Recipe, Honey Chili Chana Recipe, Hara Chana Masala recipe, Aloo Chana Chaat Recipe
How to Cook Kondakadalai(Chana) to make Chana Biryani:
It is important that we need to soak chana for 8 hours completely or overnight. It should be Double in Size After Soaking. Into a Pressure cooker or Instant Pot Add Soaked Chana cook with Enough water along and salt. Pressure cook for 3 to 4 whistles till it becomes soft. If you are cooking in an Instant Pot set Pressure cook for 10 mins and make sure the vent is sealed.
Let the Pressure Release by itself and then open the lid. If you press the chana it should be easily mashed by your fingers. It is the right stage where chana is cooked well.
Tips:
If you forgot to soak chana for 8 hour don't worry, you can make whatever dish with chana. Just soak in Hot water for an hour and then pressure cook it along with a pinch of Baking Soda. You will get soft chana.
Now Cooked Chana is ready Let's Cook Chana Biryani.
Kondakadalai Biryani, Step By Step Kabulai Chana Biryani Recipe
Step: 1 Cooking Basmati Rice to make Dum is very Important. Let's see How to cook rice first.
Take 6 cups of water in Pan let it boil well. Add 1 tsp salt(The water should bubble and boil well). Now add 2 cups of Basmati rice. Don't add rice if the water is not well boiled.
After adding the rice just mix once and let it cook for 5 mins.
Don't cover and cook the rice. Always Cook in an open pot method.
We need to Cook the rice. Just 80% should not cook completely. As we are going to put Dum Later.Important: After 5 mins just check the rice, take the rice and press it should break it into 3 or 4 little hard pieces. If it breaks by 2 means it needs a few more mins to cook just cook it 2 mins and then drain the water.if it mashed means you overcooked it. If it is over cooked, drain the water and show the cooked rice in running water to stop further cooking.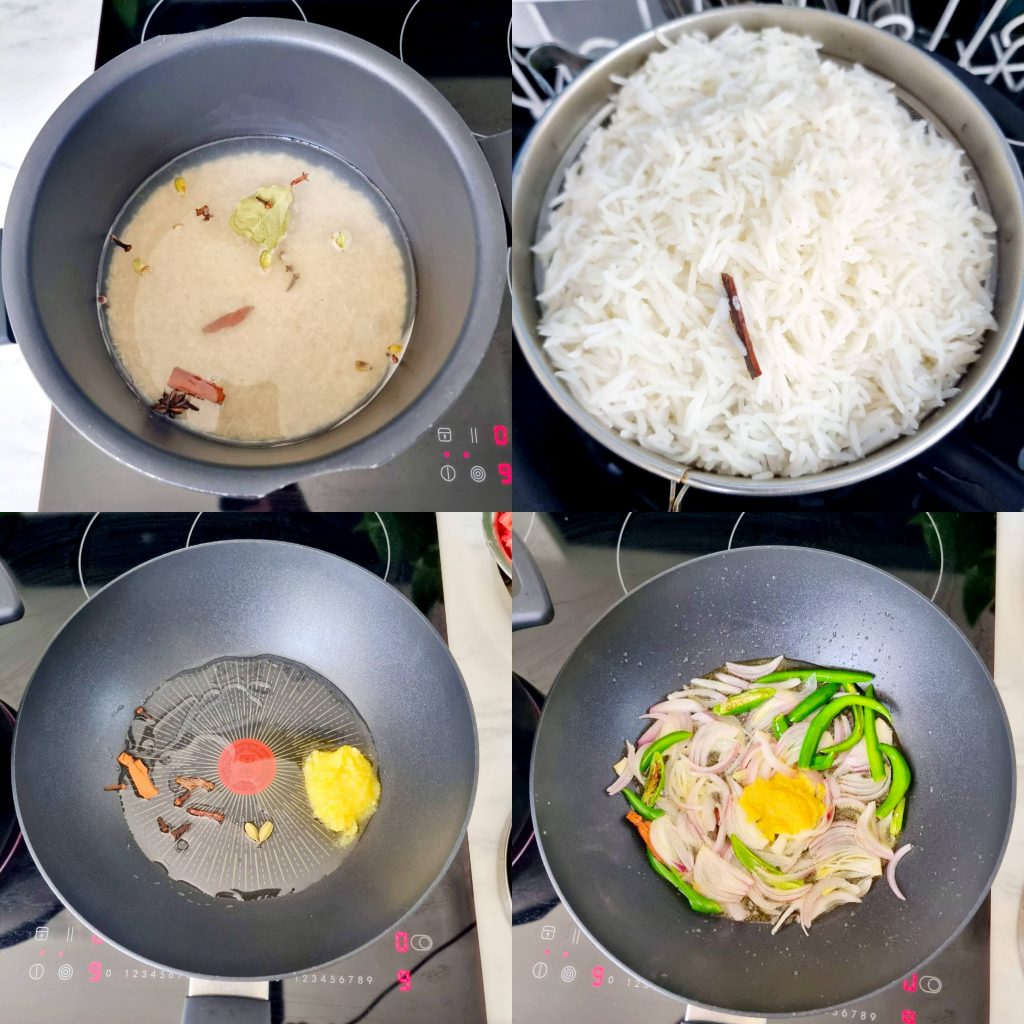 While just the rice cooking you start making masala, heat a pan with 1 tbsp ghee and 1 tbsp oil, add 1 inch cinnamon, 2 cloves, 2 cardamom, add the 2 medium onion slices and green chiles saute well. Add 1 tbsp ginger garlic paste saute well.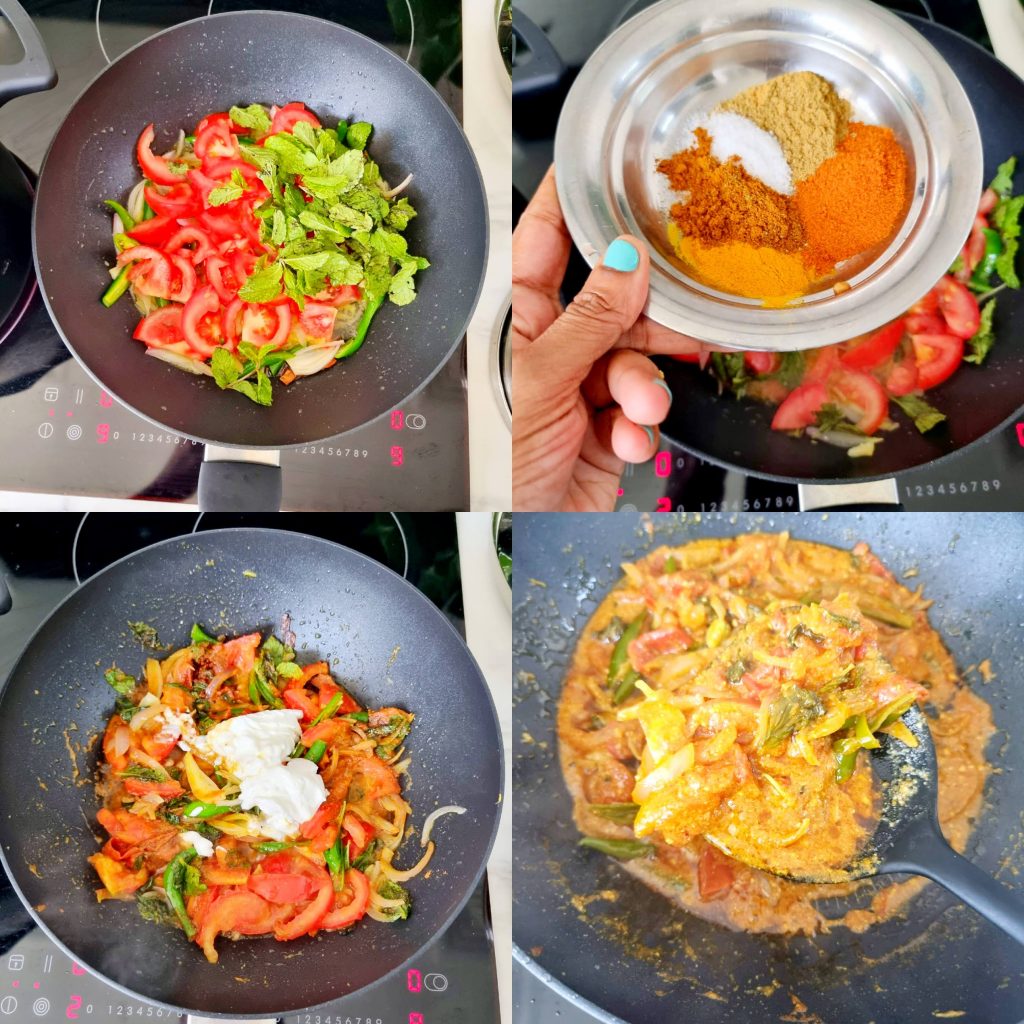 Step : 2 Add 3 ripe tomatoes finely chopped and some mint leaves saute well till the tomatoes turn soft and mushy
Add ¼ tsp turmeric powder, 2 tsp chili powder, 1 tbsp coriander powder, 1 tsp garam masala, 1.5 tsp salt.
Add 3 tbsp thick curd and mix well, Cover and cook for 5 to 7 mins in medium flame till the oil separates from the masala.
Step : 3 Now add the cooked Chana, mix well.
Layer the rice, and then top it saffron milk or food colour(this is optional)
Cover it with Lid and keep it low flame for 5 to 7 mins till the rice becomes soft and fluffy.
Garnish with Coriander leaves Serve it with raita.
Look at the rice , how perfectly cooked. Just Follow the instruction you too can make Chana Biryani Like this.
Have a Happy Weekend Makkale!!!