Simple Eggless Rainbow cake recipe with Rainbow frosting
Finally here is my next Eggless Rainbow Cake Recipe with Rainbow frosting recipe, Almost a week me and aishu were discussed about What to make for the Father's Day ❓  I showed her many cake pictures and she doesn't like anything. Last week just for fun we made Rainbow cake in a Jar. Arvind Love that jar cake so aishu asked me to make the same rainbow cake. But this time she asked me to do frosting so I did frosting for the Rainbow Layer Cake. Omg, i was really tired and was trying to satisfy her 😮 Somehow managed the cake with leftover ingredients of  Jar cake but the indigo colour bottle accidentally fall down so we managed with white.  Almost it took 4 hrs baking time and 30 mins for frosting time to complete this cake because I have baked each layer separately . But after completing the cake i feel worth it. If you want to try a cake without frosting try this dates cake. This cake is eggless if you want to make the rainbow cake with egg use this recipe.  Happy Father's Day to all Father's out there…
How i made this Rainbow Layer Cake ???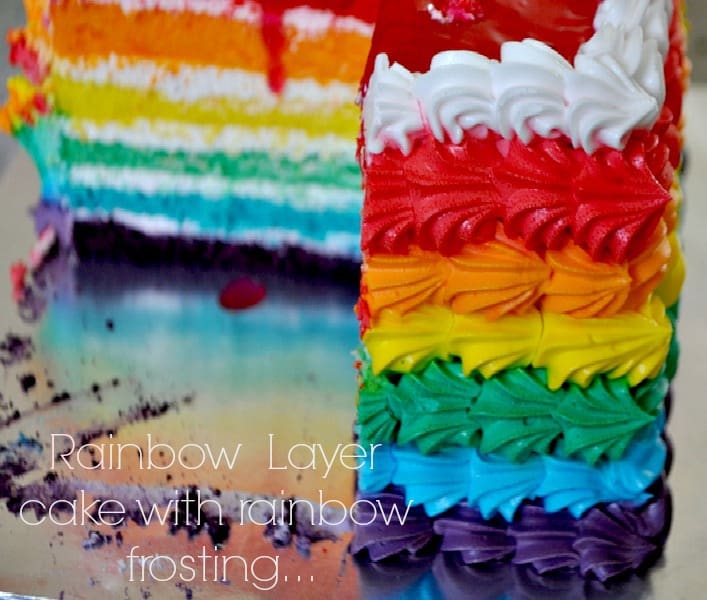 Once i decided to make the rainbow layer cakes and i just followed My simple Rainbow Jar Cake recipe.This time I didn't steam the cake but baked each colour separately and then sandwich the whipping cream and arranged it. Taking care to position the layers as evenly as possible, so that the sides of the cake are as straight as they can be.
For frosting, same like the cake mix I divided the whipping cream and added the colours. For the frosting it used the Wilton tip and made the deco.
On top of the cake i have added the strawberry pie and you can apply the same deco on top also.
Quick Recap of Recipe Video:
If you want to try this cake using egg try the basic sponge cake recipe and proceed by adding colors.
Rainbow cake makes me so happy.  Check out these amazing ombre cakes it is ideal for Father's day too!!!
Happy baking!!!