A Simple Date Cake Recipe with step by step procedures
Dates cake is one of easy cake to make, a good recipe for beginners. It taste wonderful and with full of nutrition due to dates.I have made this cake many times for get together and everyone love this.So here presenting dates cakes for you guys.
Ingredients:
300 g Seedless Dates(chopped)
2 tsp pink/white sugar powder(for dusting on top)
Method:
Oven Temperature: 180 degree Celsius
Soak dates and Sodium Bicarbonate in Hot water for 5 hours.

Before Preparing the cake,Preheat the Oven and start your preparation.Add Butter and Brown sugar in mixing bowl and beat them well till light and fluffy.

Add eggs gradually and beat them,till light.
Add the Shifted Plain flour and mix well

And then add in dates mixture with the water and mix well.

Grease the tin and transfer the mixture into it.
Bake it for about 50 minutes at 180 degree Celsius.

Let it cool down completely.

Dust on top with Powdered sugar(i used pink sugar dusting powder).This is optional.


Its nice to have slice of this cake for breakfast in the morning:)


I am sending this to HLI Event announced by Munch Munch Crunch Crunch and Sizzling Tastebuds.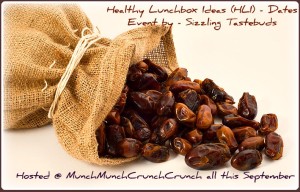 Have a Wonderful Day!!!