Easy Eggless Basbousa Recipe |Eggless Semolina Cake Recipe with video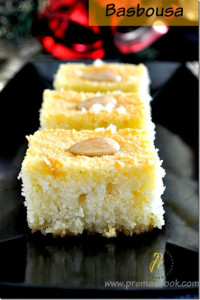 Basbousa is a semolina(rava) cake popular in the Middle East .This is one of the easy christmas recipe which you can make it very quickly. This eggless basousa recipe can be replaced with eggs if you want to make it with egg, and the coconut can be replaced with coarse semolina. The cake itself is not too sweet but it is soaked with a sugar syrup scented with rose water.i have already posted rava cake recipe but this basbousa and rava cake recipe is not the same as both of these has different flavors.
This is long time pending cake from me that i have promised a reader to post before Christmas, some how i managed to post it,here is the recipe of eggless basbousa.
Before start doing this cake please check how to blanch almonds it will help you.You can make this cake mix and refrigerate overnight to serve next day or just before the guest arrives.
This video shows the live preparation
Easy Eggless Basbousa Recipe | Simple Eggless Semolina Cake Recipe


———————————————————————————————————————————
Author : Premalatha Aravindhan Category: Dessert Baking Time: 30-40 mins
Baking Pan size : 9″x13″ (23cm x 33cm) Temperature:180 degree
———————————————————————————————————————————
Ingredients: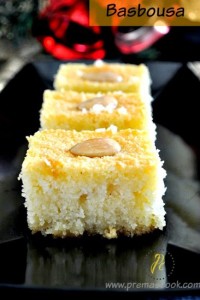 1 and 1/2 cup semolina
2/3 cup sugar
2 tsp baking powder
1 cup curd
2/3 cup butter
1 cup desiccated coconut
2 tsp vanilla essence
10-15 blanced almonds
For syrup:
2 cups Sugar
1 and 1/2 cups water
1/4 tsp lemon juice
1 tsp rose water
Combine the sugar, water and Boil for 10 minutes.Now add in the lemon juice. Add the rose water and stir well.

Add the rava(semolina),sugar,baking powder in a mixing bowl.

Add in curd,butter,vanilla essence.

Add in all the basubousa ingredients and start beating now. Finally add the coconut and beat it for 5 mins.

Now grease the pan and spread the mix over the pan.Refrigerate it for about 2 hours.
Once cake set well cut into pieces and stick the blanched almonds on top and bake it for 30 mins at 180 degree Celsius.
Once done add syrup on top of the cake and again bake for 5 mins and take it out. Here is the yummy cake is ready to serve.
My Notes:
1. Try to refrigerate it atleast 2 hours so that you can get good result.
2. If you want the course cake texture you can add 1 cup fine rava and 1/2 cup coarse rava.
3. slice it according to your wish and then bake it , if you try to slice after baking it won't get perfect slice.

Do try this recipe for this christmas and enjoy!!!
Have a nice day!!!