I want to post basic cake recipe for a long time as one of my friend was asking for basic cake recipe for a very long time.And here is the secret of soft, spongy cake What we get in bakeries, the secret is they use A Grade eggs for cakes, each A grade egg weights 60g. If you are not using A grade eggs then use more of egg yolk, below pic gives details about A grade eggs.


Emulsifier Ovalett (or Ovalette) is a cake stabiliser/emulsifier used predominantly in the baking of sponge cakes or steam cakes. It gives the cakes a super fine texture.




Ingredients:


130g Plain Flour
4 Egg Whites
6 Egg Yolks
200g Sugar
3g Salt
10g Emulsifier
30ml Milk
1tsp Vanilla Essence
30ml Oilve oil/Cooking oil


Method: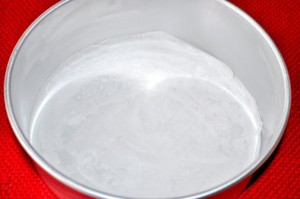 Once baked,insert a tooth pick in the middle.if it is comes out clean then it is baked well.If not bake it for few more minutes.