Banana cake is one of the yummy cake and everyone likes it.I wanted to bake this cake for long now as I like banana very much and finally I did it today.The recipe is simple and makes a delicious cake.


Ingredients:


125gm Butter
80gm Margarine
180gm Sugar
1tsp Salt
250gm Banana Puree( i used 3 medium sized bananas)
280gm Plain flour
1tsp Baking Powder
1/2tsp sodium Bicarbonate
50ml Milk




Steps to Successful Baking:


Sieve Plain flour,Baking Powder and Baking soda,keep aside and preheat oven.




Beat Butter,Margarine,Sugar and Salt on low speed for 2 minutes.




Scrape the bottom and sides before beating and again beat it on high speed for 3 minutes.




Add in Banana Puree and mix for 1 minute in low speed.




Then Blend in the sieved Baking powder,Plain flour and sodium Bicarbonate,add in the milk at the same time.




Pour the mixture into a cake mould and bake for 35-45 minutes at 180 degree c.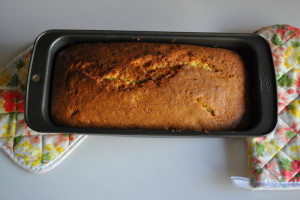 Here is the cake is ready.Let it cool down completely in a wired rack.


Once it cool down completely.Slice the cake and serve.