Stuffed Mushrooms recipe, Quick and easy Appitizer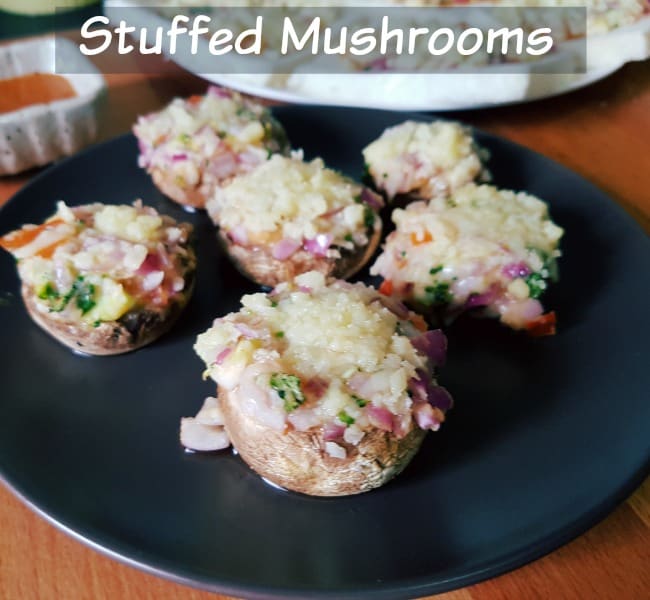 Stuffed Mushrooms recipe with cheese and healthy vegetables. The baked version of Stuffed mushrooms recipe with cheese is the too good starter or Appetizer for any party to impress your guest or valentine. I would like to say this is the easiest appetiser that you can make an Appetiser within 30 mins time. The Dahi he Sholay recipe is a super duper hit at home after that stuffed mushrooms are my family favorite evening snack.  This Kids friendly Appetizer contains a lot of cheese.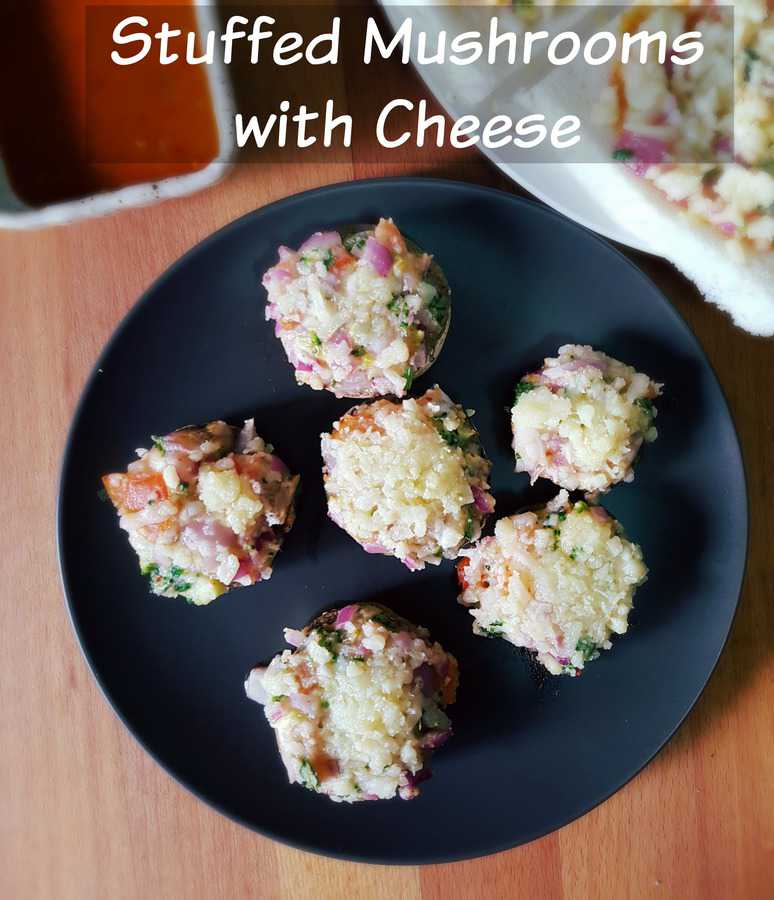 A Quick Recap of  "How to make the Stuffed Mushrooms with cheese" & " what to stuff inside the Mushrooms", Initially I have decided to make the stuffed mushrooms in healthy ways. I don't want to fry it at the same time should not involve too much work on it. The complete process should be simple.Clean the Mushroom and then remove the stem. For stuffing, take a mixing bowl and then add the chopped onion, tomatoes, cheese, broccoli and salt, mix well. stuff inside the mushroom and bake and serve. Is very simple it?
Stuffed Mushrooms recipe Video,
Recipe card for the stuffed mushrooms,
Stuffed Mushrooms recipe, Quick and easy Appetiser
Mushroom Stuffed with healthy vegetables and cheese. Baked version of stuffed mushrooms is very healthy and easy to make.
Author:
Premalatha Aravindhan
Ingredients
5-6 mushrooms
1 onion chopped
1 tomato chopped
2 tbsp cheese
2 tbsp grated broccoli
½ tsp salt
1 tsp garlic sauce(optional)
Instructions
Wash the mushrooms and wipe it with the clean towel.
Remove the stem and pat it dry
to make the stuffing, take a mixing bowl add the onion, tomatoes, cheese, broccoli, cheese, and salt.
add garlic sauce and mix well.
Stuff inside the mushrooms.
Arrange it on a greased baking tray and then add grated cheese on top.
Bake it for 25 mins or till the cheese melts on top.
Once the mushrooms are ready, let it cool for some time and serve with sauce.
Notes
baking temp varies from oven to oven so bake till the cheese melts.
change the stuffing according to your wish.
Mushroom Stuffing Variations,
We can stuff fresh vegetables like carrot, beans or any root vegetables.
If you feel that vegetables are uncooked while biting you can saute them and then stuff them.
 you can add the butter instead cheese for stuffing but don't avoid the cheese for topping
Tips to make stuffed Mushroom with cheese:
If you have an oven you can bake it for 25 to 30 mins or till the cheese melts. In case if you don't have an oven still can cook stuffed mushrooms on top of the stove, just cover it with a lid on a non-stick pan. Once the cheese started melting you can serve it.
You can grill the mushrooms also.
Actually, they don't need any sauce to accompany it you can have it as it is.
If your oven heat is very high keep in low always while baking to avoid burning of cheese.
If you are looking for more Appetizer recipe, check gobi 65, samosa pinwheels recipe, paneer 65,
Have a nice day!!!