Thakkali Gotsu Recipe, Iyengar Tomato Kotsu recipe(தக்காளி கொத்சு) sidedish for idli, pongal, dosa, poori
Thakkali Gotsu made with Tomato and Moong dal. Classic 🍅Thakkali Gotsu(Tomato gravy) is one more Thanjavur/Kumbakonam famous side dish for Idli and Dosa. Thakkali Gotsu Goes well with Pongal, Idli, and Dosa, Even for Poori and Chapathi Too. Sharing Amma's signature dish Thakkali Gotsu. This is something different from Chidambaram Gotsu, if you tried my mom's Kumbakonam Kandappa or Thakkali kurma recipes, you must try this too!
Amma's Family is big Can't make every day different Breakfast, Mostly idli Dosa, Pongal, and Kitchdi kinda breakfast only. So she makes a variety of Chutneys and kurma. Most of my recipes are Ammas & MILs only. This Gotsu and Onion Gotsu she often makes at home, that we Don't need any vegetables just the tomato is more than enough to make this Gotsu.
More 🍊Recipes like Thakkali Sadam, Thakkali Biryani, Thakkali Thokku, Thakkali dosai, etc.
What is Gotsu?
Gotsu is a kinda stew made with Moong Dal(Pasiparuppu) that goes well with idli, dosa, poori, and chapati and is perfect with Pongal. The Gotsu has many forms like vengaya(onion) Gotsu, Onion Gotsu, and Brinjal Gotsu. Traditionally in Marriages, they make gotsu with moong dal. But the Chidambaram Gotsu is made with freshly ground spices. Tomato Gotsu is made with a combination of Tomato & Moong Dal.
Ingredients:
3 tbsp moong dal + 1/2 cup water
1/2 cup water + 1/4 tsp turmeric powder + a tsp of oil
Grind 2 tbsp coconut + ½ tsp fennel seeds with ¼ cup of water(for grinding)
1 tbsp oil,
1 tsp mustard seeds,
2 onions finely chopped,
2 green chilies,
3 to 4 finely chopped tomatoes
1 tsp chili powder,
½ tsp coriander powder, and 1 tsp salt
coriander leaves for garnishing
YouTube Video Of Making Tomato Gotsu:
Step By Step tomato Gotsu recipe with pictures:
🌺Pressure cook 3 tbsp moong dal with 1/2 cup water + turmeric powder + a drop of oil. Once cooked mash and keep aside.
🌺Grind 2 tbsp coconut + ½ tsp fennel seeds with ¼ cup of water keep aside.
🌺Heat a kadai with 1 tbsp oil, add 1 tsp mustard seeds, and let it splutter. Add 2 onions finely chopped, and 2 green chilies, and saute well till the onion turns golden.
🌺Add 3 to 4 finely chopped tomatoes saute well, add 1 tsp chili powder, ½ tsp coriander powder, and 1 tsp salt cook till oil separates.
🌺Once cooked add the cooked dal + ground Coconut paste and mix well.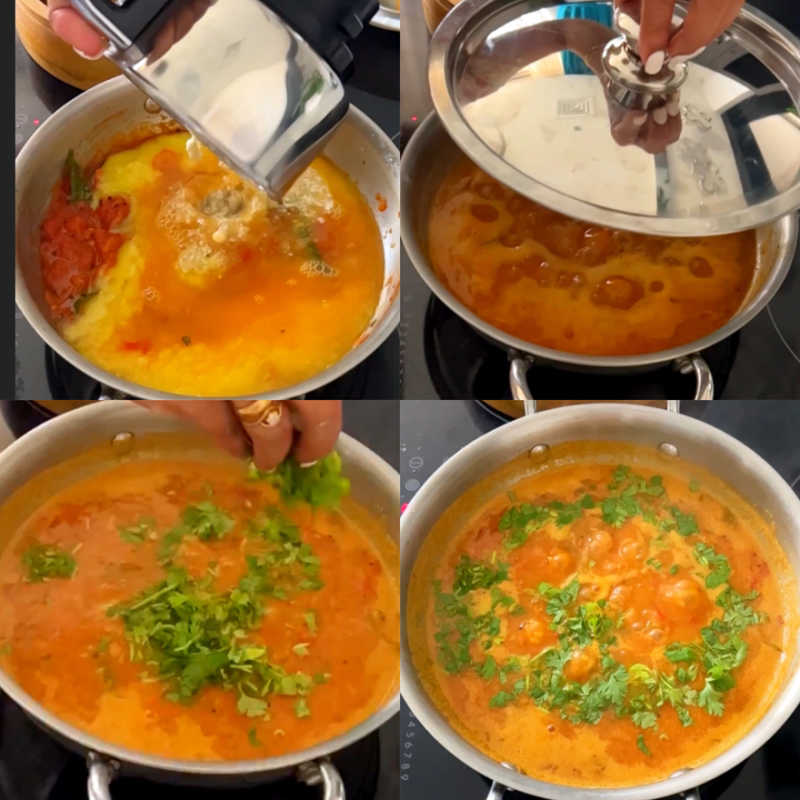 🌺Cover and cook for 7 mins on medium flame till the raw smell goes off.
✅️That's it Thakkali Gotsu Donne!
Tips to make perfect tasty Thakkali Gotsu:
🔥Try with well ripen tomatoes then only you will get the taste.
🔥Coconut + fennel paste and Moong dal are important don't skip also add only mentioned quantity.
🔥Amma add 1 or 2 garlic pods too, but I skipped them. if you want you can add!
✅️Has anyone tried Pongal with Gotsu???
You serve Gotsu with Hot steaming Idli(idli recipe here) or with Dosa(Dosa Recipe here) etc.
Hope this post will help you to make Tasty Tomato at Home. If you have any Doubts about making gotsu or If you want any specific recipes you can email me at cpremas79@gmail.com. Do Follow me on Instagram for more Recent updates and every cooking recipe video
Do share your thoughts with me, Also tag our page on Instagram @premasculinary with hashtag it on #premasculinary
Thanks & Have a Good Day! 😉Enjoy Cooking and Mindful Eating!