Dosa Batter recipe(mixie method), How to make Soft Homestyle Dosa(Veetu Thosai)
Trending Veetu Dosai and how to make soft dosa batter in mixie. Making Soft Porus Homestyle dosa batter in mixie is very easy and hygenic too. Veetu Dosai is very famous recently in all the restaurant's menu. Nowadays everyone prefers this soft home-style dosa, to the crispy paper dosa. Because less oil, very soft and easy to digest. One Universal Dosa Batter Recipes we can make uthappam, Kuzhi Paniyaram, Kutty dosa for kids. I use to make Kutty dosa and send kids snack boxes. It will be soft till the afternoon. Here is Soft Idli batter recipe. Don't Miss to Checkout Frequently Asked Questions, If you are a beginner this would be helpful.
I am an idli person, which makes dosa very less at home. But kids love dosa, only for them I grind a small batch in mixie. Everyone thinks that grinding dosa batter in mixie won't be good and tasty. No, we can make soft dosa batter in even in mixie using very simple pantry available ingredients. I have shared How to grind idli batter in Ultra wet grinder, Idli batter in the Mixie method, and idli batter in the Grinder method. I have Shared Soya chunks of Curry Recipe recently and served with Soft Dosa(you can see in the above pic), Same day many Dmed me and ask for the recipe for Dosa so again I made Dosa and Kara Chutney sharing Dosa recipe here.
More Homemade Dosa recipes you can check, Gobi Masala Dosa(Cripsy Cauliflower masala dosa), Cheese Dosa for kids, Mysore Masala Dosa, Saravana Bhavan Kara Dosai, Paneer Dosa, Madurai Kari Dosa(vegetarian).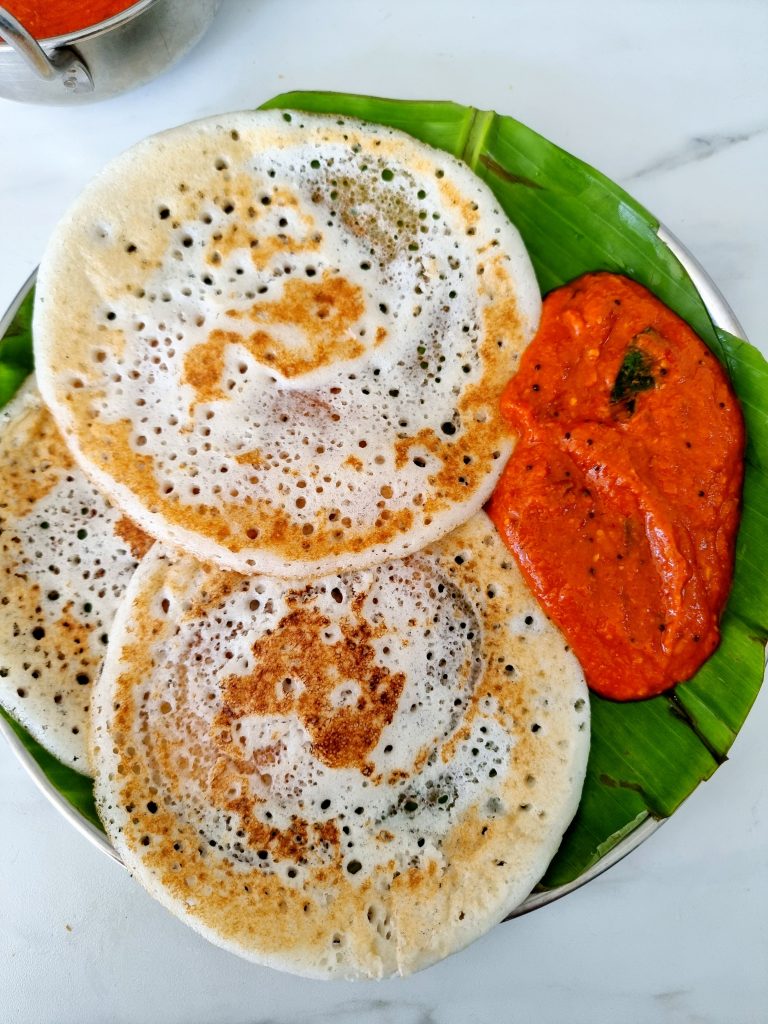 What is Veetu Dosai(Home Style Dosa)?
Veetu Dosai is nothing Soft Home Style Dosa, which is made with the combination of 2 kinds of rice that is idli rice(puzhungal arisi) + Raw rice (pacharisi) and urad dal + methi seeds(vendhayam) + poha. This Dosa will stays soft for hours, even if you are traveling or packing the kid's lunch box, it will stay fresh and soft for hours. This is called Veetu Dosai(Home Style Dosa).
What is Ratio for making the Soft Dosa Batter?
Usually, for soft idli batter, we use 4:1 which is 4 portions of Idli rice and 1 portion of urad dal. But I used 1 cup of idli rice(Par Boiled Rice/ Puzhungal arisi), 1/4 cup of raw rice(Pacharisi), 1/3 cup of urad dal, 1 tsp Poha, 1 tsp methi seeds. This is the measurement I use for Soft Dosa Batter. The secret behind the soft dosa batter, instead of using only Idli rice alone if you can use the Combination of Idli rice and Raw rice the dosa will be soft addition of poha holds the moisture for long and methi seeds give the golden spots on Dosa. why Wait Shall we make the Dosa Batter?
Soft Dosa Batter Recipe Video:
Step By Step Dosa Batter recipe, How to make Soft Home Style Dosa(Mixie Method):
Take 1 cup of idli rice(Par Boiled Rice/ Puzhungal arisi), 1/4 cup of raw rice(Pacharisi), 1/3 cup of urad dal, 1 tsp methi seeds into a big bowl. reserve the poha, no need to add now.
Rinse them well in the water, till the water is clear. Soak them in enough water for about 3 to 4 hours. After 4 hours, Soak 1 tbsp poha in water for 5 mins just before grinding. After 5mins, add soaked dal, rice into mixie jar, soaked poha along with the water.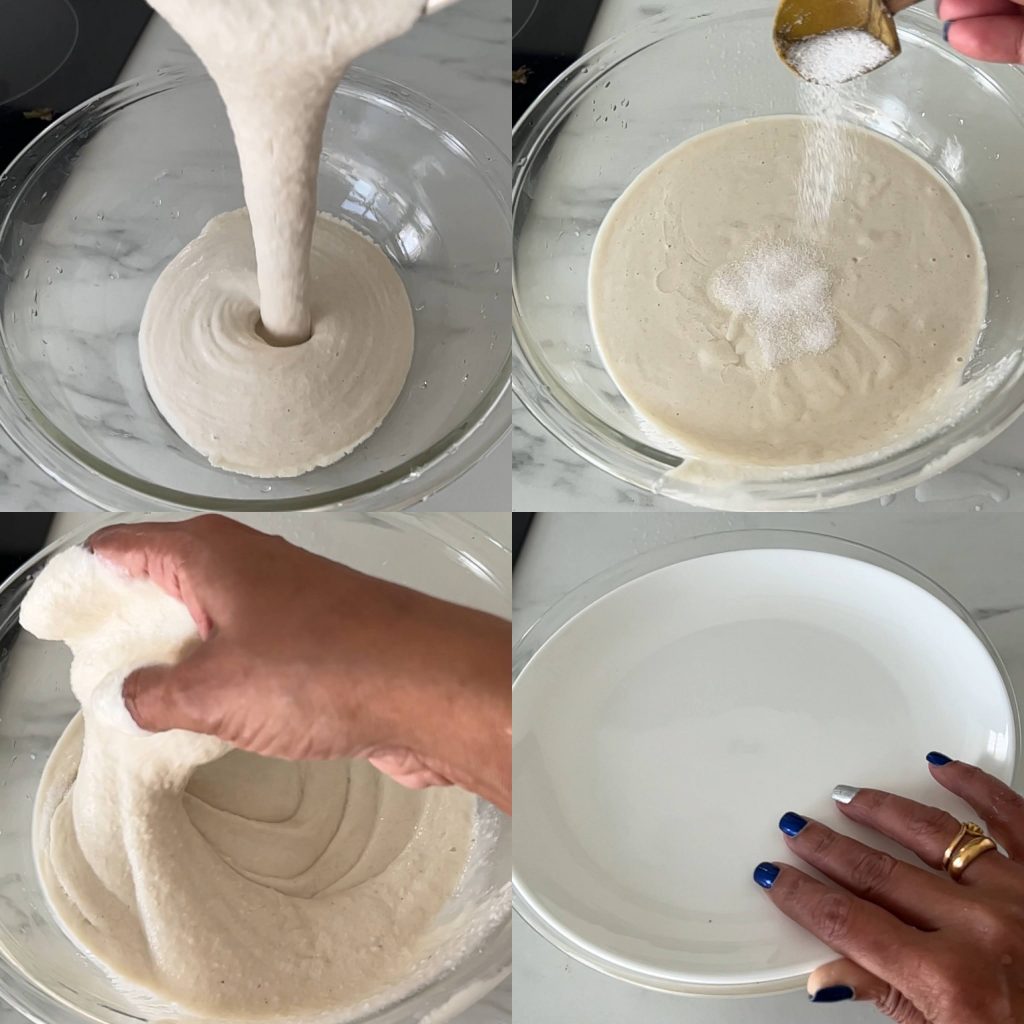 Grind it to a smooth Paste by adding 1/2 cup of water(water quantity i mentioned here is approximately, you may require more or less). Add less water so that the ingredients will grind smoothely. After grinding the batter, transfer it to a bowl or vessel. Add 1 tsp salt and mix well with you hands. Cover and keep it in a warm place for 8 hours or till it get fermented.
Once fermented the dosa batter is ready to make dosa. If the batter is too thick, you can add little water to make it dosa batter consistancy. Heat a tawa, add a laddle of dosa batter. Spread it all over the tawa. I used to make small dosa, cover it with lid, so that porus will come. Sprinkle oil and cook till the corners becomes golden.
When one side turn light golden flip the other side and cook it. That's it Soft Dosa is ready to Serve.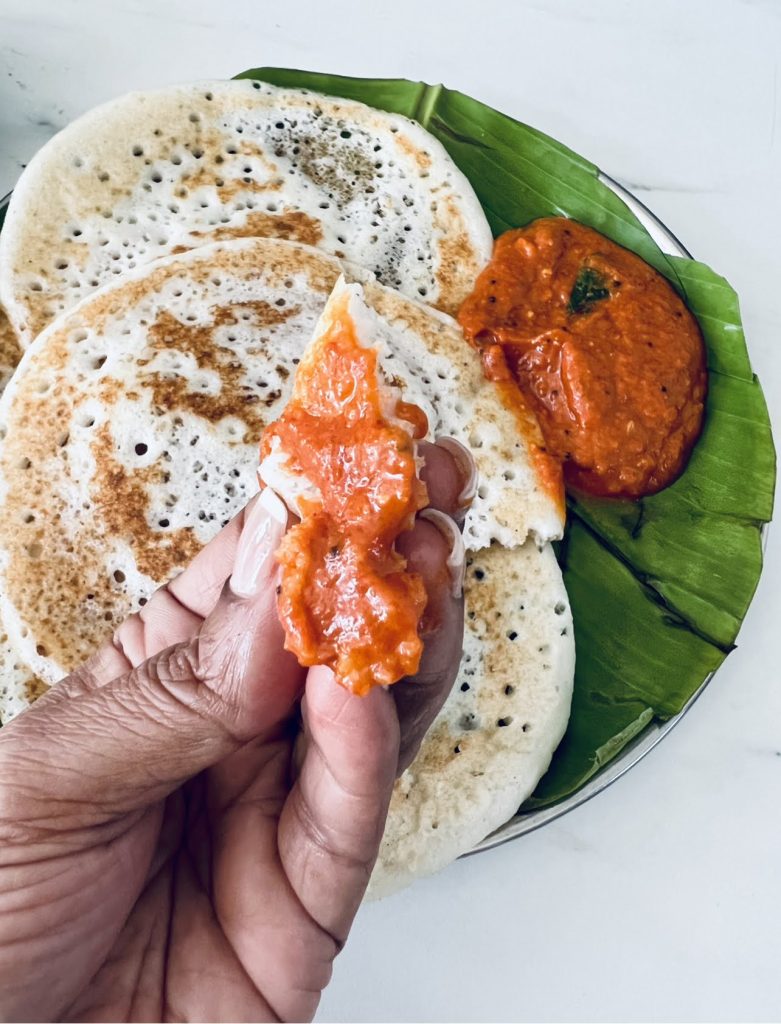 Soft Dosa with Thakkali Chutney is a yummy combo. Shared How to make Thakkali Chutney Tomato Chutney without onion and Garlic, recipe in Previsous post Please Check!
Thanks Makkale Hava Good Day and Enjoy Weekend!