Allam Pachadi Recipe, Authentic Andra Style 🔥Ginger Chutney for Pesarattu(MUST TRY!)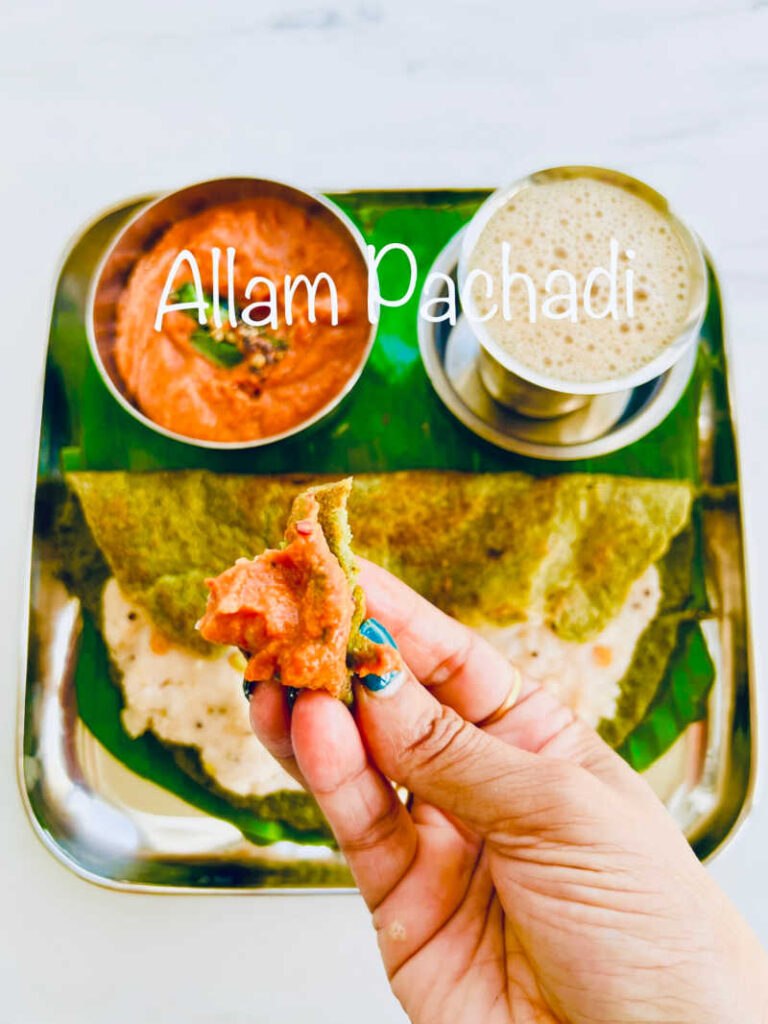 Spicy Allam Pachadi with MLA Pesarattu and Filter coffee is a match made in heaven Combo from Authentic Andra Cusine Must Try! Ginger Chutney we call Inji Chutney in Tamil tastes Something Similar to Inji Puli like sweet-sour and spicy too good with Idli, Dosa, Paniyaram & even chapati too. A mouth watering accompaniment to serve that can be stored for a week like pickles.
Allam Pachadi i used to make frequently at home side dish for idli or Dosa, mostly green gram Dosa(pesarattu) but is never happened with Upma Pesarattu and Allam Pachadi Combo. Made for a Friend when she visited for breakfast she told not to make anything and this is more than enough! We enjoyed thoroughly as it is low calorie breakfast if you have it limited!😩 Spicy Allam Pachadi is good for health too.
Allam Pachadi Health Benefits: Ginger(inji) is good for speeding up digestion and emptying your stomach more quickly. Ginger roots boost immunity and are good for weight loss. Pesarattu(moong dal dosa) with Ginger chutney is a match made in heaven combo. Don't miss to try
There are wide collections of Telugu(Andhra Recipes) available on my blog Prema's Culinary. Andra Podi, Andra meals
What is Allam Pachadi:
Allam Pachadi is nothing But a chutney made of ginger, tamarind, dried red chilies, and jaggery mainly prepared for breakfast in Andhra Cusine. It is also a part of Tamil Nadu cuisine we call it Inji Chutney. It has a perfect blend and balance of sweet, salt, hot and sour elements and is accomplished by a combinations ofingredients.
Allam Pachadi Ingredients: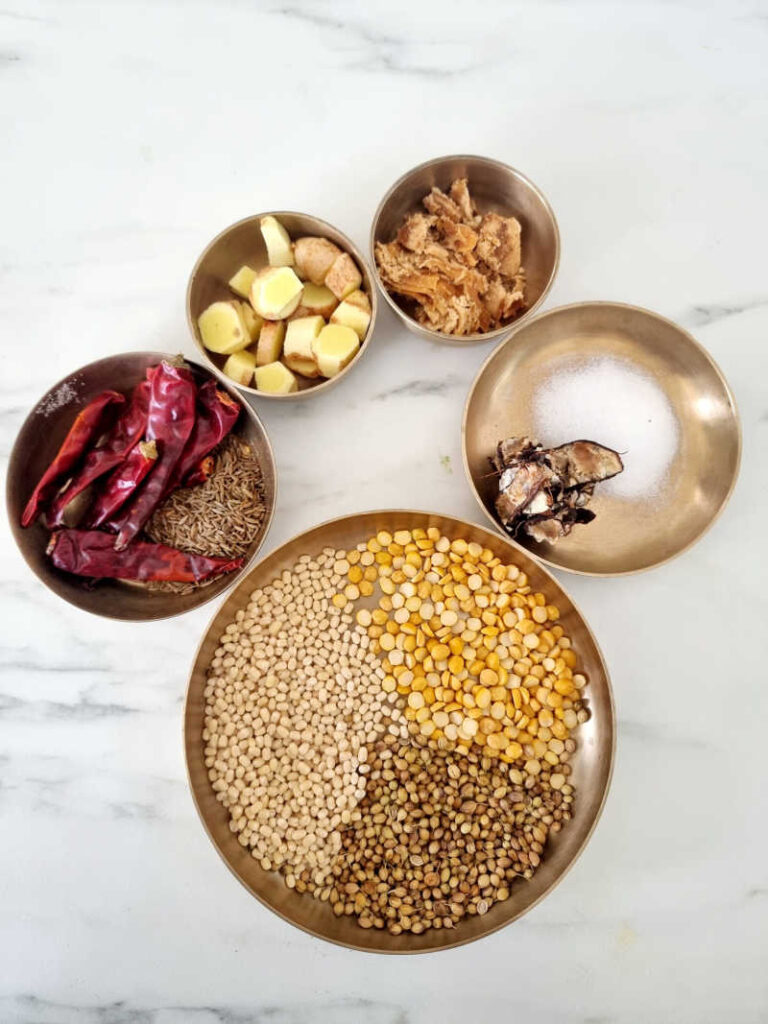 2 tbsp chana dal,
2 tbsp urad dal,
1 & ½ tbsp coriander seeds
1 tbsp of gingelly oil,
6 dry red chilies,
½ tsp cumin seeds,
50g Ginger roots
A small gooseberry sized tamarind
1 tbsp jagger,
1 tsp salt,
1/4 cup water
For Tempering:
1 tsp mustard seeds
1/2 tsp urad dal
curry leaves
How to make Spicy Inji Chutney: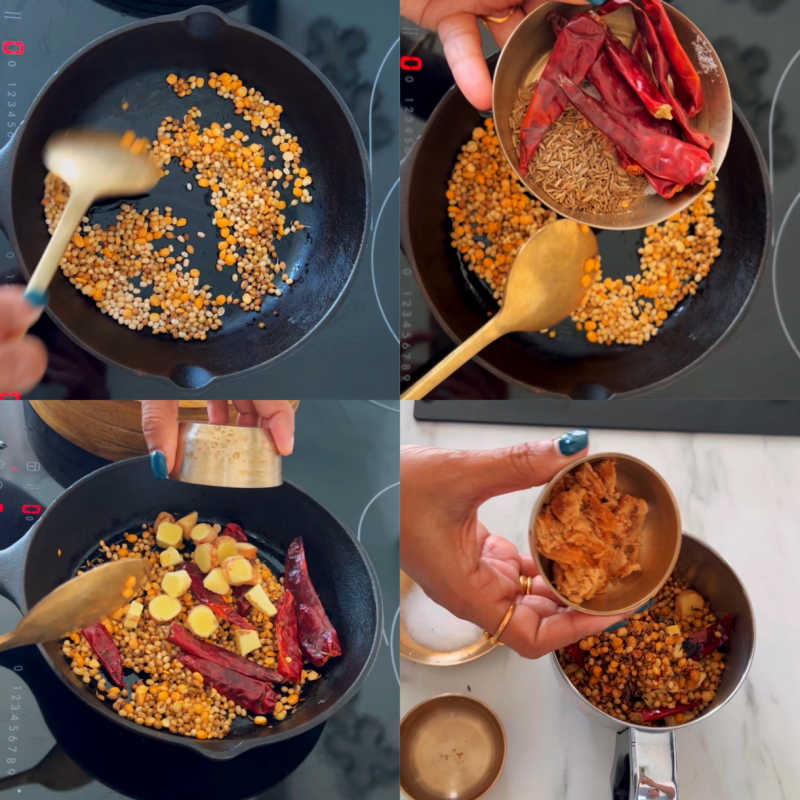 Take 2 tbsp chana dal, 2 tbsp urad dal, and 1 & ½ tbsp coriander seeds roast in 1 tbsp of gingelly oil, till the dal turns crispy and golden.
Add the 6 dry red chilies, ½ tsp cumin seeds, roast well.
Add 50g ginger, tamarind, roast till it becomes a little soft.
Now transfer everything to the mixie jar, add 1 tbsp jagger + 1 tsp salt, little water and grind it to a smooth paste.
Allam Pachadi Ready! Tempering is optional but adding tempering makes chutney more tastier.
Tips to make Tasty Allam Pachadi:
This chutney stays good for a week in the fridge!
Adding tadka is optional.
Adding jaggery enhances the taste, also reduces the hotness from the ginger roots so dont skip!
Hope this post will help you to make Perfect Ginger Chutney at Home. If you have any Doubts about making chutney or If you want any specific recipes you can email me at cpremas79@gmail.com. Do Follow me on Instagram for more Recent updates and every cooking recipe video
Do share your thoughts with me, Also tag our page on Instagram @premasculinary with hashtag it on #premasculinary
Thanks & Have a Good Day! 😉Enjoy Cooking and Mindful Eating!