Urad dal Chutney | உளுத்தம் பருப்பு சட்னி | Side dish for idly ,dosas
This chutney tastes really good with idly and dosas.Here i used split and skinned Urad dal which gives nice aroma for the chutney and healthy too.You can use skinless Urad dal also.
Ingredients:
Method:
Heat oil in a pan and roast hing in it.

Add the urad dal and roast it.Keep the flame in low always.Roast the dal evenly by constant stirring.

Once the dal started turning brown add the red chilli, and roast it along with the dal.Then roast the chilli for few minutes and remove it out from the pan and cool down.

Add the coconut in the same kadai and roast it.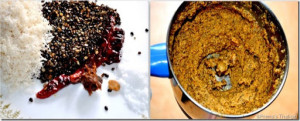 Let them cool down for some time.Add tamarind and salt while grinding.

Grind the coconut and the chilli at first without water.And then grind dal ,tamarind and salt with little water.



Here is the Urad dal Chutney is ready.Serve with hot idly or dosa.

Have a Nice Day!!!