How to make Getti Thayir(curd) in Kalchatti(soapstone)
Step By Step Curd Making Procedure in Kal Chatti(Soap Stone Cookware). Perfect Thick creamy Curd making tips and Tricks using the kal Chatti. Making thick curd at Home is everyone's 😴 . This job can be done easily in Soapstone Curd making pot. You no need to follow any special technique. Good quality milk and culture are enough to make thick curd. The best part of kal Chatti is that we can leave curd at room temperature no need to keep it in the fridge. It will stay good for 2 to 3 days! Any other reason we need to make curd in KalChatti.😍 Before proceeding to curd making procedure Please check the below posts for more understanding about Kal chatti hug🤗.
More Curd Making Techniques like HOW TO MAKE CURD IN INSTANT POT, HOW TO MAKE CURD IN CLAYPOT
Milk @almarai double cream milk
Culture @mymarmum
Reasons to make curd in soapstone curd jar?
saves the fridge storage space, we do not need to keep the curd in the fridge it will stay fresh for 2 to 3 days at room temperature
soapstone jars are natural cooling cookwares the curd will not become sour soon
If you are living in cold countries soap stone curd jars helps to set the curd soon also thick.
If you serve curd from fridge kids will get cold cough we need to bring it to room temperature, before serving. In that case these soapstone jar curd will be helpful we can serve curd anytime.
Step by step video of making curd in Kalchatti:
Step by Step procedure for making Curd using Kalchatti:
Boil 2 cups of full cream milk in a pan. Keep in medium flame let it boil well.
Once boiled transfer the hot milk soapstone jar, and leave it open for a few mins.
After a few mins Touch and see the milk, it should be warm.
Add 1 tbsp of culture(thick curd) and mix well.
Now close the lid, and leave it for 4 hrs.
After 4 hrs open the lid until the thick creamy curd is ready.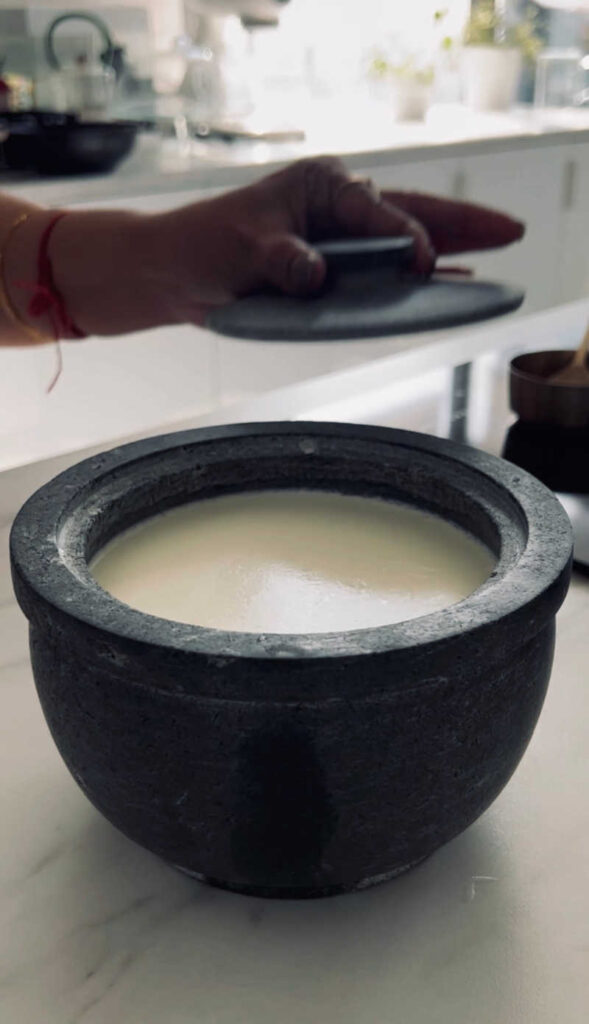 Pro Tips for making thick creamy curd:
Always use thick milk also boil the milk on meiudm flame and ensure that we keep stirring it unit it gets thick.
Before adding the culture to the milk, it should be lukewarm (dip your finger and check it) not cold or hot. If the milk is hot, it coagulates/grainy. If the milk is cold the curd never set.
Also Culture is very important, we should use curd with active bacteria.
Always mix the curd starter and milk well, so it sets thick and uniformly.
Don't disturb while the curd is setting.
In case if you are living in cold country and curd is not setting properly then double the quantity of culture that i mentioned above.
keep soapstone curd jar near to the gas-stove for fast setting.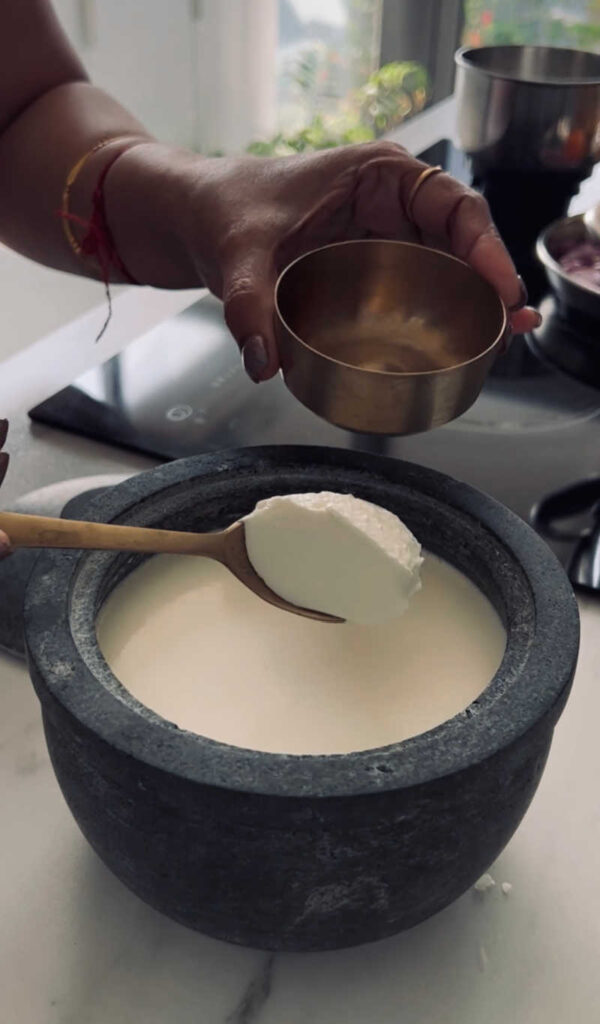 Thick cream curd is ready to serve! we can keep the curd in a curd jar for 2 to 3 days at room temperature. you can make Millet curd rice, Dahi ke Sholay, Dahi sandwich, Hung Curd, Lassi, Thayir Pachadi.
Product used: Instant Pot @instantpotofficial
Milk @almarai double cream milk
Culture @mymarmum
I hope these small tips will help beginners to make good curd at home?
✅Do you want to see more Soapstone Recipes??? Comment Below. Have a Good Day!!