Vendakkai Sadam(Okra Rice), வெண்டைக்காய் சாதம், Simple Lunch Box Recipes
Vendakkai Sadam(okra Rice), Thakkali Thayir Pachadi(tomato Rice), Boiled Egg is a delicious lunch Box combo that you can prepare using leftover rice under 15 mins. Vendakkai Sadam also known as Bindi Rice made with okra without onion and garlic. No special side dish is required to enjoy this Vendakkai Sadam😍. If you are a Fan of Thakkali Sadam then you must try this Vendakkai Sadam I bet you love it.
Vatha Kuzhambu Sadam recently I have posted the recipe video on Insta many tried and sent the pics, after that this Vendakkai Sadam in one more hit recipe from Prema's Culinary. Best Kothamalli Sadam recipe made for kids with less spicy and delicious rice.
✔️No onion No Garlic Vendakkai Sadam ✔️No masala or Sambar Powder, no grinding process ✔️made with leftover rice
What is Vendakkai Sadam?
Shallow fried Okra(Vendakkai in Tamil) and Cooked Rice(Sadam in Tamil) tossed in Tomato based gravy is called Vendakkai Sadam. You may call bindi masala rice.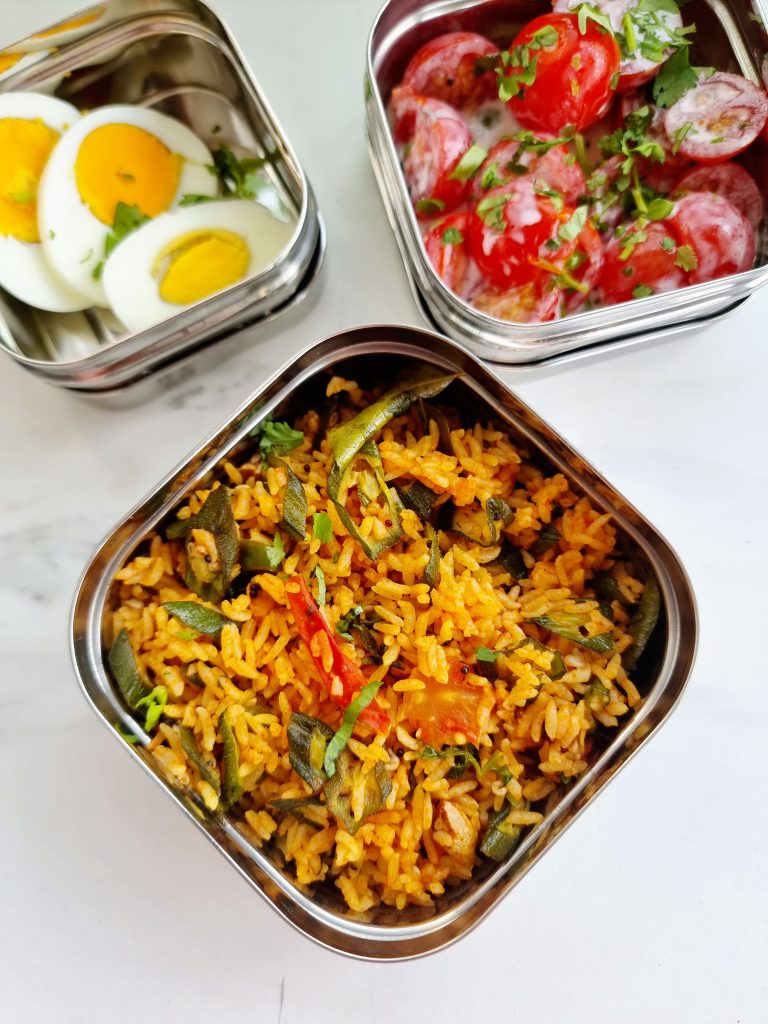 Why Vendakkai Sadam for Lunch Box:
Okra is a nutritious food with many health benefits. It's rich in magnesium, folate, fiber, antioxidants, and vitamin C, K1, and A. Okra may benefit pregnant women, heart health, and blood sugar control.  Kids must take okra to improve their memory. Alteast weekly once they must include.
More Vendakkai(okra) Recipes You may like to try, Chettinad Vendakkai Puli Mandai, Vendakkai Puli Kulambu, Vendakkai Mor Kulambu, Vendakkai Poriyal
Watch the Above video for Vandakkai Sadam recipe, Thakkali thayir Pachadi(tomato raita) recipe.
Step By Step Procedures for Vendakkai Sadam,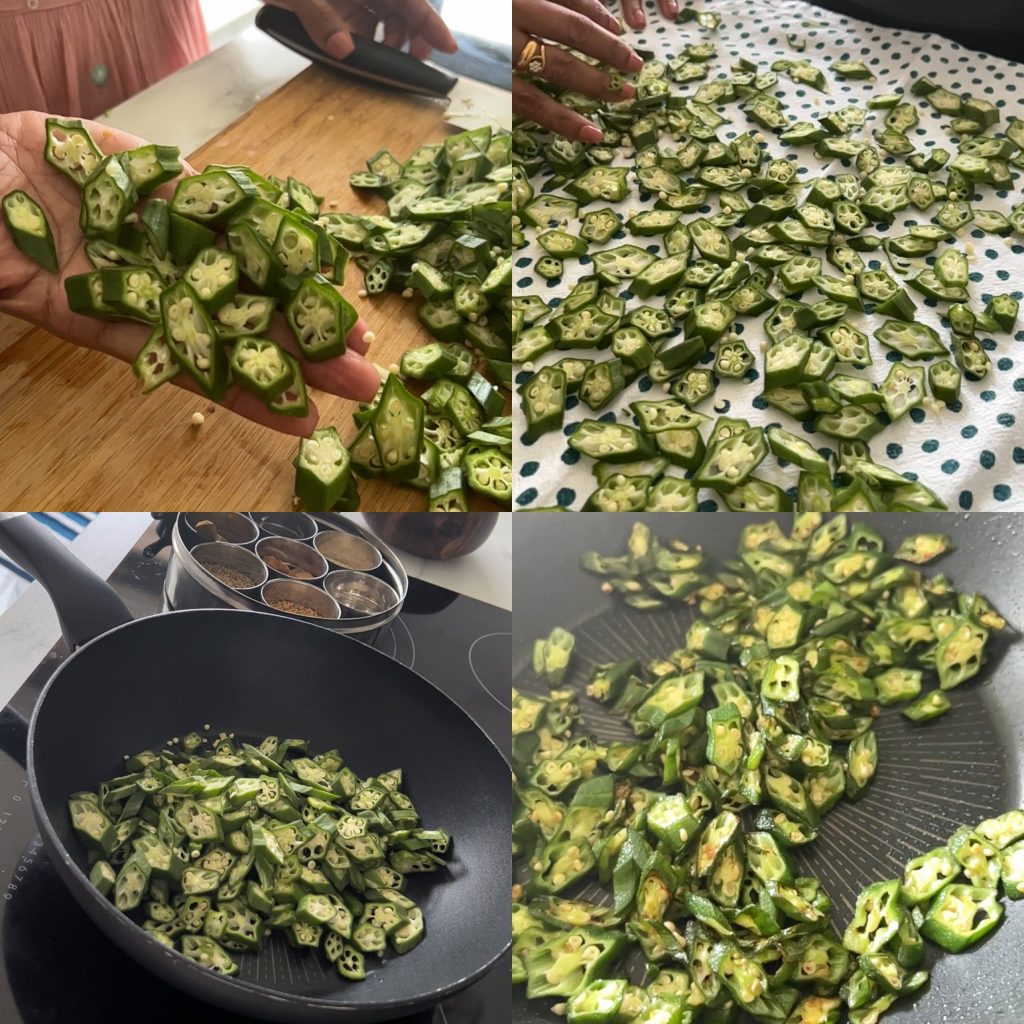 Trim the Edges of okra and chop it either thin or thick, it should be medium thickness. Spread the chopped okra in a cleaning cloth for a few mins to make it slim-free.
Heat a pan, add a tsp of oil, roast the okra, just to make it soft and crip. Remove it on a plate.
Into the same pan add 2 tsp oil, 1 tsp mustard seeds, ½ tsp chana dal roast well. 
Add grated ginger, green chili, curry leaves, 2 ripe tomatoes. ½ tsp chili powder, ⅓ tsp turmeric powder, 1 tsp salt. Sprinkle little water, cover, and cook till the tomatoes turn soft and mushy. 
Add the rice, roasted okra saute in high flame for 2 mins, and then switch off. That's Okra rice(Vendakkai Sadam) ready!
Vendakkai Sadam Goes well with Thakkali Thayir pachadi(tomato raita), recipe in video.

✅Variations:
You can skip green chilies if you want less spicy. 
Instead of Okra, You can try Brinjal, Kovakkai(tindora), beets, or any veggies of your kid's choice.
Do try this Healthy Vendakkai Sadam Recipe and let me know your Feedback! Thanks!