Coconut Burfi with Fresh coconut, How to make TamilNadu Traditional Thengai Burfi(Diwali Sweets)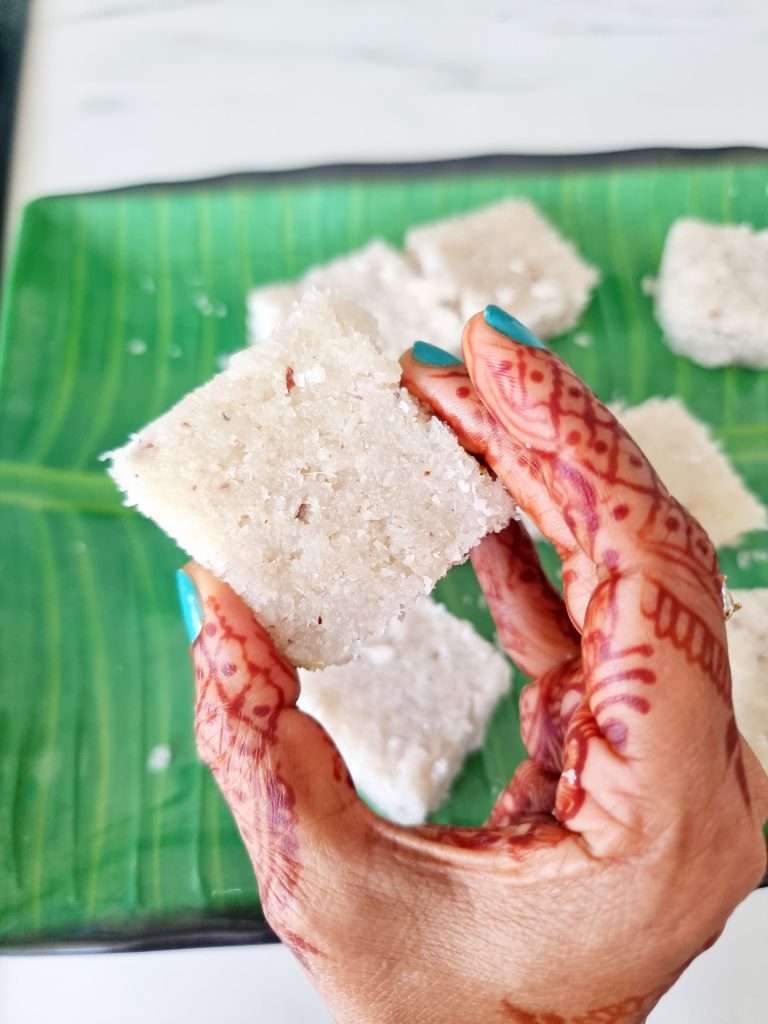 Easy Peasy Coconut Burfi Recipe made with Fresh coconut. No Condensed Milk, No Desiccated Coconut, No need to Make Sugar Syrup. Make Fresh Coconut Burfi under 15 mins. Shared the Tips and Tricks if Coconut Burfi Failed to Hold Shape, How to rectify the Errors. Simple and Easy Coconut Burfi Recipe For Beginners. Coconut Burfi is the one Simple Diwali Sweet that can be made in most Tamilian homes. No Diwali without Coconut Burfi Here is the Quick and Easy Recipe with Step by Step and Video.
Do Check More Interesting Coconut Burfi recipes like Mango Coconut Burfi(coconut burfi using alphonesa Mangoes), Karupatti Thengai Burfi(Thengai Burfi using Palm Jaggery), 2 mins coconut burfi in Microwave or Coconut Ladoo recipe using Desiccated Coconut.
I still remember my thala Diwali(First Diwali After Marriage), that time I know to make gulab jamun using store-bought gulab jamun mix, Murukku(maavu from Amma)🤦‍♀️, thengai burfi. Only these things I know to make🤣🤣🤣. I think most of all newly married girls will do that😍. Thengai Burfi is one that makes perfectly from the beginning because I saw much time amma makes at home. She always calls me for help because she can't mix the mixture for long her hand will get pain. Most of the time I stand behind her whenever she makes any Bakshanams. Now it is helping me to make them better.
Coconut burfi is a beginner sweet recipe, if we make it perfect rest all Indian Sweets can make it like a pro because of the syrup Consistency when to add coconut and so many things. Today I am Going to share a short Cut method that You no need to make Sugar Syrup we are going to add sugar directly and make Coconut Burfi. this Coconut Burfi anyone can make no special techniques required.
Even its flops we can rectify it, I have shared the tips and tricks below check and make it Accordingly.
How to Make Coconut Burfi using Fresh Coconut Recipe Video,
Coconut Burfi Ratio, If you take 1 cup of Grated Coconut then you need 3/4 cup of Sugar this is the Ratio for Coconut and Sugar. Grate the White Part of the Coconut so that the burfi looks white in color.
Measure the Coconut and sugar, Keep ready!
Step By Step Preparation of Thengai Burfi Recipe(Coconut Burfi using Fresh Coconut)
Grease a tin or plate, keep ready Before Making the Thengai Burfi. Just grease the tin and keep it next to you.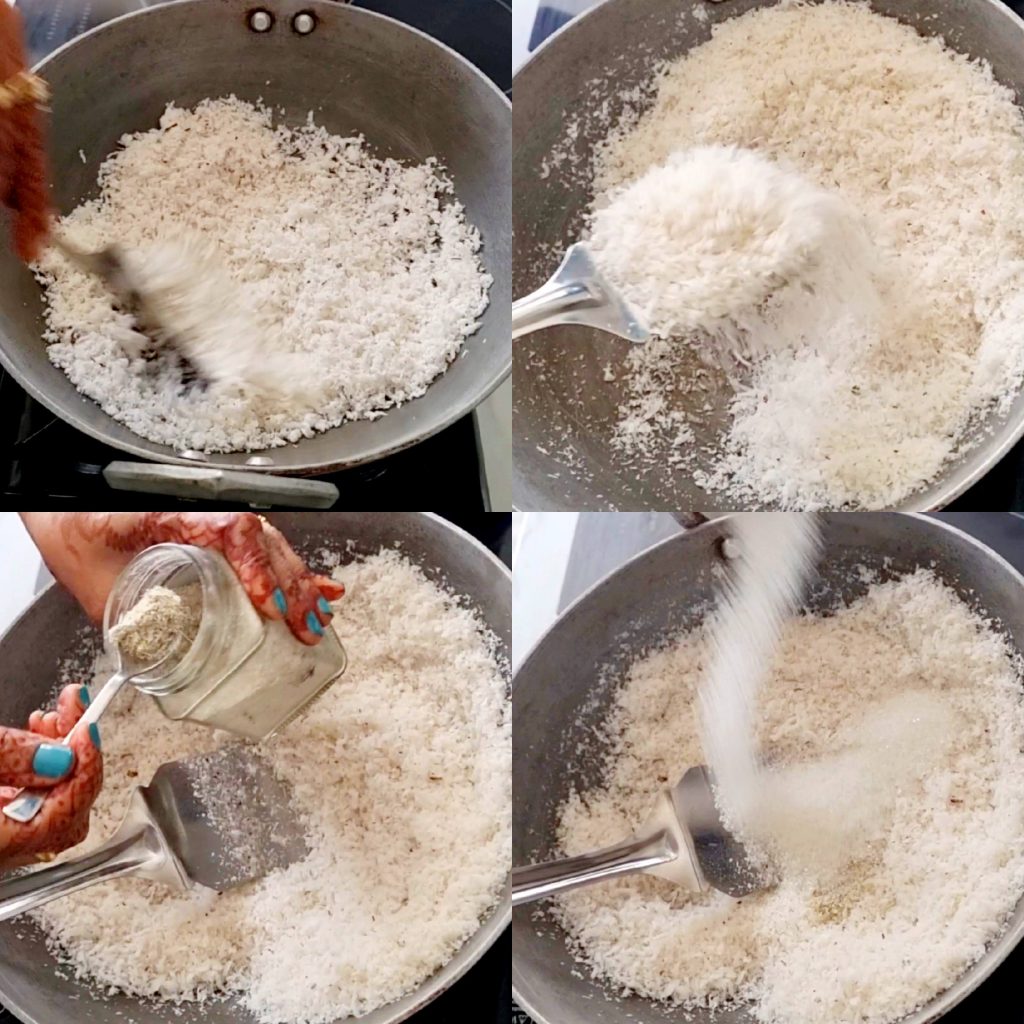 Take a Heavy Bottomed Kadai, Add 1 cup of Freshly Grated Coconut, dry roast in low flame. Dry Roast 2 to 3 mins on low flame till you get a nice aroma and the coconut should be moist-free. (Don't roast in medium or High Flame the color of the Coconut will get Change)
Add a generous Pinch of Cardamom, 3/4 cup of Sugar(i took 1 cup grated coconut so I am using 3/4 cup of sugar if you are taking more Coconut measure the sugar accordingly and use it)
After Adding the Sugar add 3 tbsp of water and mix well. The entire process of the Flame should be in Low. If you keep the flame high the sugar will get caramelized so keep the flame low. Just add 3 tbsp water for 3/4 cup of sugar don't add more water.
Once you added the water the coconut will leave the water and it will start to thicken in 3 to 4 mins. You need to stir it continuously otherwise it will stick on the Tawa.
You can see coconut mixture turning thick and on the sides, sugar started turning white crystals. This is the perfect stage to switch off the stove.
Immediately transfer the Burfi Mixture to the Grease Plate. leave it for 5 seconds and then slice it according to your desired shape.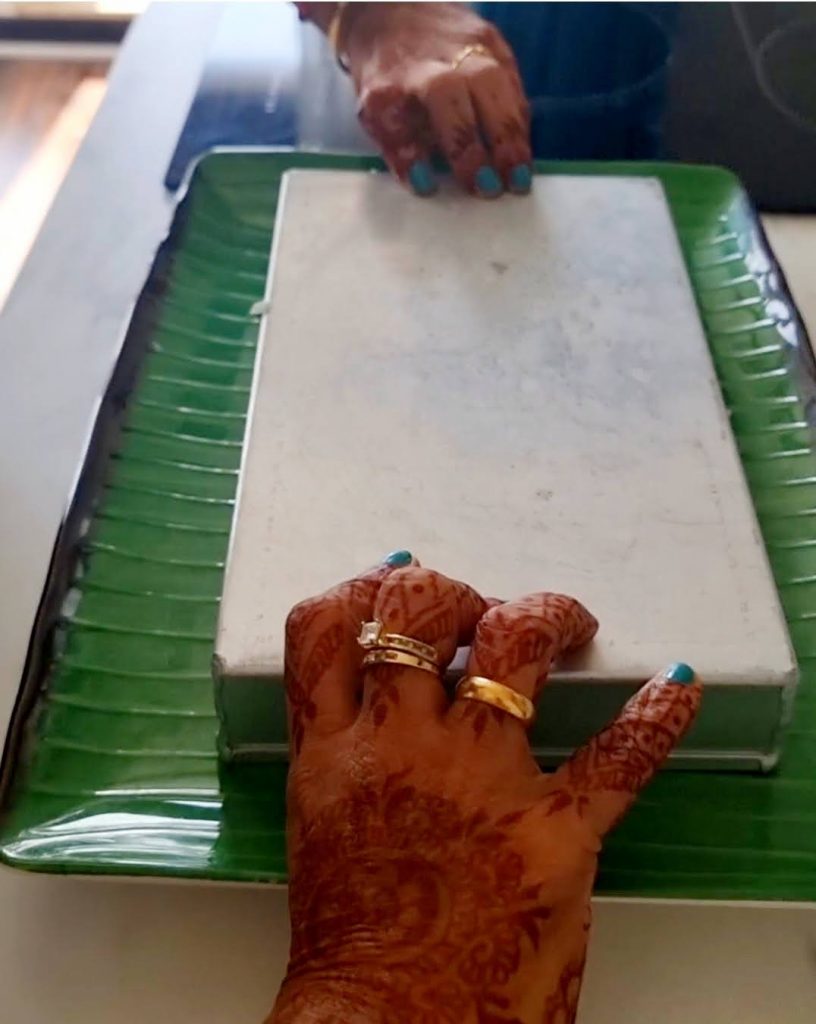 Invert the Tray Over a plate, just pat it on top of the Tray. That's it Beautiful slices of Perfect Coconut Burfi are ready to serve!
This coconut burfi is Made with fresh coconut it will stay for a week in the fridge.
Don't try this recipe with the Desiccated Coconut, because we made burfi without making the sugar syrup. Desiccated Coconut is dry it will not leave moisture if we add sugar with it. This is a short-cut method, suits only for Fresh Coconut.
Tips to Rectify If Coconut Burfi Fails:
There are 2 things will happen either coconut burfi will not hold the shape or it will turn very hard. If coconut mixture is crumbly and it doesnt form the shape means it need more cooking time bring back to kadai again, add 1 ot 2 tsp sugar keep stir in low flame, in few mins it will becomes thick and then pour over a greased plate slice it. it will form the shape perfectly. If it very hard you can't able to slice the pieces means it is over cooked, don't get panic. Bring back to the kadai, add 1 tbsp water it will get dissolve, keep it low flame till it get melted and then pour back to greased plate slice it. Now you can able to slice the burfi.
Do try this method, If you have any Doubts, Comment Below I will answer your Queries!!!
More Diwali Sweets Recipes, like
Have a Good Day Makkale!!!