Thai Ammavasai 2023 Special Lunch Menu, Thai Ammavasai Thaligai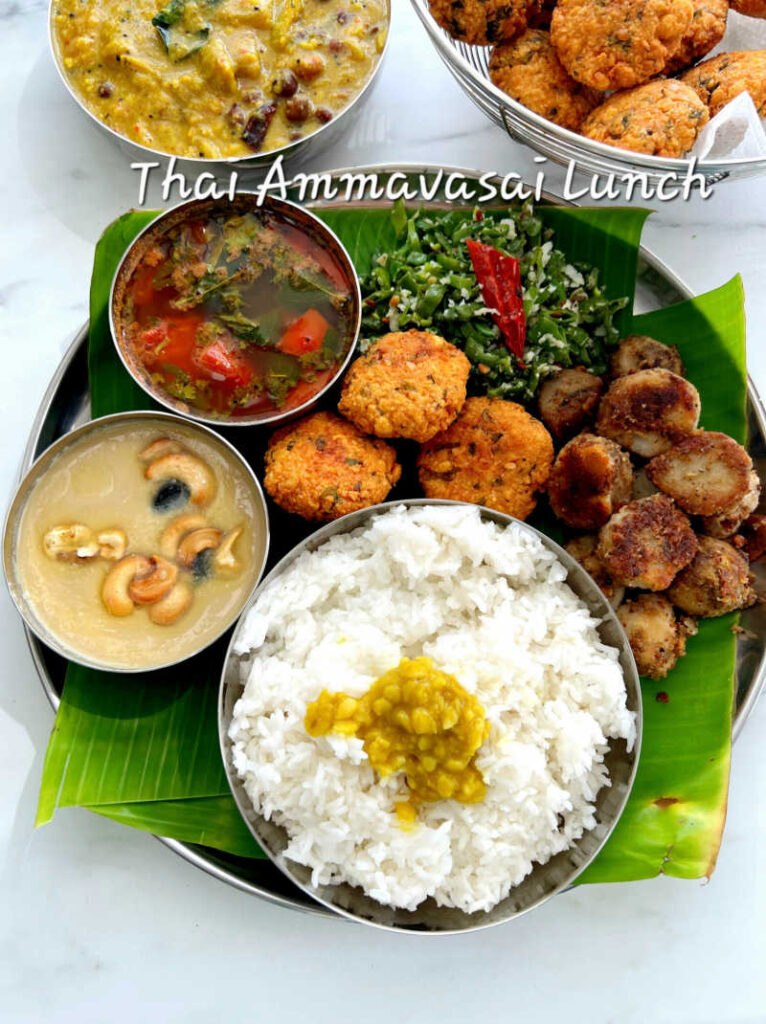 Thai Ammavasai Special Lunch menu without onion and Garlic. Not a very elaborate Amavasai thaligai that I usually do. This time kept it very light and simple. Thai Ammavasai and Aadi Ammavasai we do it elabortely. This time simple lunch menu but very tasty and delicious menu, that you can manage to make the things which are available in your kitchen. Most of the Items i have shared earlier. so i will leave the link for each and every item in the menu and some recipes in Detail. As Thai Ammavasai is tomorrow sharing the lunch menu little early today so that you can plan your lunch for tomorrow. Meanwhile you can check the AADI AMMAVASAI LUNCH COMBO that i prepared last year 2022 and also the PREPARATION FOR AMAVASAI will help you to get an Idea.
What is Amavasai?
Amavasya(Amavasai in Tamil) is known as the new moon day. Amavasya is a good day for paying respect to ancestors called tithi. Amavasai day is considered auspicious for the worship of forefathers and poojas are made. During this day after Tarpanam people used to make elaborate meals to offer our ancestors.
What to cook and What we should not Cook on Amavasai?
There is specific Thaligai(cooking) on Amavasya day . On that day recommended vegetables are Bitter gourd, Raw banana, Colocasia (Seppankizhangu),Senai kizhangu, Ladies finger, Snake gourd, avaraikkai, and White Pumpkin. 'English' vegetables are to be avoided-carrot, cabbage, cauliflower, beetroot etc.
There is science behind why we should not use these vegetables also there, during these days, the rays are passed inside the vegetables it is good to take the water content vegetable.
Keeping these in mind we need to prepare the Amavasai Menu, You can Check the Below Video I have shared How I Planned the menu a day before and how I made the Amavasai Thaligai.
Thai Ammavasai Lunch Menu:
Sadam(rice) + Topped with Moong dal(Kalathu Paruppu) + Ghee
Seppankizhangu Milagu Kari(Taro Pepper Roast)
More Details about the Thai Amavasai Menu, Made the destarched rice using the Sona Masoori Rice. As we should not use Toor dal on Amavasai Thaligai(cooking) used Moong dal for Kalathu Paruppu. You can click the link on Kalathu Paruppu to check the detailed recipe. Reserved some paruppu for Rasam and Payasam too. Made Kalyana rasam, one tasty and easy rasam recipe. Next is Seppankizhangu Roast, also we should not use turmeric powder & chili powder so i use pepper to make Roast, below check the detailed recipe. You can click the link for Poriyal and Payasam recipes.
Seppankizhangu Milagu Kari(Taro Pepper Raost);
Pressure cook 200g Taro for 2 whistels and then peel the skin, dice them keep aside.
Powder 1 tsp pepper and 1 tsp cumin into a coarse powder, add it to the cooked Taro. Now add 1 tsp gram flour or rice flour, 1/2 tsp salt. Mix well. Adding Gram flour(kadalai maavu, besan) for crispyness you can add rice flour too.
Mix well with the freshly ground Pepper & cumin powder, besan + salt. Leave it for few mins and then roast.
Heat a kadai add 1 tbsp cooconut oil or any oil, add the taro and roast on medium flame. Turn the otherside and roast well, till it turns crispy and golden.
That's it Seppankizhangu Roast ready! do try this simple roast recipe you love it.
Hope you like this simple Thai Amavasai Lunch menu. Do check No onion no Garlic Vrat recipes to Plan your Amavasai Menu.
Do stay tuned to Prema's Culinary for more interesting Ammavasai Lunch Recipes if you have any doubts about this recipe or If you want any specific recipes you can email me at cpremas79@gmail.com.
Do Follow me on Instagram for more Recent updates and every cooking recipe video share your thoughts with me, Also tag our page on Instagram @premasculinary with hashtag it on #premasculinary
Thanks & Have a Good Day! 😉Enjoy Cooking and Mindful Eating!