Tomato Poori Recipe, Busu Busu Thakkali Puri, Kids Lunch Box Combo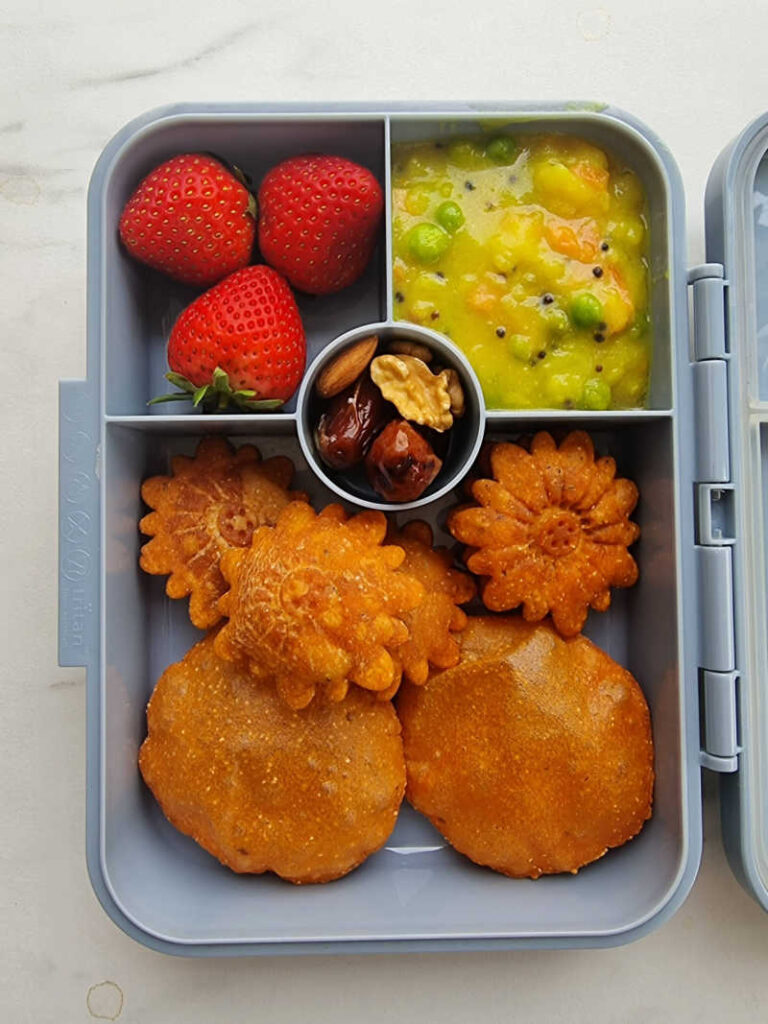 Soft & Puffy Tomato Poori(thakkali Poori) recipe with Step by step procedure and video. Tomato Poori is made with Fresh tomato puree and multi-grain atta. The Poori dough is made using Vidiem Tusker Processor. so in this post, we are going to see How to make Tomato Poori and also How to make Poori or Chapathi Dought in Mixie. Very good Lunch Box option for kids.
Making Poori is easy peasy lemon squeezy if you follow proper measurements I have shared How to make Perfect Busu Busy Poori without adding Rava. Do check that post if you want to make normal Pooris. Yes, agree to make the dough using my hands need extra energy and is time-consuming. That's why we all make Poori on weekends. If we have a food processor like Vidiem multi tusker makes our work easy. Just put in the dough and water poori chapati dough ready just in 5 mins. we can pack poori for our kid's lunch boxes on weekdays took. Not only Tomato Poori, but we can also make Palak Poori, Masala Puri, Methi Puri, etc.
What is Tomato Poori/Thakkali Puri/Tamatar ka Puri:
Indian Deep Fried Bread made with the combination of Multigrain atta + Rava is mixed with Fresh tomato puree, and added Indian spices like Ajwain, and chili powder. knead into a tight dough, and then rolled into small circles. This dough is then deep-fried in oil. The final output is Soft fluffy and busu busu Poori called Tomato Poori. The addition of Tomato Puree and Kashmiri chili powder brings bright red color to the pooris and kids would love to have this Tomato Poori. Very good Option for Lunch Box.
How to make Tomato Poori Video recipe,
This simple and Easy video demonstration will help you to learn How to make Tomato Poori for Kids' Lunch Box.
Tomato Poori recipe, How to make Thakkali Puri
Kids Lunch Box Special colourful Tomato Poori Recipe
Ingredients
2

cups

wheat flour

2

tbsp

rava

1/2

tsp

salt

1

tsp

kashmiri chili powder

1/2

tsp

ajwain(omam)

1/2

cup

tomato puree

1/2

cup

water

1

tsp

oil
Instructions
Add 2 cups of wheat flour, ½ tsp salt, 2 tbsp Rava, 1 tsp Kashmiri chili powder, ½ tsp ajwain(omam), and mix well.

Add ½ cup tomato puree(2 tomatoes pureed), and knead well. If required add ½ water and knead it to a tight dough.

Finally, add 1 tsp oil so that flour will not stick on the jar also you will get the soft dough. Rest it for 15 mins.

After 15 mins divide the dough into small balls and roll them using the rolling pin.Heat oil and fry pooris in Hot oil.

That's Busu Busu Pooris Ready! Serve it with Coconut chutney or Poori Kizhangu.
Notes
Always fry poori in Medium heat, not low or high
Make poori tight not lose dough.
How to Make Poori Urulai Kizhangu Masala, Poori Masala Tomato Poori Side dish:
Check the Above link to make Poori kizhangu, a very tasty side dish recipe for Tomato Poori.
Do try this Lunch Box Combo this week and let me know your Feedback!
Few more side dish Recipes, like Poori chana Masala, Restaurant Style Hariyali chana masala
These are some of the recipe Ideas for Lunch Box on weekdays for kids and Adults, Plan your menu on weekends and enjoy cooking!
If you have any Doubts or If you want any specific lunch box recipes you can email me at cpremas79@gmail.com. Do Follow me on Instagram for more Recent updates and every cooking recipe video
If you have any recipe requests comment below and Do share your thoughts with me, Also tag my page on Instagram @premasculinary with hashtag it on #premasculinary
Thanks in advance Have a Good Day!!