Easy Bonda recipe with coconut chutney (TamilNadu Hotel style)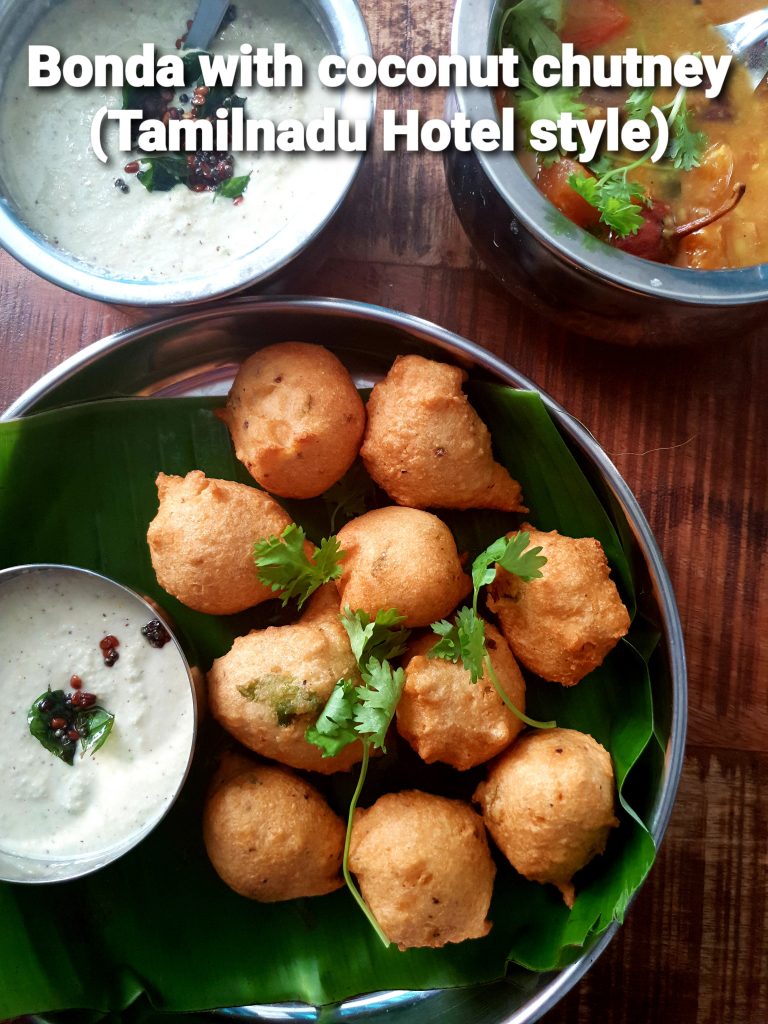 Bonda with coconut chutney is a yummilious combo, that can be served in TamilNadu Hotels as an easy evening snack recipe. Crispy Bonda recipe in Hotel style with Coconut chutney(Thengai Chutney) Hotel Style. Bonda is crispy outside, fluffy and airy inside with pepper bits in every bites served with coconut chutney. There are different types of Bondas like Mysore Bonda, Aloo(potato) Bonda and more. Today am sharing the recipe of Bonda and coconut chutney both are hotel style.
Coconut chutney or thengai chutney in Hotel style. This is Pottukadalai(roasted chana dal) chutney with coconut.  This is a classic coconut chutney with lots of roasted chana. some of my hotel-style(restaurant-style) recipes you make like to try, restaurant-style vada curry recipe, mango lassi, Mysore masala dosa, mushroom soup
Bonda with coconut chutney(pottukadalai chutney) recipe video,

Pepper Bonda recipe, bonda recipe, coconut chutney recipe, thengai chutney, step by step instructions,
ulundu Bonda, medhu bonda, pepper bonda with coconut chutney recipe card:
Bonda with coconut chutney(thengai chutney) TamilNadu Hotel style
Bonda recipe with coconut chutney
Author:
Premalatha Aravindhan
Ingredients
To make Bonda we need:
1 cup urad dal/உளுத்தம் பருப்பு
1 tbsp Rava/semolina/ரவை
⅓ cup water(for grinding the vada)/தண்ணீர்
1 tsp crushed pepper/மிளகு
few coriander leaves/கொத்தமல்லி இலை
salt/உப்பு
oil for frying the vada/எண்ணெய்
To make coconut chutney(தேங்காய் சட்னி)we need:
½ cup grated coconut/துருவிய தேங்காய்
⅓ cup roasted chana dal பொட்டுக்கடலை
2 green chili/ பச்சைமிளகாய்
1 tsp salt/ உப்பு – தேவையான
1 tsp oil/ எண்ணெய்
1 tsp mustard seeds/ கடுகு
½ tsp urad dal/உளுந்தம்பருப்பு
few curry leaves/ கருவேப்பிலை
Instructions
Bonda Preparation,soak the urad dal & Rava/semolina for 1 hour.
After an hour drain the water and add both urad dal & Rava in a mixie jar. Grind it to a smooth paste. add little water for grinding.
I ground in mixie you can grind it in grinder also.
transfer the grounded bonda batter in a bowl.
Add crushed pepper, coriander leaves, and salt. Mix well.
Heat oil in medium flame. Once the oil becomes hot, take a little batter.
Drop slowly into the hot oil. Turn and fry the other side.
Once it turns golden remove from oil.
Bonda is ready.
Let's make coconut chutney, take a small mixie jar and add in the fresh shredded coconut, fried gram dal, green chilies, salt, and a small clove of raw garlic. Add about a quarter cup of water and grind to a smooth paste. Add more water while grinding the chutney if necessary.
Add sesame oil in a pan. When hot, add in the mustard seeds and urad dal. Let the mustard seeds splutter. Add in a sprig of curry leaves.
Now add a pinch of asafoetida powder.
Add the tempering to the chutney. coconut chutney thengai chutney is ready
Notes
always fry the bondas in low flame
adjsut the spice level according to your taste buds
Do try this delicious bonda  and coconut chutney and Enjoy!
Are you making this recipe? I would like to see your creations so snap a photo and tag @premasculinary on Instagram with the hashtag #premasculinary
please give ***** and comment below.
You can follow me on Facebook, Twitter, Pinterest, and Instagram or more easy recipes.
Facebook: https://www.facebook.com/premasculinary
Twitter: https://twitter.com/cpremas79
Instagram: https://www.instagram.com/premasculinary
Read our Recipe Blog: www.premascook.com
Subscribe to our YouTube channel: http://www.youtube.com/subscription_c