A Perfect Potato Bonda Using Home made Baji | Bonda Mix
Potato Bonda is a typical south indian snack and is very famous in hotels.If we order parcel they will pack it in a banana leaf with coconut chutney(கெட்டி சட்னி).No words to describe the taste.
What do you keep on hand to serve for an unexpected guest? If you have this mix in hand,you can make any kind of bonda and baji.Even you can make pakoda also.Just mix the flour with water,slice onion/potato/raw banana.You will get hot bajis or you can make onion pakoda,cashew pakoda,etc…Lets see the recipe for the mix.
Home made Baji | Bonda Mix:






Ingredients for Baji | Bonda Mix:


2 cups Gram flour/Besan/Chickpea Flour
1 tbsp Rice flour
1 tsp Chilli Powder
1/2 tsp Turmeric powder
A Pinch Cooking soda
1 tsp Salt


Method:



In a mixing bowl add besan flour,rice flour,chilli powder,turmeric powder,salt and cooking soda.

Sieve the flour and make sure that it should be without lumps.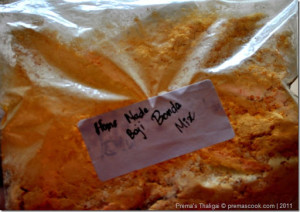 Here is the Baji | Bonda Mix is ready.Lets see the recipe for Potato Bonda using this mix.


Potato Bonda: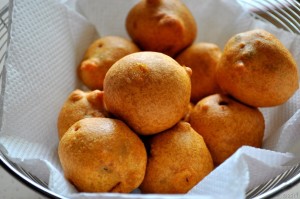 For outer layer:


1 cup Baji | Bonda Mix
1/4 cup water
Oil for deep frying


For Potato Stuffing:


2 medium sized potatoes
1 inch Ginger, grated
1 medium sized onion, finely Chopped
1/2 tsp Turmeric powder
2 Green chillies, finely chopped
1/2 tsp Mustard seeds – 1 teaspoon
A pinch Hing
1 tsp Oil
Salt to taste


Method:



Take the Bonda mix in a mixing bowl,add water and mix it.

The batter should not be too thick or thin,it should be like dosa batter consistence.Keep aside for 15 minutes.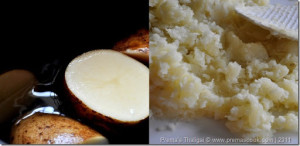 Meanwhile Boil the potatoes till soft.

Once it got boiled smash it.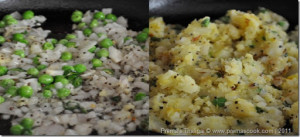 Heat oil in a pan,add the Mustard seeds and hing.

Once the mustard seeds splutter,add the ginger,onion,peas and green chillies into it.Add the Turmeric powder,salt and potatoes into it.Cook it till the potatoes and peas get cook well.Let it cool for sometime.Heat the oil in low flame.
Make the potato mixture into small lemon sized balls.

Insert a bamboo skewers into a ball and take the ball carefully.
Dip the ball in the prepared bonda mix and take it using the same skewer.

This step is for the perfect shape,if you don't like use your hand.
Drop the ball carefully into the hot oil.Turn the other side and deep fry the balls in oil,till golden brown.Repeat the same with the remaining balls.

Drain the oil and take the bonda out from the oil.



Serve the hot bonda with coconut chutney.






Try this tempting bonda and enjoy the day!!!