Idiyappam (String Hoppers) with Sodhi and Coconut Milk Recipe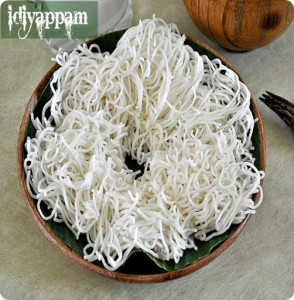 While am checking my Label- Breakfast Recipes,really don't know how i forgot to post the simple Idiyappam Recipe here
Luckly made it couple of days before and clicked.Here am sharing the recipe
Serves : 2-3
Ingredients:
2 cups Rice Flour
3 cup Water
1 tsp Sesame Oil
1 tsp Salt
Method:
Boil the water along with oil and salt.

Add in the boiled water and mix well with the flour.

Dough is very hot so use a ladle to mix.
Once you can able to handle the dough with hands then mix it and make a soft dough using hands.

Divide the dough into equal portions and fill it into the idiyappam press.

Squeeze out the dough on to a greased idiyappam plate or idly stand.Steam it.

Once done, cool down for sometime and remove it in a plate.

Serve idiyappam with sodhi and sweet coconut milk.

My Notes:
I used the omapodi press to make this idiyappam.

Don't make too many layers while making because the flour will not get cook.

If the first batch is steaming in process use a wet cloth to cover the dough otherwise it will become dry soon.
Have a Nice Day!!!