Kalathu paruppu (seasoned dal), How to Cook Pasi Paruppu(moong dal)
Kalathu paruppu (seasoned dal) without onion or Garlic. Moong Dal is Cooked and Tempered in ghee with South Indian like Mustard seeds, urad dal, dried chili tempered and a hint of hing flavored, and curry leaves infused called Kalathu Paruppu(Tempered Moong dal), You can call South Indian Dal Tadka Whatever. Simple Hot Steaming Rice + Paruppu topped with Ghee is a Sorgaham(heavily) Combo. If you are Beginner How to cook pasi paruppu ( moong dal/ yellow lentil) is very useful to you. Whenever I Post my Ammavasai Lunch Menu My Followers Dm me asked for Kalathu Paruppu Recipe. Today Finally happened to clicked it Here is the Recipe for Kalathu Paruppu.
Saturday and Sunday is officially weekend for us, it is just from January. otherwise, our weekend is Friday and Saturday, something feels like back to my country. Still can't believe Sunday is a holiday🤣 Woke up late and had breakfast in Khau Gali which is just below my Building. After Breakie no mood to cook. Decided let's make it Simple. Made a Simple Dal + Amma Style Mochai avarakkai Masala. It was a heavenly lunch. Here is the Kalathu PAruppu Recipe, If you want to check how to cook Toor Dal, Please Check Here
More Paruppu Recipes, Andra Paruppu Podi, Spicy Kollu Paruppu, Paruppu Thogaiyal
How to Cook Moon dal(Pasi Paruppu), Perfect Dal Recipe,
Wash 1/4 cup of Moong dal, wash and rinse well. Add it to the Pressure Cooker add 1/2 cup of water, a pinch of turmeric powder, a few drops of oil and Close the lid Pressure cook for 3 whistles. Turmeric Powder gives good color to the dal and Oil stimulates the fast cook and the dal turns soft and mushy. Note: water ratio I use to keep for moong dal is 1:2 if you are using 1 cup moong dal add 2 cups of water. If you keep more water the water will ooze out from the pressure cooker if you keep less water the dal will stick at the bottom. So keep the Water Proportion Accurately.
For Moong dal 3 whistles are more than enough. After you switched off the Pressure Cooker Don't open it immediately that also leads to dal uncooked. Let the Pressure be Released by itself and then open it. Mash the Dal well. According to your thickness add hot water and dilute it. I like little dilute form so I have added 1/4 cup of hot water and Diluted it. Always add hot water to dilute.
Add 1/4 tsp salt and mix well. Don't Add Salt while pressure cooking the dal, the dal may not cook properly. mix well.
Tempering Step is Optional if you are going to feed the dal for babies no need tempering, even for ammavasai meal we don't temper the dal also if you are going to serve it as the beginning of your lunch no need tempering.
Tempering is required if you are going to have this as your main dish, heat a pan add 1 tbsp ghee, once the ghee heats up add the 1/2 tsp mustard seeds, 1/2 tsp urad dal, curry leaves, and 2 dried red chilies or green chilies. Let the Mustard seeds splutter and dal turns golden. Switch off the stove and then add the tadka to the Dal and mix well. That's it Moong dal tadaka or Kalathu Paruppu is ready to Serve.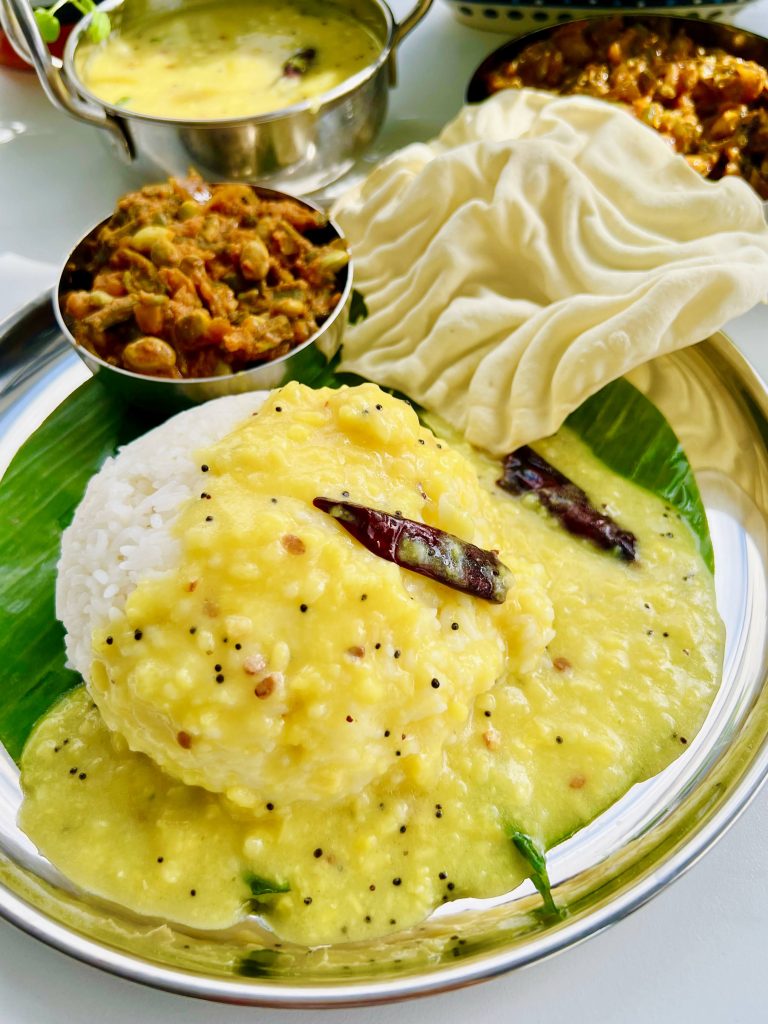 Look at the dal how creamy and delicious it looks, You can have this Dal with your Rotis and Phulkas or with jeera rice, ghee rice.
Do try this Simple and Delicious Dal recipe and let me know your feedback!
Happy Cooking!!