Aadi Ammavasai Recipes, No onion No Garlic Ammavasai Menu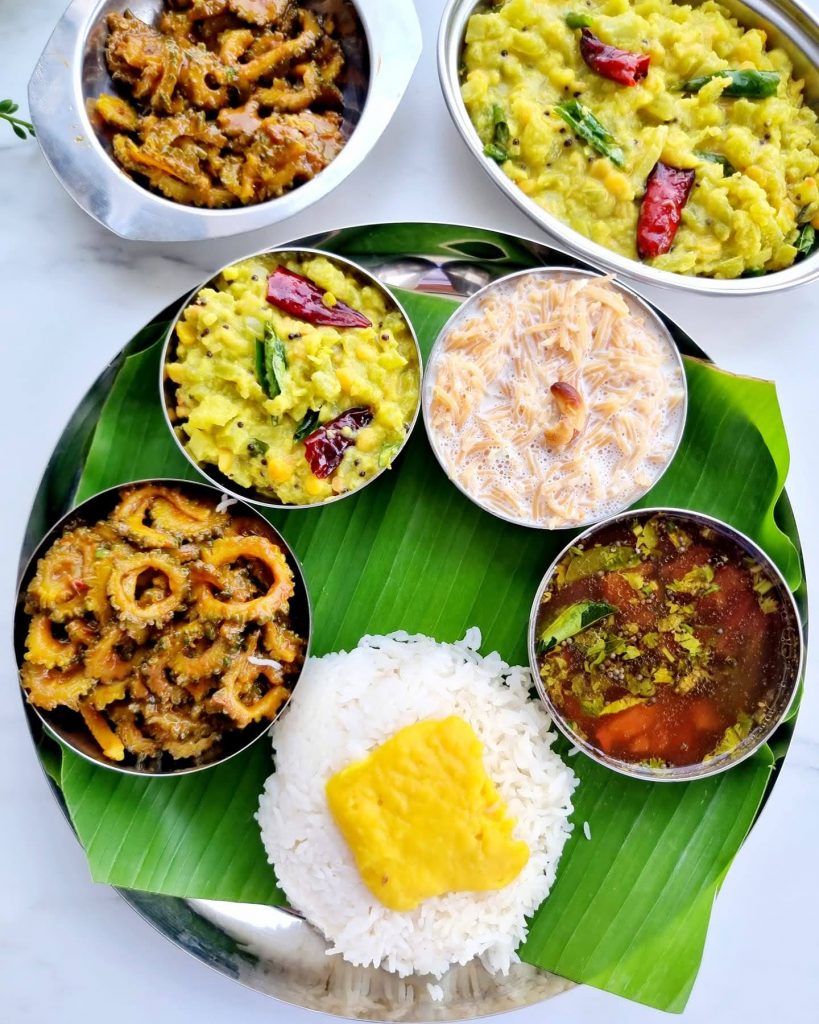 Aadi Amavasai Recipes, How to plan a simple no onion no garlic meal for Amavasya. Amavasya, the new moon day, offers pitru Tarpanam (ancestral rituals) after Tarpanam people used to make elaborate meals to offer our ancestors. Since Amavasai is coming every month, planning a new menu is very difficult. Aadi Amavsai 2021 How I planned and how I made no onion no garlic lunch is the one I want to share with you all. The above picture is the complete menu I made. A very simple but complete meal, following the rules of Amavasai Thaligai.
Not only no onion No garlic we can cook certain vegetables and should not cook some vegetables,
The vegetables/ingredients that we can use are Pavakkai, Pudalangai, Seppankizhangu, Vazhakkai, Pusanikkai, Vazhaithandu, Raw turmeric(pachai manjal), Chili powder can be replaced by pepper powder, Moong dal & chana dal can be used, milk, curd.
Vegetables/ingredients to be avoided, all English vegetables like beans carrot, cabbage, cauliflower, masala items, onion, garlic, all powder n podi made before like sambar powder, rasam powder, turmeric powder, chili powder. appalam,vathal vadam, Keerai, capsicum, urad dal, toor dal.
There is science behind why we should not use these vegetables also there, during these days, the rays are passed inside the vegetables it is good to take the water content vegetable. 
Keeping these in mind we need to prepare the Amavasai Menu, You can Check the Below Video I have shared How I Planned the menu a day before and how I made the Amavasai Thaligai.
This year Aadi Amavasai I Couldn't make an Elaborate meal since I am not well. But still, i managed to follow the rules and made a simple no onion no garlic meal without planning or any preps. 
The menu is Vadicha Sadam/de starched rice, Kalathu Paruppu(dal) topped with Ghee, Rasam,
Pavakkai(Bitter gourd fry) Kari, Pudalangai(snake gourd) Kootu, Curd + Appalam(nip), Semiya Payasam.
You can click on the item for respective recipes. The only recipe I missed adding is Pavakkai Fry Recipe below you can check.
How to make Pavakkai(bitter gourd fry) Kari,
Heat a pan with a tbsp oil, add 1 tsp cumin seeds, add 250g bitter gourd thinly sliced, add ¼ tsp turmeric powder, 1 tsp chili powder, 1 tsp salt. Add 2 tsp tamarind paste or soak gooseberry-sized tamarind extract thick paste, Saute well, cover, and cook till the bitter gourd turns soft.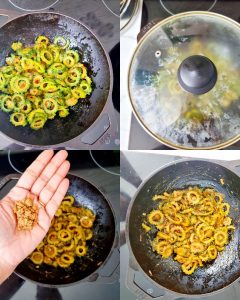 Finally add a tsp of jaggery, toss and switch off. Pavakkai(bitter gourd) Kari, is ready to serve.
This Kari goes well with curd rice, rasam rice, and even rotis too.
Notes:
Adding tamarind paste reduces the bitterness, even kids would like to have it.
Adding jaggery enhances the taste, gives a sweet taste, and glossy look to bitter gourd.
Don't skip both.
This is the Simple Ammavasai Menu I made and their respective recipes, Hope you like our menu. 
Thanks & See you all soon!!