Ugadi(Gudi Padwa) Sweets and Savory recipes + Video, Popular (Andra/Karnataka)Ugadi festival recipes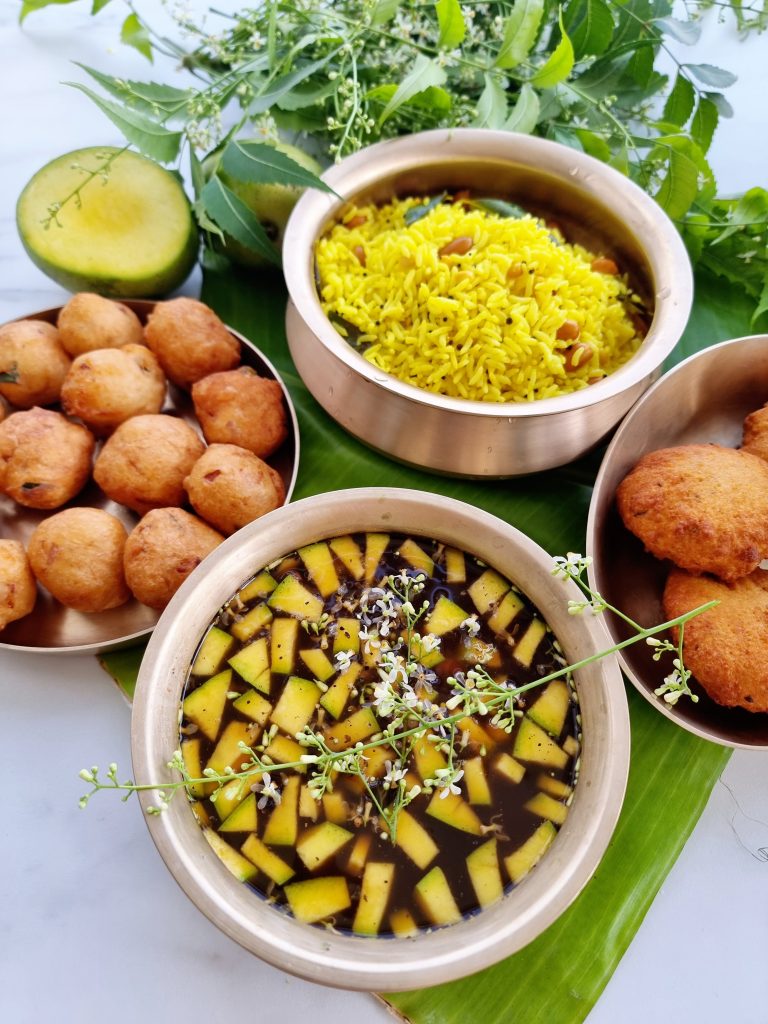 Ugadi Special Traditional Recipes, ఉగాది ప్రత్యేక వంటలు, Ugadi Festival Lunch Menu, and many Andra/Karnataka Maharashtra, Ugadi Recipes. Ugadi(Gudi Padwa) is New Year's Day for the states of Andhra Pradesh, and Karnataka in India. It is celebrated in the month of Chaitra(Tamil month Panguni or Chithrai). This year Ugadi Falls on the 2nd of April, Saturday. HAPPY UGADI EVERYONE!! In this post, you will see 2 important Ugadi Sweet recipes like Ugadi Pachadi recipe and Holige, Obbattu recipe video. 4 Savories recipes like Minapa(urad dal) Vada Recipe, Perfect Crispy Masala Vada, Punugulu recipe, Chitranna, Puliyogare recipe in one post. All recipes with full detailed Video. Also Ugadi lunch Menu also
Similar to Tamil Puthandu, They also Celebrate is very grandly. Wearing new clothes, taking an oil bath, going to temples for prayers, offerings, or rituals, and eating special, symbolic, and festive foods are all part of the celebrations.
The "Ugadi Pachadi" dish is especially important like how we Prepare Manga Pachadi for Tamil New year. It contains numerous flavors in a single dish. It can be sweet, sour, salt, bitter. It is meant to symbolize the idea that all manner of life experiences may befall one in the year ahead.
Being a Tamilian I love to have Andra, Karnataka food because I am a foodie. there are no restrictions or barriers when it comes to food😉 I would love to try all types of Andra, Karnataka recipes almost many are similar to Tamilnadu food. Just the name change but the taste and recipe, methods all same.
For Example, we call Purnam Boil, they call it Obbattu. So just want to share all Ugadi recipes and the Ugadi Special Lunch menu in this Post.
Ugadi(Gudi Padwa) Sweets and Savory recipes video:
Popular Ugadi Recipes,
Ugadi Pachadi Recipe or Ugadi Pachadi shadruchulu is the famous Andhra dish. People make the Ugadi Pachadi recipes during Telugu New year's day. The 6 tastes Ugadi Pachadi has symbolized the 6 emotions of the life. The Ugadi Pachadi is made of new neem flower(vepa puvvu), new jaggery(bellam), new chilli/pepper(karam), salt(uppu),tamarind(cintapandu), mango(mamidi) are the 6 main ingredients used.
Andra Pooranam Boorellu, Obbattu, Puran Boli is a Paruppu Boli recipe made with Whole wheat flour, not maida, and the filling is made with chana dal and jaggery, a Healthier Version. Delicious Sweet recipe which is a must on Ugadi.
Masal Vadai without Onion and Garlic, Crispy outside and soft crumble dal inside, Each and Every bite makes you feel energetic..💪Tips to make Perfect Masal Vada at home in video recipe.
Minapa Pappu Vada is nothing Urad dal vada is made in the mixie method. How to grind Vada Batter in Mixie for Crispy Doughnut Shaped Vadai. 
Temple Puliyogare, temple Puliyodharai made with freshly ground Puliyodharai Powder.
Poornalu is a traditional Indian Sweet made in the Telugu States, is made with chana dal, grated coconut, jaggery, cardamom, and the sweet filling is then dipped into an idli batter and deep-fried to get crispy, golden sweet bonds called Suzhiyam. Simple Diwali Breakfast.
5 types of variety rice recipes,
Do try these recipes and let me know Your Feedback!!
Happy Ugadi to all!