Easy Panakam Recipe Andra, Sri Rama Navami Recipes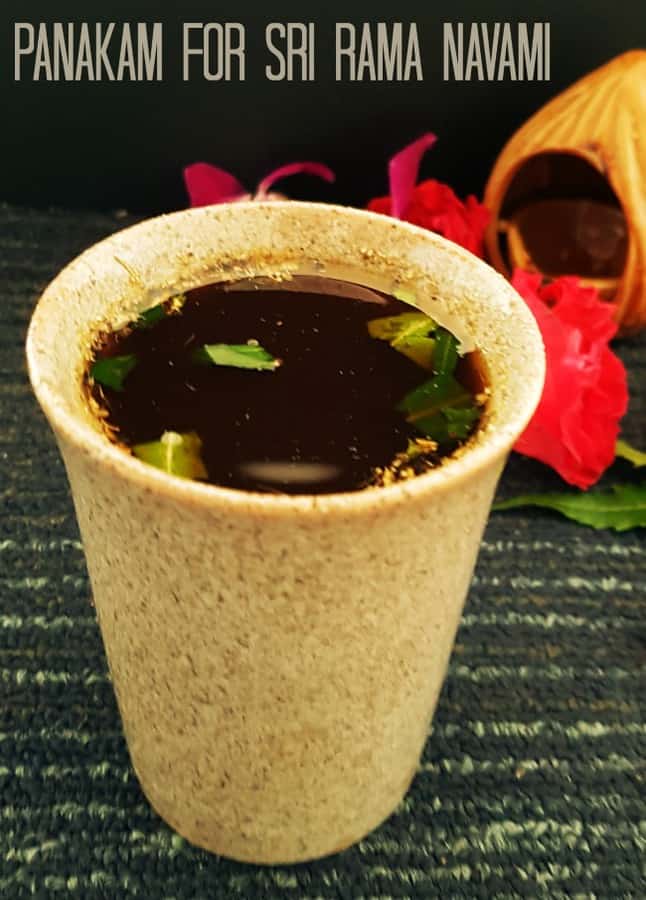 Panakam Recipe with step by step pictures and Video. Panakam Recipe Andra style is the famous Prasadham on Sri Rama Navami among the Telugu people. Vada pappu panakam is an offer to the God Sri Ram. Already posted the recipe for Vada Pappu and now sharing the recipe for Panakam. "Panakam", The cool energy drink, if you read this article about Panagam you will come to know the importance of Panakam(health benefits) and why people consuming panakam on Sri Rama Navami Day! This year Sri Rama Navami Falls on Wednesday, iApril 5th Rama Navami 2017 in Arunachal Pradesh. Hope this post will help you to make Panakam Quick & Easy. Happy Rama Navami wishes to all!
Panagam is the Tamil Word for the Panakam. We Tamilians Pronounce Panakam as Panagam. Few year Back I have Shared Recipe for Panagam do check that also. Both Panakam and Neer Moor are my fav drink, if amma makes this for festival you won't believe without any food i will have only this for the whole day. Now a days Panakam coming in a packets but nothing can beat the taste of freshly homemade panakam. Let us see How to Prepare Panakam.
Ingredients We need: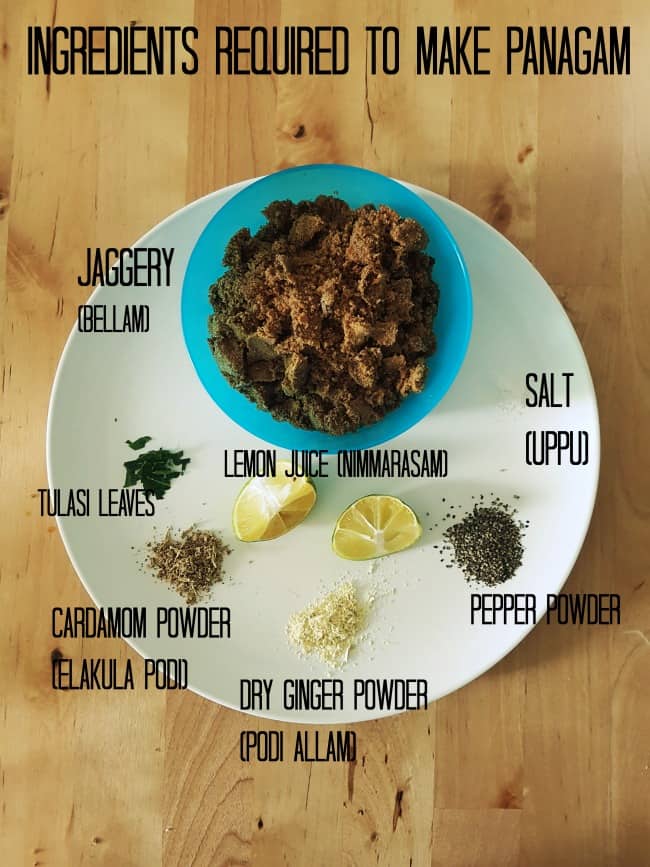 To make panagam we need Jaggery(Bellam), Dry ginger powder (podi Allam), pepper powder, Cardamom powder(elakula podi), Tulsi Leaves, Lemon Juice (Nimmarasam), salt (uppu)
Recipe Card For Panakam Recipe Preparation,
Easy Panakam Recipe Andra, Sri Rama Navami Recipes
Panakam is the cool health drink made of jaggery(bellam), dry ginger powder, pepper, Cardamom Powder etc. Make Panamgam as Parasadham for Sri Rama Navami
Author:
Premalatha Aravindhan
Ingredients
½ cup jaggery (bellam) grated or powdered
A pinch cardamom
A pinch Dry ginger powder
A pinch salt
1 tbsp Lime juice
1 tsp Pepper powder
2 tulasi leaves, crushed
2 cups Water
Instructions
Grate the jaggery or you can powder it in mixie also. Dissolve it in 2 cups of water and filter the impurities using the strainer.
Take a wide bowl add all the ingrediets like Dry ginger powder, cardamom, salt, lime juice, pepper powder, tulsi leave, mix well
Serve cool. Panakam is ready for Neivedyam
Notes
Make sure that you have stain the jaggery water otherwise you will fine the impurities in Panakam.
According to your taste bubs increase and decrease addition of pepper powder.
I prefer more lime juice on my Panakam, adjust according to your wish.
Panakam Recipe Video,
Make Panagam at home and Say Goodbye to the Carbonated drinks. Have Panakam, The cool Energy Drink and Enjoy Sri Ram Navami!!!