Sweet Corn Sundal, Navratri Day 1 Naivedayam, no onion no garlic recipe
Sweet Corn Sundal(Solam Sundal) made with ready-made frozen Sweet Corn without onion and Garlic. Sweet corn sundal is one easy Kids friendly sundal Recipe that you can make just in 5 mins. Toady sharing my Navratri Day 1 naivedyam recipe Simple no onion no garlic lunch Menu along with Sweet Corn Sundal Recipes. Before that May the choicest blessings of Nava Durga bring happiness, peace, good health, wealth, prosperity, and harmony to our life. Let's join our hands to pray and welcome the goddess for the festival, the colorful and beautiful "Navratri"🙏🙏.
Today is Navratri Day 1 which is meant for yellow color so I made everything in yellow color. It's not planned but it happened 😜 What I Made Today for Naivedyam? I made Sweet Corn Sundal and Semiya Javvarisi Payasam For Morning Neivdyam. Then for the lunch Rice, Kalathu Paruppu, Ghee, Beans Paruppu Usili, Paruppu Urundai Mor Kuzhambu, Paruppu Vadai. Everything without Onion and Garlic. For Recipes You can click on each title it will direct you to the respective recipes.
This year Navratri 2021 Starts on Thursday which is a working day for us and the asual first day of Navratri is a little challenging to bring everything on stage. Somehow managed and Finished my cooking and pooja earlier. Here I am sharing the recipes. Hope you have seen my Yellow Colour Saree Today if not Check Instagram @premasculinary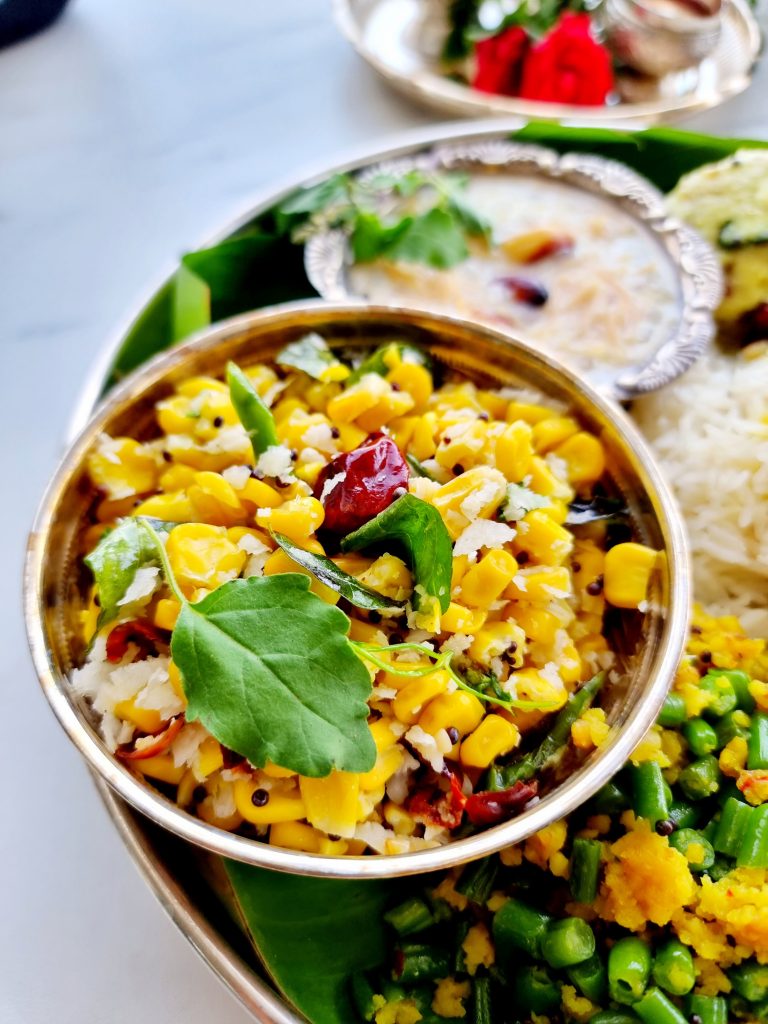 Step by step Sweet Corn Sundal recipe, Solam Sundal recipe for Navratri Naivedyam:
I am using the Frozen Solam(corn). So I am proceeding directly. If you are using dry Corn soak it for 3 hours and then pressure cook with salt drain the water and use it. Even for Frozen Corn, open the packet, put it in a colander rinse well in the tap water. It may contain any chemicals better to rinse and use it.
Heat the 1 tsp coconut oil in pan(any type of sundal you prepare make it with coconut oil, it give nice flavour to the sundal) and temper the hing, 1 tsp mustard seeds, 1 tsp urad dal and curry leaves. Add in 2 dry red chillies and 1 gree chili fry well.  
Add 2 cups of corn toss well in high flame. Dont add water or keep in low flame. Since we are using the frozen corn it will become mushy. so dont over cook it. Just toss for few minutes.       
Add 1/2 grated coconut and toss it for 2 mins and then switch off the stove.
If you are using fresh corn it will take little more mins to cook but same procedure. That's it yummax Corn Sundal that Solam sundal is ready in 5 mins time. Finally garnish with Corinader Leaves and Offer Naivedayam.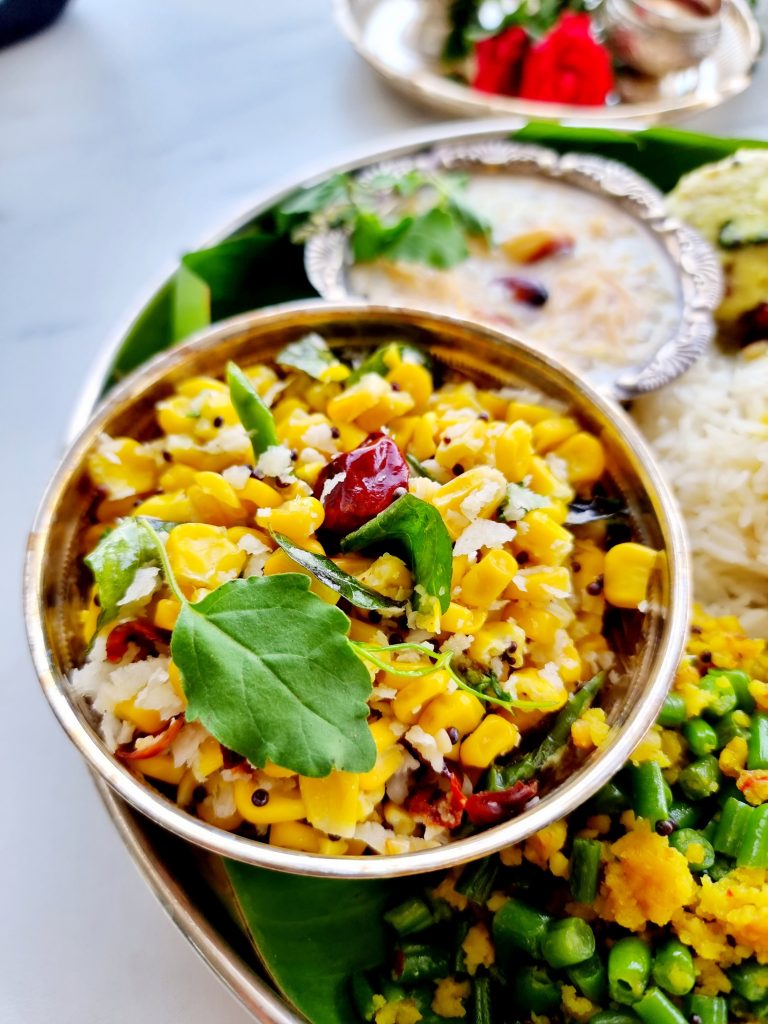 Check here for 9 types of Savory and Sweet Sundal Varieties. Here are the 25+ North Indian and South Indian Navratri Recipe Collections.
Happy Navratri Everyone!!
Subh Navratri!