Easy steps to clean Mushroom | Mushroom Pepper Masala Recipe-Chettinadu style
Being a great fan of mushroom,i have posted many using mushrooms,but  yet to post how to clean it
I found it is easy after seeing the steps here.



So Here am sharing ,how to clean Mushrooms in Easy Steps: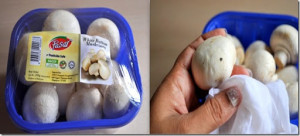 There are many varieties of mushrooms are available in market,whatever it is try to choose whole mushrooms,avoid discoloured, broken and damaged mushrooms with soft spots.I always try to choose a box that has the cleanest mushroom.

Wipe off the sand or dust on mushroom using  damp cloth or paper towel,since the mushroom skin is very soft and smooth don't wash it in water directly without wiping out first.
Rinse mushroom under running water and give a good shake to remove water.
There is no need to peel off mushroom skin. In fact, peeling mushrooms nullifies most of their flavour. Simply trim off any damaged spots and tough or dirty stem.This is how i cleaned the mushrooms,Interesting?
Lets see the recipe for Mushroom Pepper Masala,




I prefer to use  freshly crushed black pepper for all kinds of Pepper masala because it stimulates the taste buds and also helps for digestion.Lets proceed with the recipe.

Ingredients:

250 g Mushrooms(cleaned)
2 tbsp Oil
3-4 dry Red Chillies
1 Medium Sized Onion,sliced
1 tsp Ginger Garlic Paste
1/4 tsp Turmeric Powder
1/2 tsp Chilly powder
1 tsp Coriander Powder
1/4 tsp Fennel seed Powder
1 sprig Curry Leaves
1 tbsp Black Pepper Corns (adjust according to ur tasted buds)
Salt a needed.


Crush the black pepper corns into coarse powder in a mortar with a pestle.You can do this using blender but take care that it should not be too fine.

Heat the oil in the pan and add dry red chillies.Then add the onion saute it for a while,till it becomes soft.

Add ginger garlic paste and turmeric powder and fry well.Add chilly powder,coriander powder and salt fry well till the raw smell goes.
Add cleaned and diced mushrooms and mix well with the masala.

Don't add water because the salt releases the water in the mushroom so cover and cook well.
Now add curry leaves and saute well.Adding curry leaves at the final step gives nice aroma to the masala.

Finally add black pepper and mix well.After adding pepper don't over cook it.Switch off the stove.

It goes well with dosa and roti but my fav combo with simple rasam


Enjoy!!!

Have A Nice Day!!!