Jack Fruit Seed Pakoda | Easy Indian Appetizer recipes
Indian Appetizers
are
Methu Vada
i,
Masal Vadai
,
Cabbage Vadai
,
Cauliflower 65
,
Onion/potato Raw banana baji,
Milagai bajji
,
mysore bonda
,
potato bonda
,
cashew pakoda,onion pakoda,thool pakoda.
These are the appetizers which we usually makes at home. Jack fruit seed pakoda normally we won't make at homes but some people heard about it. Last sunday my friend made this when we visited her home,i can't able to guess initially till she tell the name "
jackfruit seed
" .The tastes is almost same like cashew pakoda. Got the recipe from her and sharing here. Thanks Dear vidhu for this recipe.
Have u Tried Jackfruit Seed Recipes??? Yup, i usually make jackfruit seed sambar,jackfruit seed poriyal, jack fruit seed stir fry other than that tried cutlet once. This is the first time that am making jackfruit seed pakoda.Do try this at home sure your family members would love it.
Jack Fruit Seed Pakoda | Easy Indian Appetizer recipes


——————————————————————————————————————————
Author : Premalatha Aravindhan Category : South Indian Snacks or Appetiser Recipes,
Prep time: 3o mins cooking Time: 25 Mins Cuisine : TamilNadu
——————————————————————————————————————————
Ingredients: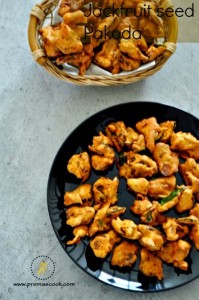 1 cup Baji/Bonda Mix
1 cup jackfruit seeds,cooked & halved
2 sprig curry leaves
1/4 cup water
Few mint leaves
1/2 tsp fennel seeds
Oil for frying
salt as needed

Method:
Peel the skin and boil the jackfruit seed til it become soft,make sure that it should be mushy.
If you don't have baji bonda mix ,you just add gram flour,rice flour and make this.
In a mixing bowl add baji bonda mix or Gram flour,rice flour,chilly powder,salt.
Add in the boiled jackfruit seeds with the mix and then add the curry leaves,mint leaves,fennel seeds,mix well with batter.

Heat the oil and then slowly drop the pakoda inside and deep fry it.
Turn the other side and fry it,once it become golden brown take out from the kadai.
Have a Nice Day!!!