How to make Perfect Ghee Ven Pongal? Ven Pongal | Khara Pongal in Pressure Cooker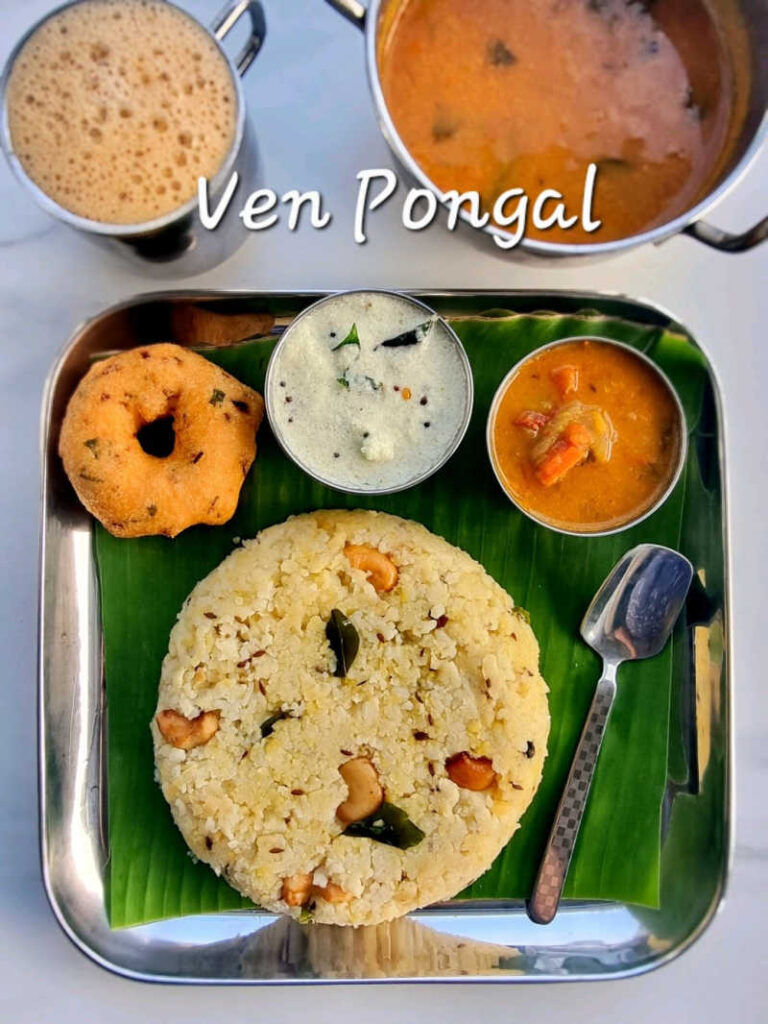 How to make Pongal / Ven Pongal is explained in this post with step-by-step pictures and a detailed video. Making Perfect Ghee Pongal with Proper Measurement of water and Rice, moong dal is challenging. Sometimes the Pongal turns mushy or uncooked dals here and there. This post will help the Beginner to make Perfect Ven Pongal without fail👌💯. Actually making Ven Pongal is very easy in Pressure Cooker than the pot method. you will get perfect melt-in-mouth ven Pongal if you follow these procedures.
If you are following me on Instagram or reading my blog post you may aware that I make Pongal for most occasions. Because it not only comfort food but also brings a festival feel whenever we make it. While making the Tadka for Pongal the whole house smells divine. I don't need any special occasion to make Ven Pongal at home. When we feel like having a good weekend breakfast that must be Ven Pongal the best sleeping pill🤦‍♀️
If you are health Conscious You can try some healthy low-calorie Pongal Versions like Wheat Rava Pongal(Gothumai Rava Pongal), Oats Pongal, and some sweet versions of Pongal like Instant Pot Sakkarai Pongal,  Kovil Sakkarai Pongal in Vengala Paanai Method(Brass Pot) check here or Iyengar Sakkarai Pongal using Pressure Cooker Check here. Also, I have shared Authentic Iyengar Akkaravadisal Recipe here.
what is Ven Pongal?
Ven Pongal is comfort food. A famous South Indian breakfast made with raw rice, yellow split mung dal(yellow moong dal or Pasi paruppu/ Payatham paruppu in Tamil). The Cooked Pongal has then tempered with spices and flavored with ghee, cumin, pepper, and cashews. Pongal is often called Nei Pongal & Kara Pongal or kichadi too.
The ratio of Ven Pongal:
Water Ratio is very important to make Ven Pongal if you are making Pongal in a Pressure Cooker or Instant Pot 1 cup of raw rice, 1/4 cup of Pasiparuppu/moong dal, and 4 cups of water. So the ratio is 1:4 one cup of rice and 4 cups of water
If you are making an open pot method(Vengala Panai) water ratio is 1:5
How to make Ven Pongal in Pressure Cooker Recipe Video:
Step Pongal Step-by-Step Procedure:
Take 1/4 cup moong Dal and 1 cup of Raw rice(pacharisi) wash well and drain the water.
Heat the Pressure Cooker and add a tsp ghee and 1/4 cup moong dal(pasi paruppu) roast on low flame till you get a nice aroma.
Add 4 cups of water + 1 tsp salt. cover the pressure cooker cook the Pongal for 3 to 4 whistles. Meanwhile, make the Tadka.
Heat a pan with a tbsp ghee, 10 cashews, 1 tsp cumin seeds, 1/2 tsp black peppercorns, curry leaves, and minced ginger roast till the cashews turn golden.
Add the tadka with the Pongal and mix well. That's Creamy ven Pongal Ready!
Serve Hot Pongal with Sambar or Coconut Chutney!
Side dishes for Ven Pongal:
Pongal Served with Coconut Chutney and Tiffin Sambar is a complete breakfast.
Sometime Pongal can also be served with Kathirikai Kotsu
Hope you like this Pressure Cooker Pongal recipe. Do stay tuned to Prema's Culinary for more interesting Pongal Festival Recipes, if you have any doubts about this recipe or If you want any specific recipes you can email me at cpremas79@gmail.com.
Do Follow me on Instagram for more Recent updates and every cooking recipe video share your thoughts with me, Also tag our page on Instagram @premasculinary with hashtag it on #premasculinary
Thanks & Have a Good Day! 😉Enjoy Cooking and Mindful Eating!