Citron Lunch Box & Cutter Set Review, About Akshara's Lunch Box
Happy to share my review of Akshu's new lunch Box from Citron which is classic lunch and slick box to find the best for packing all kinds of meals, from simple sandwiches to elaborate meals. The Citron is a Dubai-based store and has natural fuss busters, from lunch and snack boxes that can withstand their roughest plays, to a line of bottles that they can actually hold, stylish lunch bags, playful dishware, and more, much much more. They have online and delivery available.
The eating habits of Kids Differ for each other. Akshu is a Slow eater at the same time very fussy eater too. She is very particular about the color texture and how it is presented. she doesn't like anything mixed up in her lunch box. so I used to pack everything in separate boxes. Packing food for her is really challenging for me. Recently I found this Citron box through Insta Ads. I go through the reviews all are positive and love to visit the store.
We changed her school from Gems our own to Gems New Melliniem. Their school timing are little longer than her old school, they have more activities after school hours. She starts at 6.30 am in the morning and, she will come back from school around 5 pm. The almost full day she is in school. I decided to upgrade her lunch box for 2 reasons, one is if the box is attractive and fancy they love to use it. The second thing is the food is very fresh in this lunch box. Let me share a few things about this lunch box.
As you can see in the picture Citron 4-compartment box with a food jar. The Lunch Box is BPA-free, Leak Proof, and microwave safe. The first thing is very spacious we can place any amount of food. The special attraction is the food jar. Basically, I used to send idly sambar, poori chana something like that, mostly wet and dry items. This food jar is perfect for such kind of food. I purchased one more extra food jar, as summer has started I make sure I am sending curd rice or curd every day. so this box can hold 2 food jars. You can see the box lid is also leakproof and food will not mix with each other at the same it stays fresh for 6 hours. The food in the food will stay hot for 6 hours. I tested with rasam Sadam and sambar Sadam both stay hot for the first 6 hours and warm after 6 hours. Also both the sadam not becoming tight it is very loose how I mixed in the morning.
This is about the Lunch box and Food Jar. You can visit the Citron store they have snack boxes and many items for kids. Also, they customize the kids' names on water bottles, food jars, and lunch boxes. They have customized stickers and quotes for kids. The lunch box and snacks boxes come in various colors and designs.
Cutter Set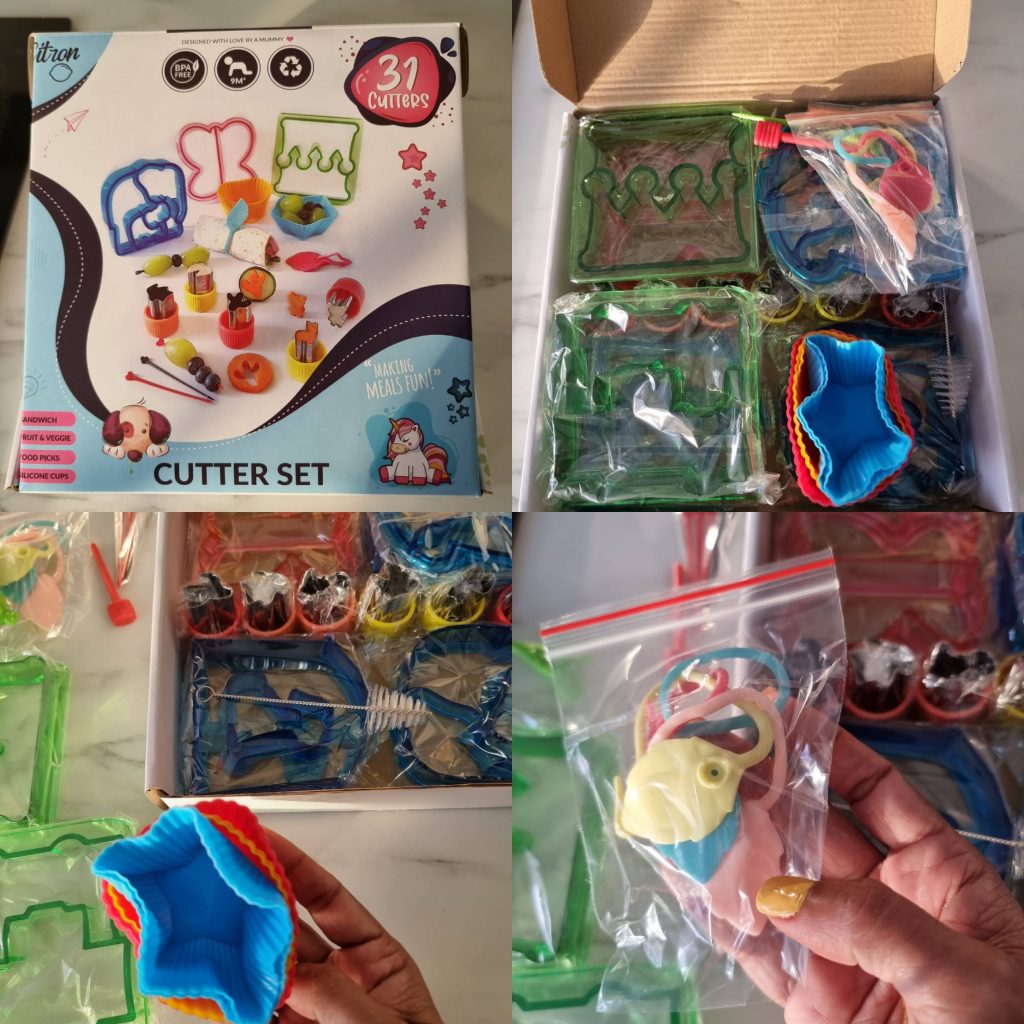 This cutter set comes with 31 pieces like silicon partitioners, fruit loop sticks, wraps holder, sandwich cutters, brush for cleaning, fruits & vegetable cutter, and more. After using this I feel like going to school 🤦‍♀️🤦‍♀️
More than Akshu, I am very much motivated to pack lunch for her. Hopefully, we can see much more lunch Box Scenes hereafter, let's see✌️
Hope you like this Post!!
Have a Good Day Makkale!!