Home made Vathal(Sun dried Vegetables) | How to make Vathal For Vatha Kuzhambu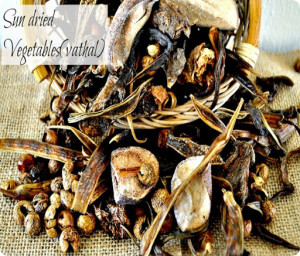 Vathal (vatral) is nothing but sun dried vegetables, which can be used in the authentic South Indian Specialty dish Vatha Kuzhambu.It can be made with the combination of vegetables like Turkey Berry(sundakkai),Cluster bean (kothavarangai),Raw Mango (Mangai),Black night shade seeds(Manatha thakkali),Ladies Finger(Vendakkai),Brinjal(Kathirikkai),etc.





I bought the vegetables like Cluster beans,Brinjal,Turkey berry,Raw Mango.If you get black and night shade(manatha thakkali) try that also.

To make Vathal You Need:

2 cups Water
2 tbsp Salt
1 kg Mixed Vegetables of your choice

Method:


Boil the water well and then add the salt.

Wash the cluster beans add it into the boiled water.

Once it started changing the colour,take it out from boiling water.
Wash and Cut the brinjal and raw mango into medium sized cubes.

Drop it into the same boil water.No need cook for long,just the colour started changes,take it out.

Wash the turkey berry and remove its head.

Use the motar pestel and break it slightly.

Add it into the boiling water.once it changes the colour take it out.

Here are the processed Vegetables are ready,cool down completely.

Spread it in a clean cloth or in a plastic paper.

Let it dry completely in hot sun.Keep it in Hot sun for 3-4 days,until it dried completely.


Here is the vathal ready to use.Store it in a air tight container.




You can Make vatha kuzhambu using these vathal or just fry it in oil and serve it as a side dish.

My Notes:
You can try this with the vegetables like ladies finger and black night shade seeds also.No need to cook them just dry it in hot sun and use it.

You need hot sun to make this vathal.

Keep this vathal in hot sun for 2-3 days until it dry completely.
Do Make Vathal at home and enjoy


Have a Nice Day!!!