Coconut Sevai Recipe, Thengai Sevai Recipe, Coconut Sandhagai idiyappam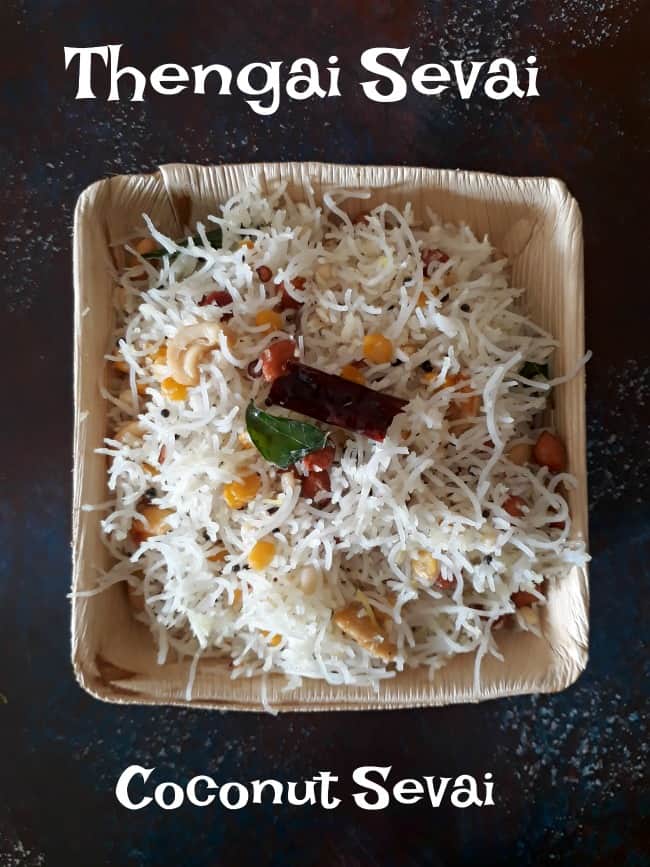 Thengai Sevai Recipe, Coconut Sevai, Coconut Sandhagai Idiyappam recipe with step by step Photos and Detailed Video Recipe. Thengai(coconut) Sevai is made with fresh coconut and rice sevai. Rice Sevai is something like idiyappam and we call it as Indian Rice Noodles which good for health. This is nice twist from normal Sevai, just a sprinking of generous amount of coconut gives very good taste to Sevai. Very simple Dish as it looks at the same time very filling also. That is why Thengai Sevai is the staple breakfast for South Indian. Similar to Thengai Sadam(coconut Rice) this too good for Luchbox.
Thengai Sevai 2 ways,
Sweet Thengai Sevai: Make ready the sevai and then add the grated coconut, grated jaggery and cardamom Powder. Delicious Sweet Thengai Sevai is Ready.
Savory Thengai Sevai: make ready the Sevai and then add the tempering, generous amount of grated coconut, nuts of your choice, add salt and serve Savory Thengai Sevai.
Both the Versions are too good. Kids Loves the sweet Sevai Do try it out. Today am Sharing One of the Thengai Sevai Variety in Detail with video. You can check the Realted Sevai Recipes like Lemon Sevai Recipe, Tomato Sevai Recipe.
Thengai Sevai Recipe, Coconut Sevai Recipe Video in Detail,
Step by Step Coconut Sevai Recipe, Thengai Sevai Recipe, Coconut Sandhagai idiyappam Recipe:
Coconut Sevai Recipe, Thengai Sevai Recipe, Coconut Sandhagai idiyappam
Coconut Sevai Thengai Sevai
Author:
Premalatha Aravindhan
Ingredients
200g Rice Sevai
½ cup grated coconut
½ tsp mustard seeds
2 dried red or green chilies
1 tsp Bengal gram(soaked)
2 tbsp peanuts
A generous pinch of asafoetida
few sprigs of curry leaves
2-3 tsp of sesame oil
salt to taste
Instructions
Soak the instant Sevai just for 10 to 15 mins in hot water and then drain the water completely set aside.
Soak the chana dal this is optional I would like to do because it tastes very good.Heat oil in a Kadai and temper it with dried red chili, mustard seed, urad dal, Hing and curry leaves.Once the mustard seeds splutter.
Add the peanuts, cashew and fry it.
Add the grated coconut into the kadai.Now add salt and mix well.
Now add the Instant Sevai and mix well. Delicious Coconut Sevai is ready for Breakfast.
Notes
You can use any Sevai, but make sure that Sevai should not be mushy or soggy.
Instead Sesame oil you can use any odorless oil.