Mullangi (Raddish) Sambar Recipe | Easy Sambar Recipes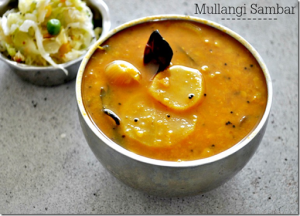 Mullangi / Radish/Molli Sambar is one of a flavourful sambar.It is also the easy radish sambar recipe which is made without coconut.Radish leave their aroma and taste in this sambar. so if you like radish, then do try adding radish in sambar and you will love it.
Mullangi (Raddish) Sambar Recipe | Easy Sambar Recipes

—————————————————————————————————————————
Author : Premalatha Aravindhan Category : Sambar Recipes
Prep and cooking Time: below 40 Mins Cuisine : South Indian serves : 2-3
—————————————————————————————————————————
Ingredients:
1 cup toor dal

2 cups peeled & sliced white radish/mooli/mullangi

gooseberry size tamarind soaked in ¼ cup water for 20-25 minutes and then squeezed with the juice extracted & strained.

2-3 tsp sambar powder

1 tsp mustard seeds

¼ tsp fenugreek/methi seeds

5-6 shallots,pealed

1-2 dry red chilies

¼ tsp asafoetida

½ tsp urad dal/ black gram (optional)

1 sprig curry leaves

1 medium size tomatoes, chopped

2 cups water

2 tbsp oil

salt as required
Method:

Clean the dal well and pressure cook the dal with a pinch of turmeric in 2 cups water. Once the pressure of the cooker drops down on its own, open the lid.The dal would be cooked. if the dal is not cooked, then pressure cook again adding some water if required.lightly mash the cooked dal with a wooden spoon and keep aside.

Heat oil in another pan. add the mustard and let them splutter.Now add methi seeds, urad dal,dry red chilli and hing. Fry till the urad dal turns a light brown.
Add in the shallots. Fry till the shallots become transparent and then add the tomatoes and curry leaves. Fry for 2-3 minutes.Add the radish. stir and fry for a minute.

stir and add the cooked dal.
Add Tamarind water and salt. Stir and cook over medium flame till the radish slices are cooked. Simmer till the whole mixture is blended well and the raw aroma of the tamarind disappears.

Now add in the Sambar powder and stir well.If the sambar appears thick, then add some more water and simmer for a few minutes. garnish with coriander leaves. Switch of the stove.serve the radish sambar with steamed rice or idli or dosa.

My Notes:

I didn't use coconut in this sambar.If you want to add coconut you can add at the final stage.

In this recipe i used the home made sambar powder if you don't have sambar powder you can use 1 tsp chilly powder and 2 tsp coriander powder.

You can also add the dry roasted chilly,coriander seeds,toor dal and coconut and add the powder in the sambar,we call it as arachivitta sambar.