Simple Sambar with Healthy Vegetables | How to make Simple Sambar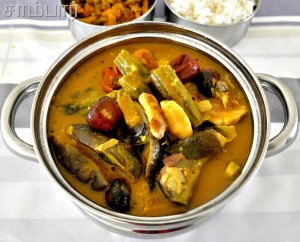 This is one of the best

sambar recipe

,that i have ever made
If amma makes this sambar the whole house smells divine.Once i saw jackfruit seeds at mustaffa bought it immediately and made sambar
.
Do try this Sambar sure you loved it
Ingredients:
3/4 cup Toor dal
1 tbsp Sambar Powder
A Pinch Hing
1/3 tsp Turmeric Powder
5-10 Small Onion
1 Tomato Finely Chopped
200 g Vegetables of your choice(i used drumstick,brinjal,raw mango and jackfruit seed)
A drop Oil
1 cup Water
1 lemon sized Tamarind + 1/2 cup water
For Tempering:
1 tsp Mustard Seeds
1 tsp Oil
3-4 dry red chillies (adjust according to your taste bud)
1/2 tsp Methi Seeds
A sprig curry leaves
Method:
Cut the drum stick and brinjal into medium sized pieces,keep aside.

Peel the skin of the jack fruit seed and cut it into 2 parts,keep aside.

Soak the tamarind in 1/2 cup water for 1/2 hour and extract the juice,keep aside.
Pressure cook dal with a cup of water,a drop of oil,a pinch of hing,till it becomes soft and mushy.Boil the Jackfruit seed also along with the dal.

Heat the oil in a pan.Temper the mustard seeds, methi seeds,dry red chillies and curry leaves.Once the seed started splutter,add in the chopped tomato and onion,saute well.

Once the onion becomes soft add the salt,brinjal and drumstick,cover it with a lid and cook well.

Once the vegetables cooked well add the jackfruit seed and mix well.

Add the cooked dal with the water,mix well.Let it cook for 2 minutes and then add in the tamarind extract mix well.

Now add the sambar powder and let it to cook for sometime or till the raw smell goes.
Once the sambar boils well,finally add the mango.

After adding the raw mango we should not cook more so r

emove the sambar from the stove in one minute time,because the mango will get dissolve in sambar.Sambar is now ready to serve.


Enjoy the meal along with your favourite condiments.

Have a Nice Day!!!