Fruits and Nuts Bar | No Bake Health Bar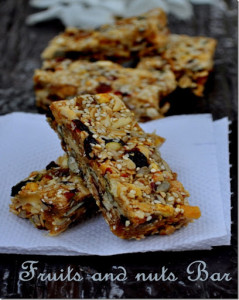 Now a days Kids are very smart and multi talented.They really need stamina and energy to boost their activity.Not only for kids, actually we need energy to run behind them.To increase our metabolism we need some foods provides that more energy naturally.While talking with suhaina she suggested me to try fruits and nuts bar.Next day itself she made some for me.From then i started making this for breakfast.It taste really good than the ready made ones.Here is the recipe, do try and get more energy naturally
.
Recipe Source: My Singapore Kitchen
Ingredients:
1 and 1/2 cup Muesli
3 tbsp Quinoa
3/4 cup Almonds
3/4 cup Cashew nuts
1/2 cup Walnuts
3/4 cup Pistachios
1/2 cup Brazil Nuts
1/2 cup Plain Roasted Macadamia
3 tbsp Black Raisins
3 tbsp Green Raisins
10 Dates
6 Prunes
5 Dry Figs
1/4 cup Sunflower seeds
2 tbsp Pumpkin seeds
2 tbsp Sesame seeds
50 g Butter
1/4 cup Honey
3 tbsp Brown sugar
1 tsp Vanilla essence


Dry roast all the nuts,muesli and quinoa in low flame for 10 minutes or even you can use the baked nuts.

Chop the nuts.

Chop dry fruits which is bigger in sizes like dates,prunes,figs.Mix all the dry fruits and nuts in a mixing bowl.
Heat the pan and melt butter, brown sugar and honey together .

Stir well till the sugar melts completely.Add in vanilla essence.
Once the syrup becomes thick and sticky,add the fruits and nuts mix into the pan and mix everything well very fast.
Line a tray with parchment paper and then transfer the hot mix directly into it.

Sprinkle some sesame seeds on top before pressing.
Grease your hand with oil or butter and then press on top of the mix to level the mix evenly all over the try.
Flatten it evenly and allow it to cool down a bit and then keep in the fridge to set for at least 3 hours.

After 3 hours invert it into a plate or in wax paper.
You can easily slice it because it is chewy inside.

Slice it and place in an airtight container.

Here is our Energy loaded Fruits and Nuts Bar is ready.Wanna a slice of crunchy and chewy health bar?

Note:
The measurement which i have mentioned here yields 25 to 30 medium sized bars and if you want more or less you can increase or decrease the quantity.

Adding of fruits and nuts are of your choice,you can use whatever available at your place.
Have A Nice Day!!!