Vegeterian Curry Laksa Recipe | Simple n Easy Laksa Recipe with step by step Pictures
Curry Laksa is a popular Spicy Noodle Soup.I've been getting emails from reader requesting the Vegetarian Version of Curry Laksa Recipe and thus here it is…
Ingredients:
1 tbsp Oilve oil

2 cups water

5 tofu puffs, cut into pieces

1/3 cup evaporated milk

1/4 cup coconut milk

100 g Yellow Noodles/Vermicelli/Rice Noodles

10g Bean Sprouts/A hand full

Salt to taste
For Curry paste:
1 stalks lemon grass (white part only, pounded)

2 lime leaves (optional)

3 Dry Red Chilli

2 small Onions

2 garlic cloves

1 tsp Coriander seeds / Powder
First make the curry paste.Grind the curry paste ingredients in blender,adding little water,into a smooth paste.

In a stockpot, add the oil and sauté the grinded curry paste until aromatic.
Add Bean Sprouts,sauté it for few minutes.

Lower the heat to simmer. Add the coconut milk,water and evaporated milk.
After adding the milk don't cook it for more time.Once u have added the milk,immediately rinse the noodles, drained and add the noodle into the curry.

Using a ladle, mix it well with curry and add pieces of tofu puffs on top of the noodles.After adding the noodle,just cook for one minute and switch off the stove immediately.

Transfer the noodle into a serving bowl and Garnish it with Coriander leaves. Serve hot immediately from the stove.



Here is the Hot Curry Laksa Noodle for You…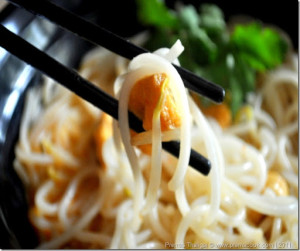 Have a Nice Day!!!


I am sending this to Flavours of China Event…