Had this Veg Chow Mien in a Nepali Chinese cuisine and wanted to try it at home.Chow mien is common in Indian Chinese cuisine.Vegetable chow mein, consists of noodles with cabbage, bamboo shoots, pea pods, green peppers, and carrots. You can also prepare the indian style chow mein by adding paneer with the mixture of noodles and vegetables. I made mine with the veggies available here and things in my hand.


Ingredients:


1/2 pkt Noodles(i used Veg Hokkien Noodles)
1 tbsp Olive Oil
1 medium sized onion,sliced
2-3 garlic pods,minced/chopped finely
1/2 green/red bell pepper
1 beans,finely shred ed
1 carrot,finely shreded
1 inch ginger,minced
1 tbsp soy sauce
1 tsp vinegar
1 tsp tomato sauce
1/2 tsp white/black pepper powder
A pinch Ajanamoto
Few drops Lime Juice
few chopped spring onions for garnishing.
Salt as needed.






Method:




Wash and cut the vegetables.


You can use Wet or dry Noodles.you can use the pasta sauce instead of tomato sauce.If u need more spicy can add chilly sauce also.


Cook the noodles for 5 Minutes with enough water/till soft.Once cooked wash it in cold water and drain,keep aside.


Heat the oil in a wok and saute the oil,ginger,garlic and green chilly,till soft.
Add all the vegetables,except the green bell pepper.Toss the wok for few minutes.Do not cover or over cook the vegetable.
Once the vegetable become little soft add the sauces,pepper powder,vinegar,ajanamoto and salt.Again toss for few minutes.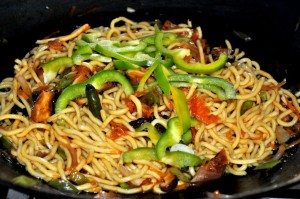 Add Noodles and saute for 2 mins.Finally add Bell peppers.Once u add the bell pepper don't over cook it.
Adjust the soy sauce,pepper according to ur taste.Here is our Veg Chow mein is ready.Switch off the stove.
Squeeze little bit of lime juice on top of the chow mein.After added the juice don't cook it.Or you can add the juice while serving.
Enjoy with sauce of your choice.
This is one of most delicious, simple and easy recipe. Have it hot or warm.