A Simple and Easy method of Chilli Panner-Indo Chinese Style
Chilli Paneer is the most known dish to all Chinese food lovers.Well, its my favorite too…
Let me share this mouth watering dish with you guys…Give it a try, you wont be disappointed…
Ingredients:
200gms Paneer cut into small cubes

3 tbsp oil

2 medium sized onions,diced and separated

4 Garlic pods finely chopped

2 tsp soya sauce

3 Green chillies Slit lengthwise

1 Green bell peppers,diced.

A pinch salt(Adjust the salt according to your taste)
To Marinate the Paneer we need:
2 tbsp Maida Flour

1 tbsp Corn Flour

1 tsp ginger garlic paste

1/2 tsp Pepper Powder

1/4 cup water

1/2 tsp salt
In a mixing bowl add maida, cornflour, ginger garlic paste, pepper powder and salt.Pour water and mix well without lumps.Add the paneer cubes into the batter and mix well,marinate it for half an hour. Make sure that Paneer pieces are fully covered with this marinade.

Meanwhile slice the onion separate it,slit the green chilli,dice the Bell peppers,chop the garlic and spring onions.
Heat oil in a pan,add marinated paneer without any batter, reserve this batter for later use.Shallow fry the paneer.

Turn the other side also and shallow fry, till it becomes light brown.Once done drain the excess oil and take it out from the pan.
In the same pan,add in the onion,garlic,bell peppers and chillies,saute it for few minutes till the onion becomes soft.

Add the fried panner .Finally add sauce and salt.Saute them again for few minutes.
Add a tsp of reserved batter,if you want gravy.Otherwise you can skip this step.

Saute it till the gravy becomes thick.Once it becomes thick,remove it from the stove.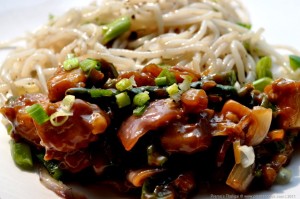 Try this with Noodles,fried rice or with any rotis



Have a Nice Day!!!


,