Fortune cookies are often served as a dessert in Chinese restaurants.But i saw this cookie first time in a birthday party.They wrote the winner number on it,for the lucky draw.After that i have tried this crispy cookies many times and each time it was hit among family and friends but I couldn't take the pictures as these cookies disappear so fast and today got the opportunity to Share this interesting recipe with you guys…Do try this and have fun at home.






Recipe Source: here


Ingredients:


2 egg whites
1/2 tsp Vanilla Extract
1/2 tsp Almond Extract
3 tbsp Oil
1 and 1/2 tbsp Corn Starch(i used corn flour)
Method:




Write Fortunes on a peace of Paper and Pre Heat the Oven to 180 degree c.




Draw 8cm circles on the baking Paper.You can use a glass to draw the circle.




Add the eggs,vanilla extract,almond extract and oil in a mixing bowl and whisk until just frothy,not stiff.




Add plain flour,corn flour,salt,sugar and water,mix until smooth.If you want to add colour also you can add at this stage.




Using spoon,spread 1 tsp of mixture over each circle.




Bake for 5 minutes or until slightly brown around the edges.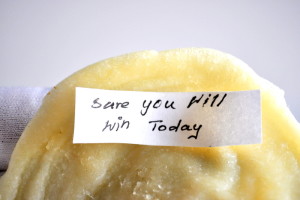 Wear cotton gloves,because you have to work fast with the hot cookies.Remove cookies from paper,using knife.Place written fortune message in each cookie.




Fold the cookie in half and press the corners.Do it fast,otherwise they will harden too quickly and break when folding.




Join the two edges.




Keep that in muffin tins,so that its keeps its shape.Continue with the rest of cookies.




Here is our Fortune Cookies are ready.Store up to 2 days in an air tight container.




Have a Wonderful Weekend Ahead!!!